This is a sponsored post on behalf of Nielsen Massey and I have been compensated with a free product sample. All opinions are 100% my own.
With perfect tangy flavor and refreshing taste, this Hibiscus Tea is really yummy! And yes, the deep pink color comes naturally from the dried flowers. Warm or iced, make your pick!

Fall is here! I cannot believe it is the start of the colder shorter days, pumpkin spice, Halloween and Thanksgiving preparation and LOTS of warm cocoa. The weather in the Bay Area has been weird lately; super cool in the mornings, warm all day and then cool again!
Between the temperature changes and funny weather; I am making up my mind if I should have HOT drinks or COLD! So I made something that tastes amazing in both forms. I had a cup of this warm tea today morning and will enjoy the iced version on warm afternoons.
The drink is amazing in both it's forms but what I like best about this recipe is the color. A naturally colored pink drink is definitely something I want all year round. Plus it is free from refined sugar and needs only a handful of ingredients. Make a bulk in enjoy warm at any Fall party or have an Iced version of this as a welcome drink.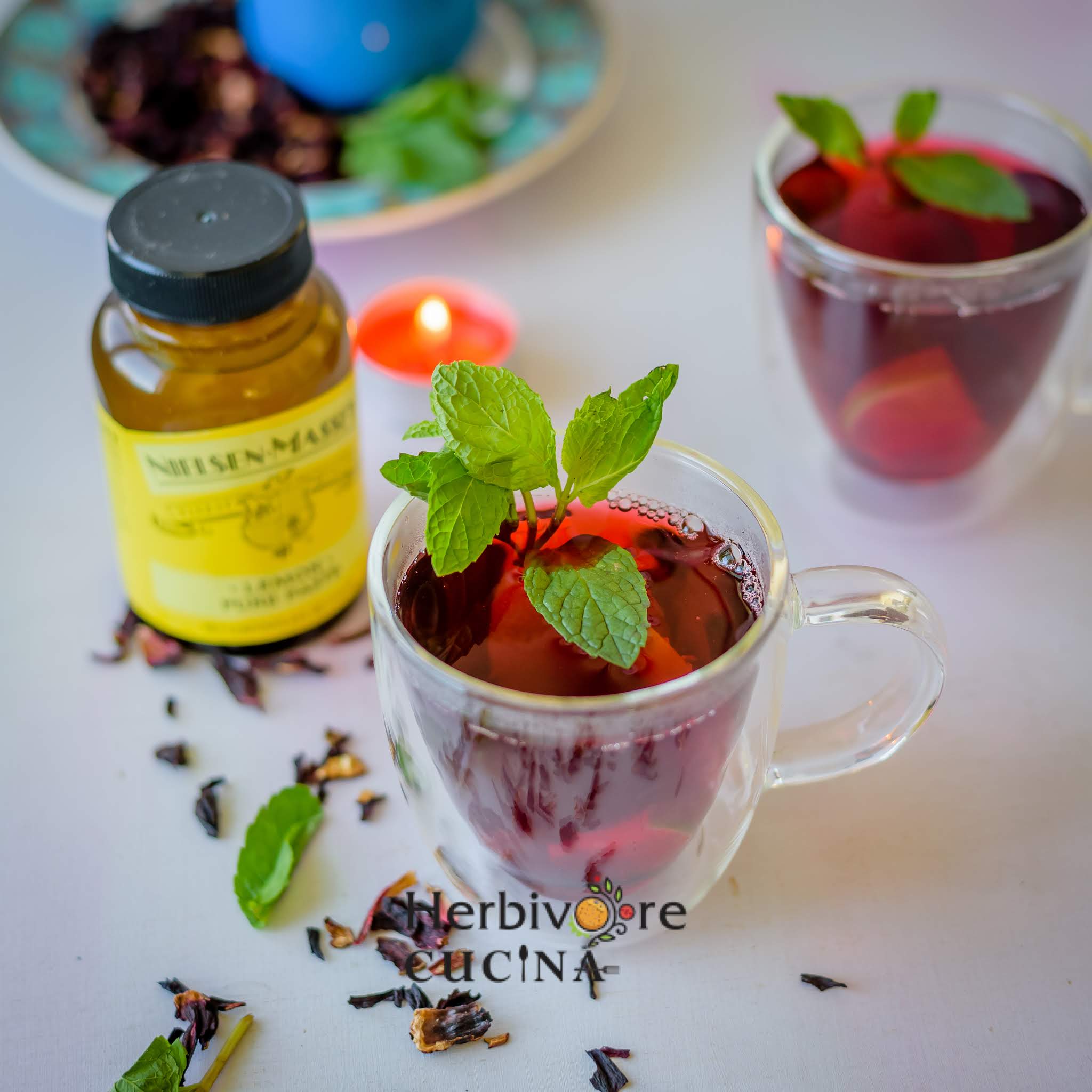 For the longest time I have been a fan of pink colored recipes. I love to use beets, strawberries or prickly pear to color food naturally. If you like pink recipes too, you must try one of these:
How to make Hibiscus Tea
Coming back to the recipe, I used Nielsen-Massey Pure Lemon Paste to flavor the tea. Made from high quality California Lemons, these add a sweet bright citrus flavor to dishes without the need of juice and zest! It helps get a great flavor to the tea.
I bought a ton of dried hibiscus flowers not long ago. I have been having these teas since then. Sometimes adding some mint leaves or flavoring using lemongrass, this tea is soothing and easy to make. And yes, the tea can be enjoyed hot or cold. It tastes equally delicious in both forms.
Enjoying a glass of Agua De Jamaica
A common drink in Mexico, Agua De Jamaica is a chilled glass of hibiscus infused tea, with some added sugar (or sweetener) and lime. For those familiar with the cuisine must have come across TONS of recipes of the drink.
If you ever visit a Mexican specialty store, you will definitely find bulk packets of these dried flowers. Used extensively in other countries too, this drink has a slight tart and tangy flavor similar to that or cranberries.
This recipe can be made into chilled Agua by pouring the tea over ice. It is great when served with a slice of lemon or some mint leaves.
Variations
I made this drink using dried hibiscus flowers. However, the same can be made using fresh flowers. To do so, wash and separate the petals. Use only the red part of the petals to make the drink. The white part makes it bitter.
Adding sugar instead of honey or maple syrup works well in the recipe. Add about ¼ cup sugar in 4 cups of tea and add more if you like it sweeter.
Zesting some lemon in the tea or adding some cinnamon or star anise is a great idea to make a spiced version. I have added some cardamom too, but did not go ver well with the already flavorful tea.
With all this information on the flowers and the drink, dive into the recipe to make your own glass. Sip on and enjoy!
Ingredients
Dried Hibiscus Flowers ¼ cup
Water 4 cups
Maple Syrup/honey 3 teaspoon (more if you like the tea sweeter)
Nielsen-Massey Pure Lemon Paste ⅛ tsp




Method
In a pan heat the water. Once it is bubbling, add the dried flowers and boil for 2-3 minutes. Turn down the flame and add the lemon paste and maple syrup.
Mix well and pass through a fine mesh strainer into a kettle. Serve hot if you desire.
If you like it cold, pour over ice in a glass. Add more maple syrup or honey if you like it sweeter.
Enjoy your drink cold or hot!