Once you try this Home-made Strawberry Milkshake, you will NEVER have it at the restaurant again! One SECRET ingredient that helps makes it the BEST ever!
February is here and all I can think of is all things Pink and Red! These colors are all over Social Media, in the stores and on my mind! I am thinking of making Eggless Red Velvet Cake one day, then I want to make another batch of Chocolate Dipped Madeleines or Red Velvet Aebleskiver Pancakes with a cup of Pink Hot Chocolate.
Along with all these Red Velvet goodies and beyond, it is time for another season of Strawberries! The fruit that is delicious, colorful and always fun to use in many recipes. I love how these berries add so much color to many otherwise boring recipes. If you love strawberries just as much as I do, you must try these Strawberry recipes from the blog: Roasted Strawberries, Eggless Chocolate Strawberry Cake and Strawberry Cereal Smoothie Bowl.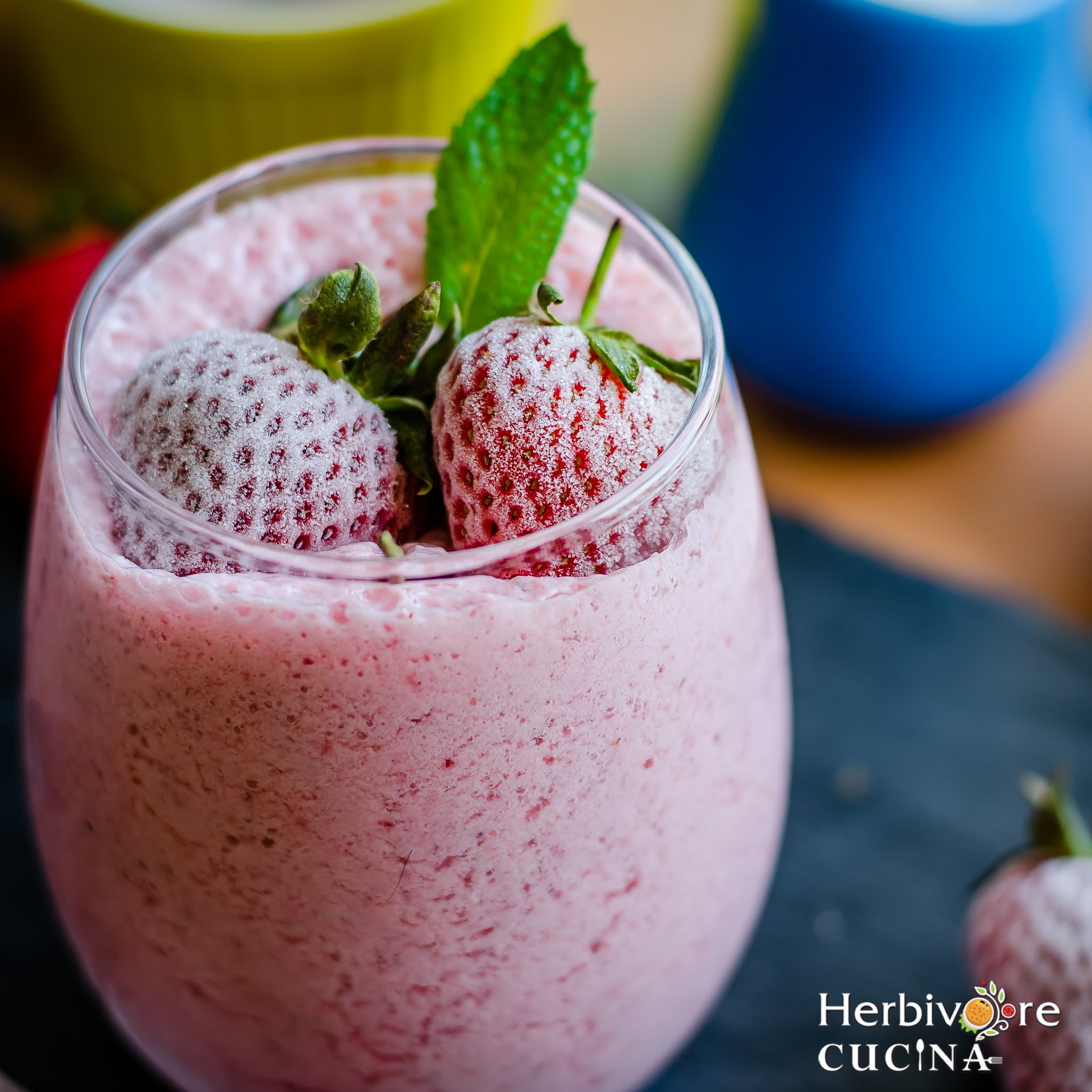 Around this time of the year we got for Strawberry picking and get home a LOT of berries. While we eat most of them as fruit, I like to make something yummy using the farm fresh berries too. This year I kick off the strawberry season with this yummy Strawberry Milkshake.
This recipe has been my favorite since a very long time. While most milkshakes would call for fruit and milk, this one has one more ingredient that makes it thick, creamy and super delicious. That ingredient is Vanilla Ice Cream! Not only does it give the shake a restaurant style thickness, it also lends a slight taste of Vanilla, making it super yummy.
Plus fresh strawberries and ice cream bring in a perfect blend of sweetness and tart taste. Most likely the recipe will not need any additional sugar. However, if the berries are not sweet enough or you like super sweet milkshakes, add in some sugar.
The color of the drink is perfect for this month. Plus, with strawberries in full season now, it is amazing to enjoy fresh milkshake often. In fact when the berries are in season, I buy a bulk and purée them. Then I transfer them to ice cube molds and freeze them. Store these in ziplock bags to enjoy the milkshake throughout the year! Are you as big a fan of the berries like me? Then this recipe is made for you!
The recipe I made was a little different from the regular shake recipes. The trick lies in blending just the fruit first and then adding the milk. I always notice that adding milk with the fruit makes a thin version with the strawberries not blending completely. This method always gives me a THICK creamy version of the shake.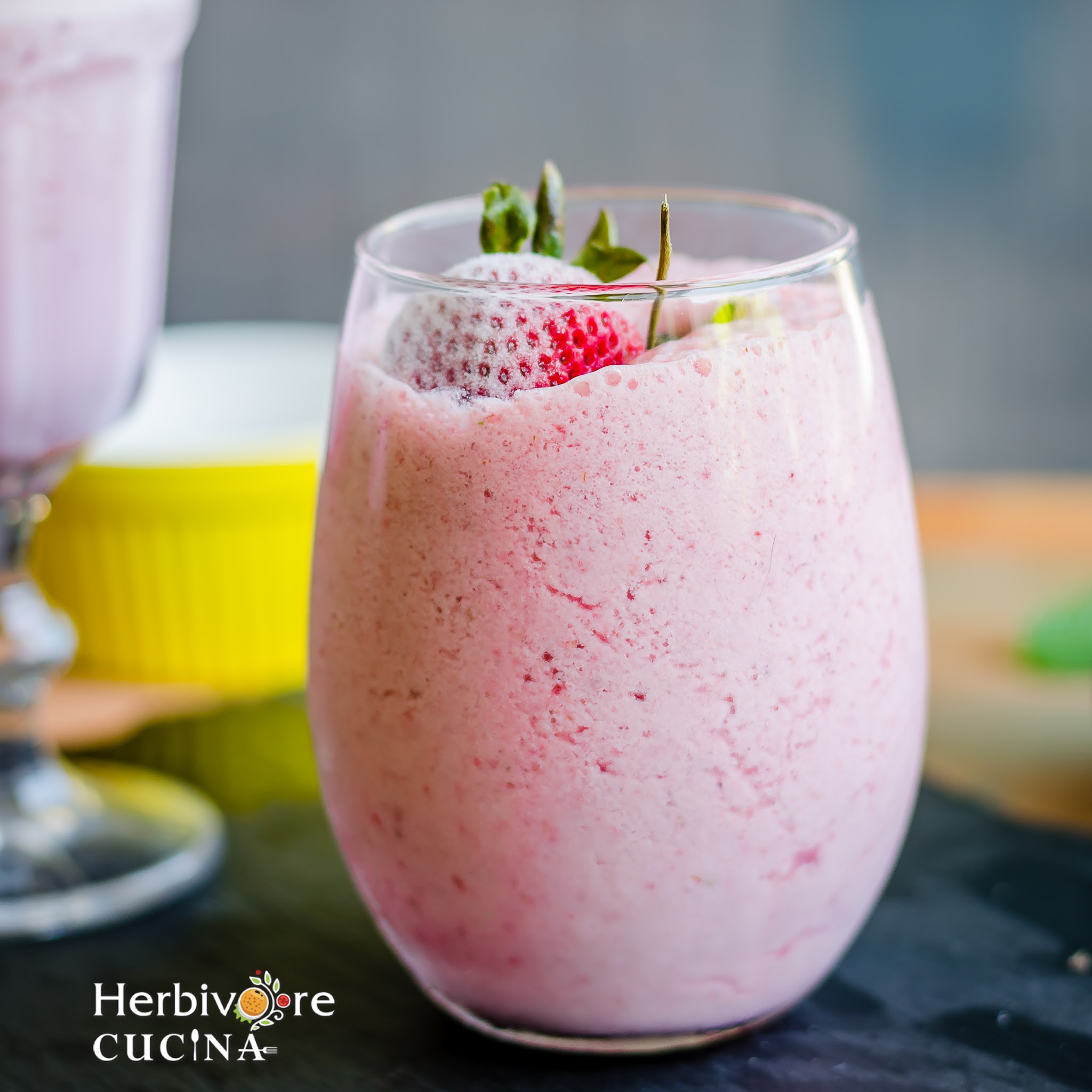 Variations
In this recipe I used fresh strawberries and ice cream. However, any kind of berries can be used or even a combination of berries. The recipe works well for blueberries and raspberries too.
Besides, I tried adding some strawberry ice cream to the recipe a couple of times. I was not a fan of that unless the ice cream had 100% fruit. If not, the artificial flavor of strawberries spoils the balance in the shake.
If you do not want to add ice cream, add some whipping cream. This combination is amazing too. It makes the milkshake creamy without the vanilla flavor. And yes, if you like a Vegan version of the drink, try adding some soy milk/ almond milk/cashew milk and cream. It makes a delicious thick shake.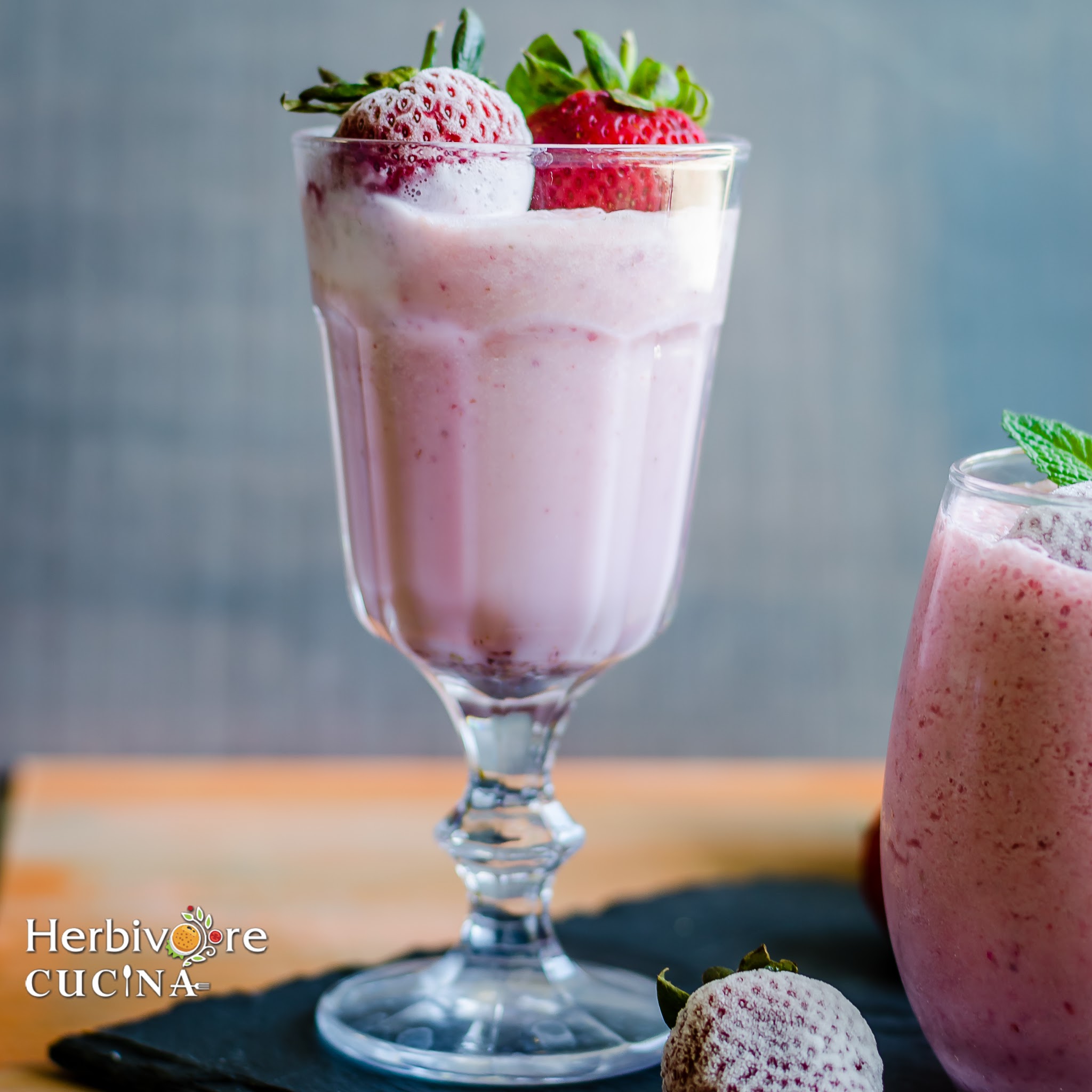 Looking for more drinks before you head to the recipe?? Try this YUMMY Vanilla Chai Hot Chocolate. It is delicious and PERFECT for Winters and Fall.
Ingredients
Strawberries 12-14, washed and hulled
Chilled Milk 2 cups
Vanilla Ice Cream 2 scoops
Sugar if needed
Method
Place the washed and hulled strawberries in the blender jar. Add sugar (if needed) and blend for a couple of minutes, till the strawberries turn to a purée.
Add the ice cream and milk. Blend again to get a perfect milkshake. Serve with frozen strawberries on top.
Pin for Later
Looking for more Strawberry recipes? Try these: Eggless Chocolate Strawberry Cake, Roasted Strawberries and Strawberry Cereal Smoothie Bowl.