This shop has been compensated by Collective Bias, Inc. and its advertiser. All opinions are mine alone. #SousVidePerfection #CollectiveBias
A delicious Beet Salad made using Sous-Vide method. This salad needs just a few ingredients and comes together pretty easily with this NO-FAIL recipe!
Are you a beet lover? Love perfectly cooked beets that are juicy and super delicious? Then this salad recipe is tailored for you! Plus this salad employs two amazing techniques that make it super easy, fool-proof and a great make-ahead meal!
If you have read, seen or heard about Sous-Vide, here is a post that will help you start cooking using the method. I had seen these amazing immersion cookers in hotel kitchens on shows for a very long time, but when they finally leaped into home cooking, I was THRILLED! Plus when I saw FoodSaver® V4440 2-in-1 Automatic Vacuum Sealing System; I had to have it to use with my Sous-Vide Cooker. They are a perfect pair and now help me make delicious recipes without too much effort!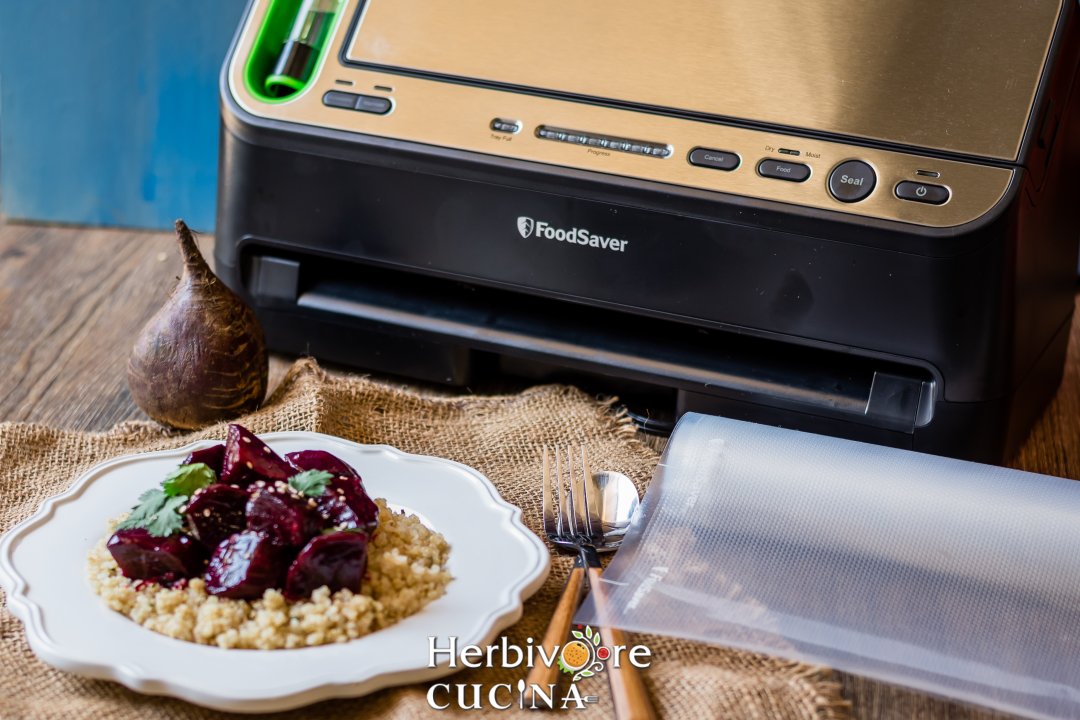 What is Sous-Vide?
A relatively newer technology in the home-cooking space, Sous-Vide is a clever and intuitive system of cooking. With a process that maintains a consistent temperature throughout the cooking process, this method is used to cook a wide range of dishes from meats and fish to eggs and vegetables. Plus it makes some really amazing desserts too!
A lot of folks believe that this method works only for meat, but let me tell you; vegetables like beets, asparagus, potatoes and carrots are BEST made by this method. Ever since I jumped on the Sous-Vide bandwagon, I have not cooked them in any other way!
At first it does not sound right to cook anything in plain water. No salt, no seasoning and no broth. The cooker works with just plain water! However, take a second look at the process. The bag that is used to cook the vegetables/meat is COMPLETELY sealed. This means the insides get cooked in their own juices, making them super flavorful and yum!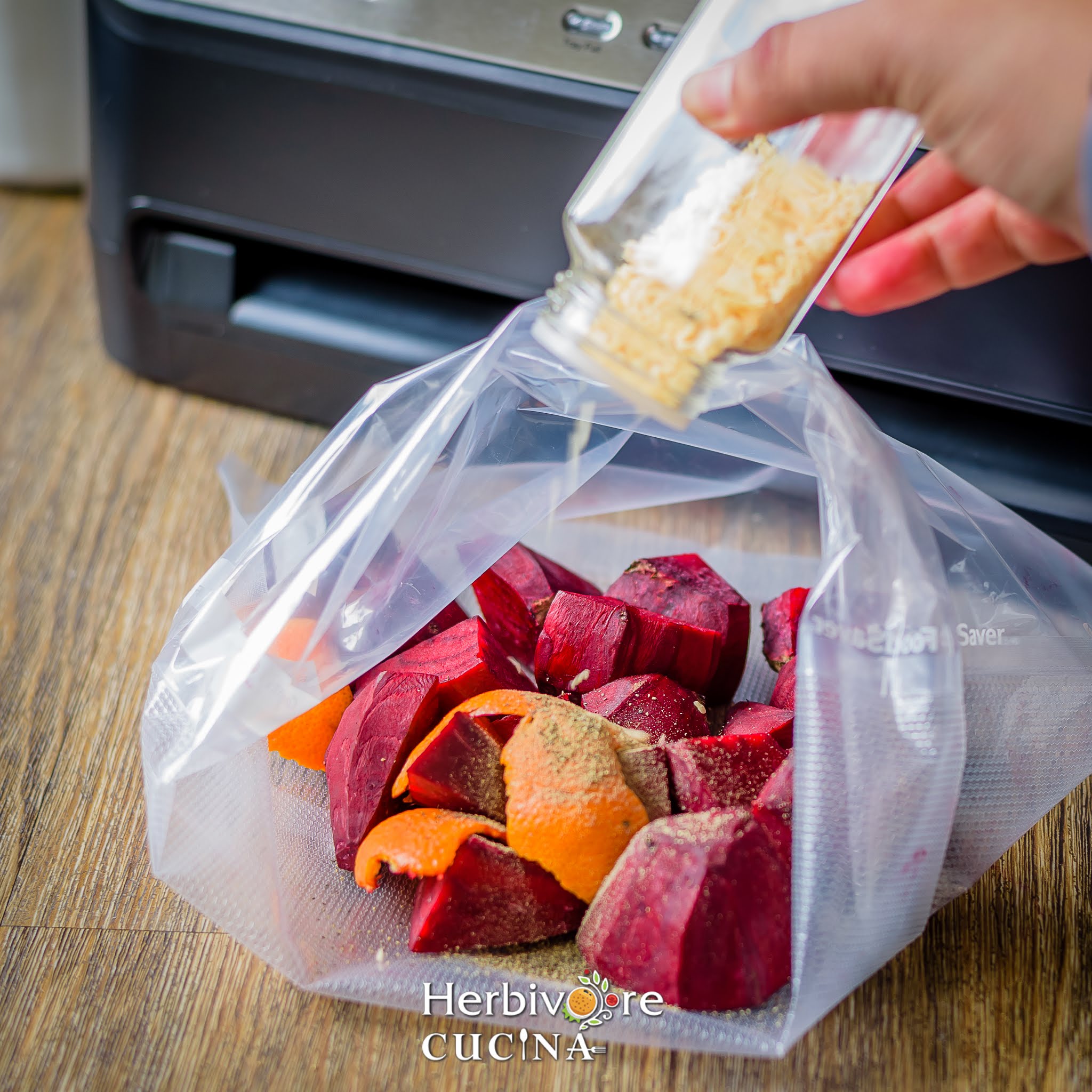 What is the role of FoodSaver® V4440?
As I mentioned above, the Sous-Vide method needs a sealed bag to cook the contents. Not any bag will work correctly with the system and you need one that is perfectly sealed, food grade and can resist the high temperature of the cooker.
As you are reading this, you are in luck! Here is my favorite system that has bags that all this and yet super easy to use! My FoodSaver® V4440 and FoodSaver® 3PK 11" Vacuum Seal Rolls are the perfect pair to make Sous-Vide a breeze. Air is evacuated from the bag so that food is protected from the deteriorating effects of oxygen. The system creates an airtight seal to lock in freshness and protect food from spoiling.
With options for dry and wet ingredients plus a built-in retractable handheld sealer, this system comes with vacuum seal rolls and precut vacuum sealer bags. The roll is microwave safe, freezer safe and BPA free. They are versatile enough to go straight from the freezer to a hot water bath, with no separate defrost required.
With all these features and an easy to operate mechanism, there is no wonder that FoodSaver® is the number 1 Vacuum Sealing System in the US. There's more to vacuum sealing than just keeping foods fresh longer, FoodSaver® is the ideal solution to bag foods for cooking sous-vide.
Looking for one? Here is a perfect deal for you on Amazon. Get 20% off FoodSaver® V4440 2-in-1 Automatic Vacuum Sealing System using this link and Amazon Best deal 20% off FoodSaver® Vacuum Seal Rolls using this one. Offer valid till 6/9/2018 so rush now.
Making PERFECTLY Cooked Beets
After learning all about the Sous-Vide cooking method and the Vacuum system, lets dive into the recipe that I made using them. Beets has been something I always love having. From adding to vegetables to making a hummus or any other dip, beets always make me feel happy. And yes the BEST thing I like about them is the pink color!
If you are a beet fan too, here are a few recipes you might like:
After making all these, I wanted to make a simple yet flavorful salad using beets. I made it such that it is great as a salad or when served with quinoa or rice it makes a great meal. This recipe is all about that pink salad that I love to have every week now!
I wanted to get colorful beets to make this one, but my Farmer's Market only had pink ones last weekend. So I picked up a bunch of those and made this salad. The same method can be used to make golden beets too.
To add some freshness I added in some cilantro and a few orange peels. They give a great flavor to the salad. I only added salt and pepper this time but adding oregano or chilli flakes is a great idea too. Or even some pine nuts or walnuts.
Mix everything together, seal and cook. I served the salad warm with some quinoa, but it tastes super awesome when chilled too. Add some goat cheese on the side if you like too!
So look no further and make this salad right away! Only a few ingredients, an easy to follow recipe and PERFECT results each time!
Pin for Later

Ingredients
Beets 3-4 medium
Orange Peel 1-2 pieces
Cilantro/Parsley a few stalks
Olive Oil 1 tbsp
Salt 1 tsp
Pepper powder ½ tsp
Sesame Seeds to top
Cooked Quinoa to serve 1 cup
Method
Peel and dice the beets. Keep all other ingredients ready.
Using the roll provided with the FoodSaver® V4440, make a bag that is 10-11 inches long.
Add the beets and orange peel to the bag.
Sprinkle salt, pepper and add in the cilantro or parsley stalk.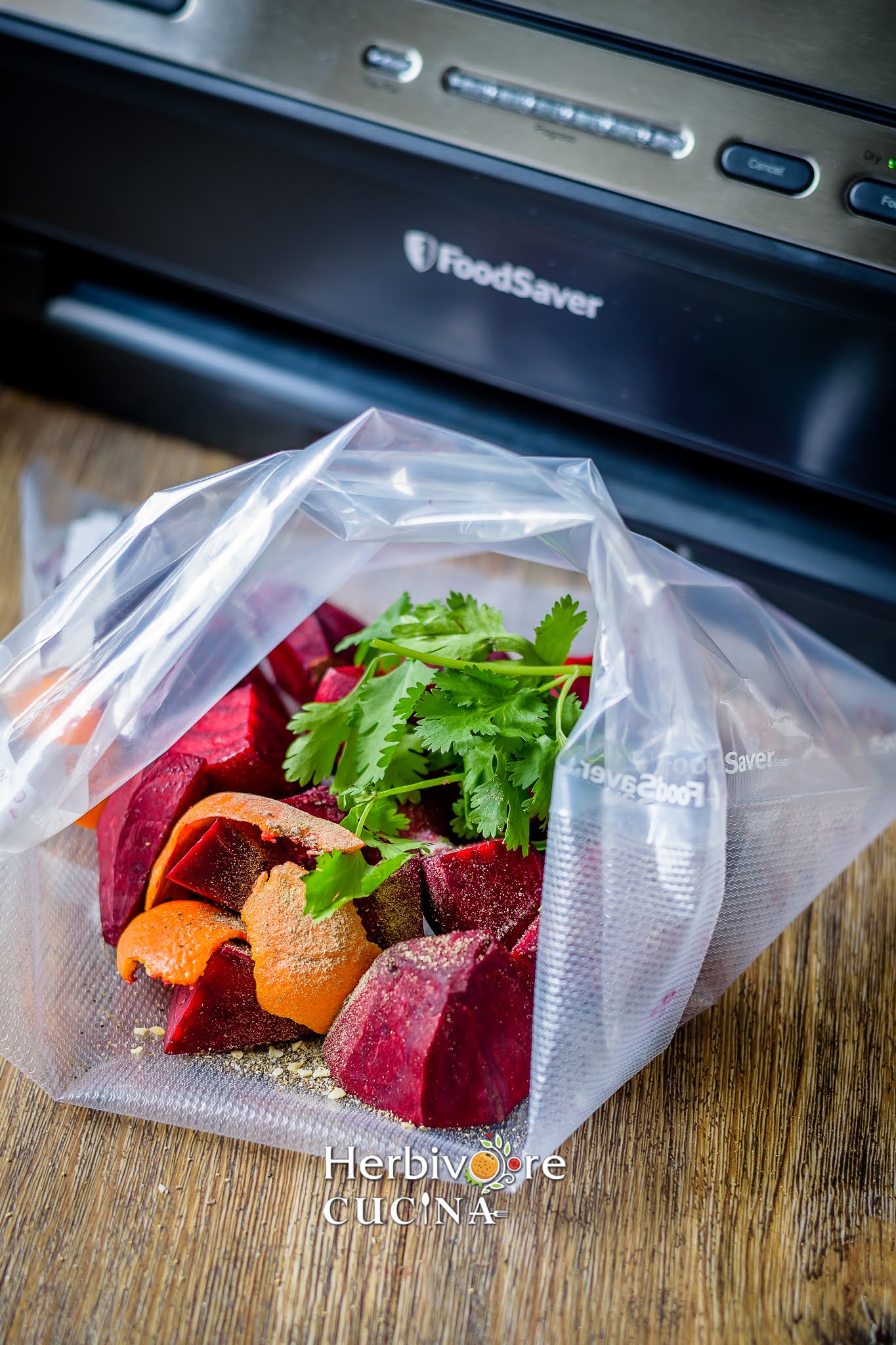 Seal the bag using the FoodSaver® V4440. To do so, insert the open bag in the FoodSaver® V4440 and press 'seal'. Wait till vacuum is created and the bag is sealed and released by the machine.
Heat the Sous-Vide cooker to 185 F/85 C. Add water and once the water reaches the temperature of 185, submerge the beets bag completely.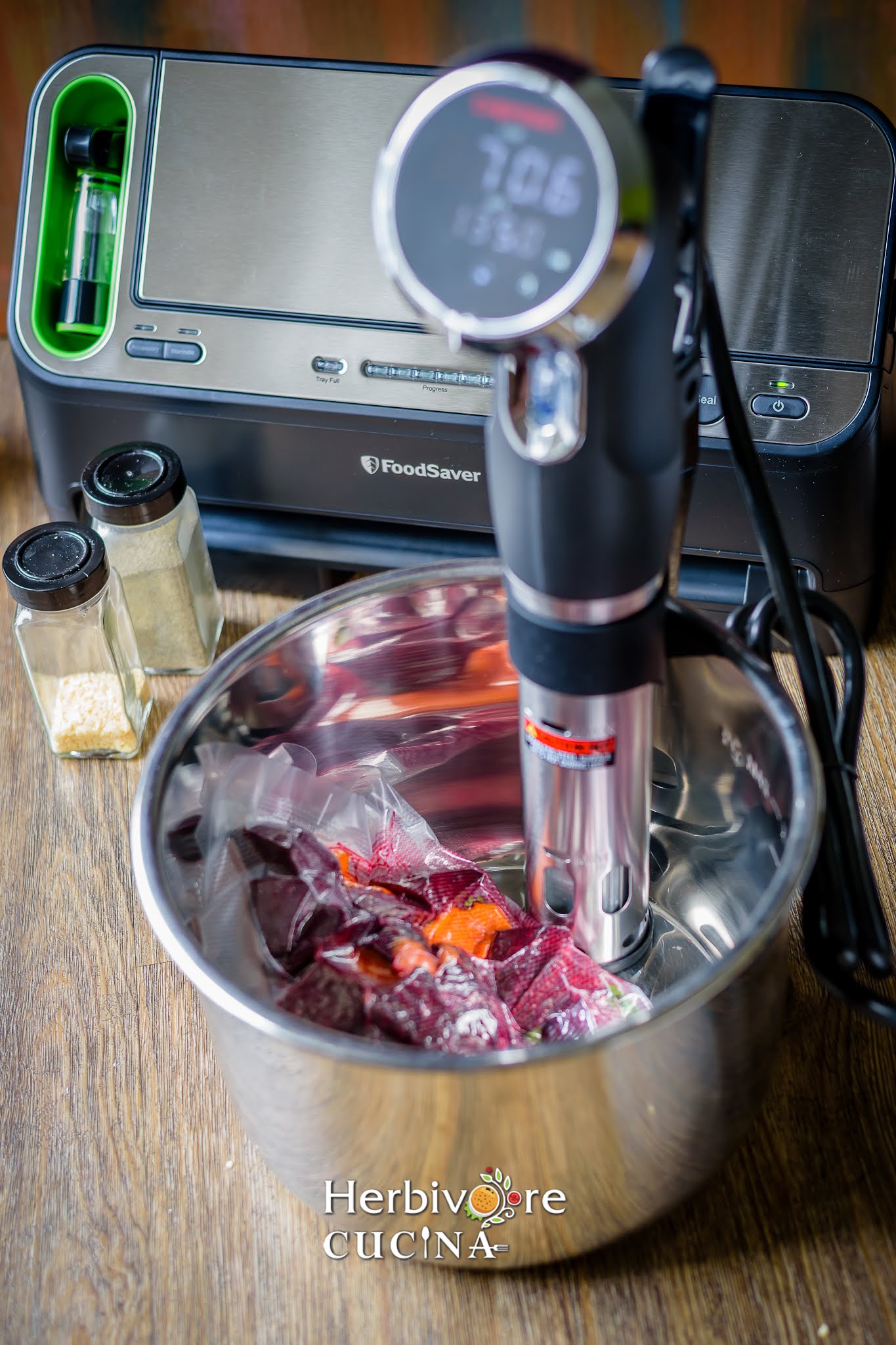 Cook for 1.5 hours. Once done, open the bag, remove the orange peel and cilantro stalk, and serve on a bed of quinoa. Top with the juice leftover in the bag after cooking and some sesame seeds.
The cooked beets can be frozen or refrigerated in the bag. Bring to room temperature or serve cold.