The first Thali I posted was the Gujarati Thali. Today, I am posting another Thali. This one happens to be my FAVORITE cuisine! For those who follow the blog, you would definitely know how much I enjoy making Indian Chinese food. And when Valli announced the theme for this BM as Thali, I wanted to include this one for sure.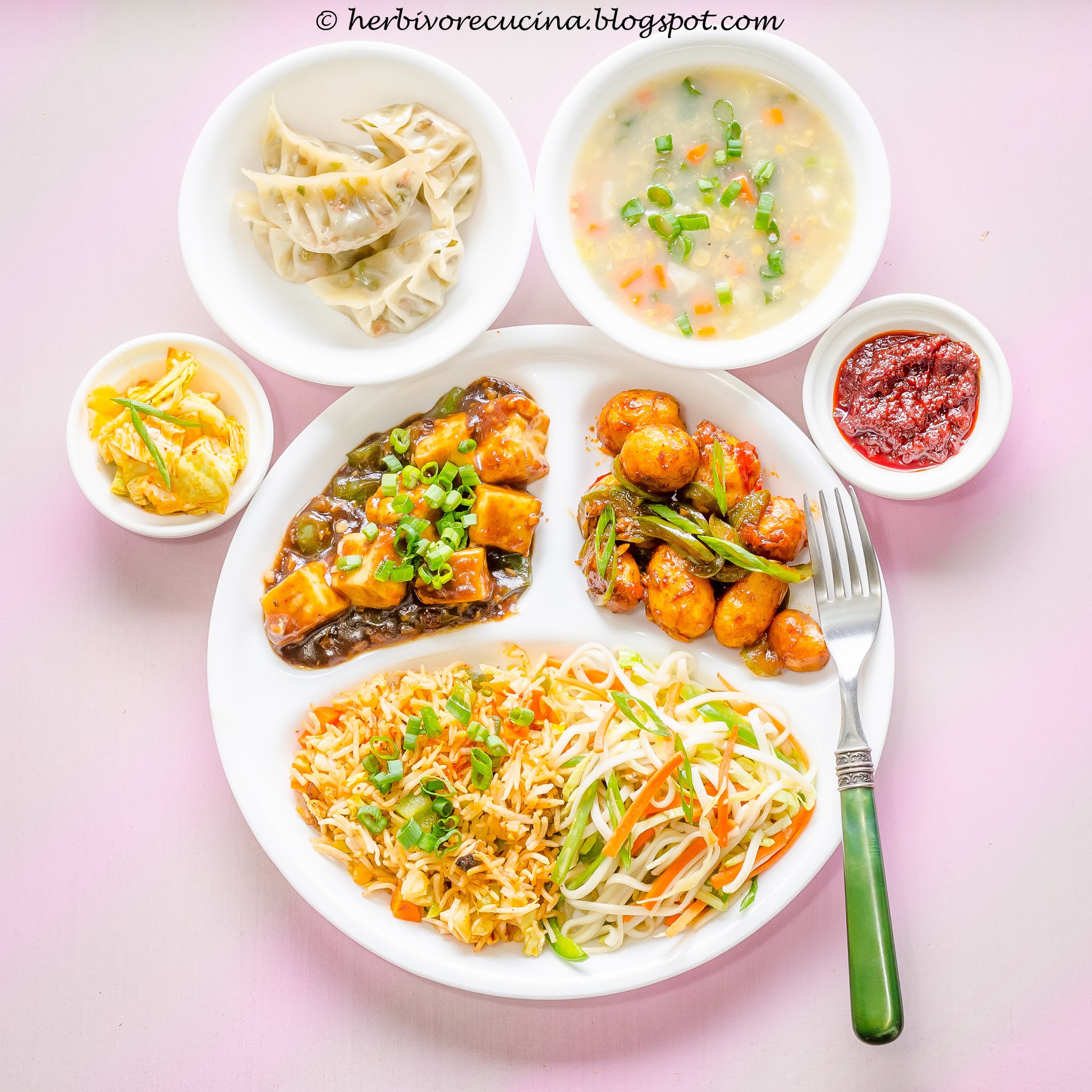 For the longest time we have all imagined Thali to be JUST Indian food. However, with time many restaurants now have a variety of non-Indian thalis, including Chinese, Thai, Mexican and Mediterranean. Diving into the definition of a Thali, it would be any combination of dishes that come together perfectly and can be served as a complete meal. Generally made up of various elements like carbs, fats and fibre; the elements should have flavors ranging from sweet and salty to spicy and sour.
When I thought of making an Indo-Chinese Thali, I was fairly confident of the elements I would include to complete the meal. When I finally made it, I was pretty happy with the result. From soup, salad and starters to rice, noodles and curry; this Thali has it all. While there is no bread like other traditional thalis, this one has noodles to make up for it. With that and a few other substitutions like soup for dal, schezwan sauce for pickle and Kimchi for a traditional salad, I managed to make a complete Indo-Chinese meal and we loved it! Hope you all enjoy this one too!
On the Thali today
Kimchi
A flavorful blend of cabbage leaves with vinegar sweet chilli sauce and spring onions.


Ingredients


Cabbage 1 cup, diced
Schezwan sauce 1 tsp
Vinegar 1 tsp
Soy Sauce ¼ tsp
Sugar ½ tsp
Garlic 1 clove, minced
Salt a pinch
Spring Onions to top
Recipe
In a bowl mix together all the ingredients except cabbage and spring onions. Mix well and add water if needed. Put the diced cabbage in a wide bowl and pour the mixture. Mix well and top with spring onion greens. Store in an airtight bottle till ready to use.
Steamed Dumplings with Cheese and Vegetables
These amazing parcels are stuffed and steamed. Served with fiery Schezwan sauce, these make perfect appetizers.
Schezwan Potatoes (dry)
Baby potatoes tossed in spicy schezwan sauce and lots of colored peppers, this dish is perfect as an appetizer or even with rice as a side.
Freshly made fiery and super tasty sauce. This schezwan sauce recipe is all you need to complete the Indo-Chinese meal!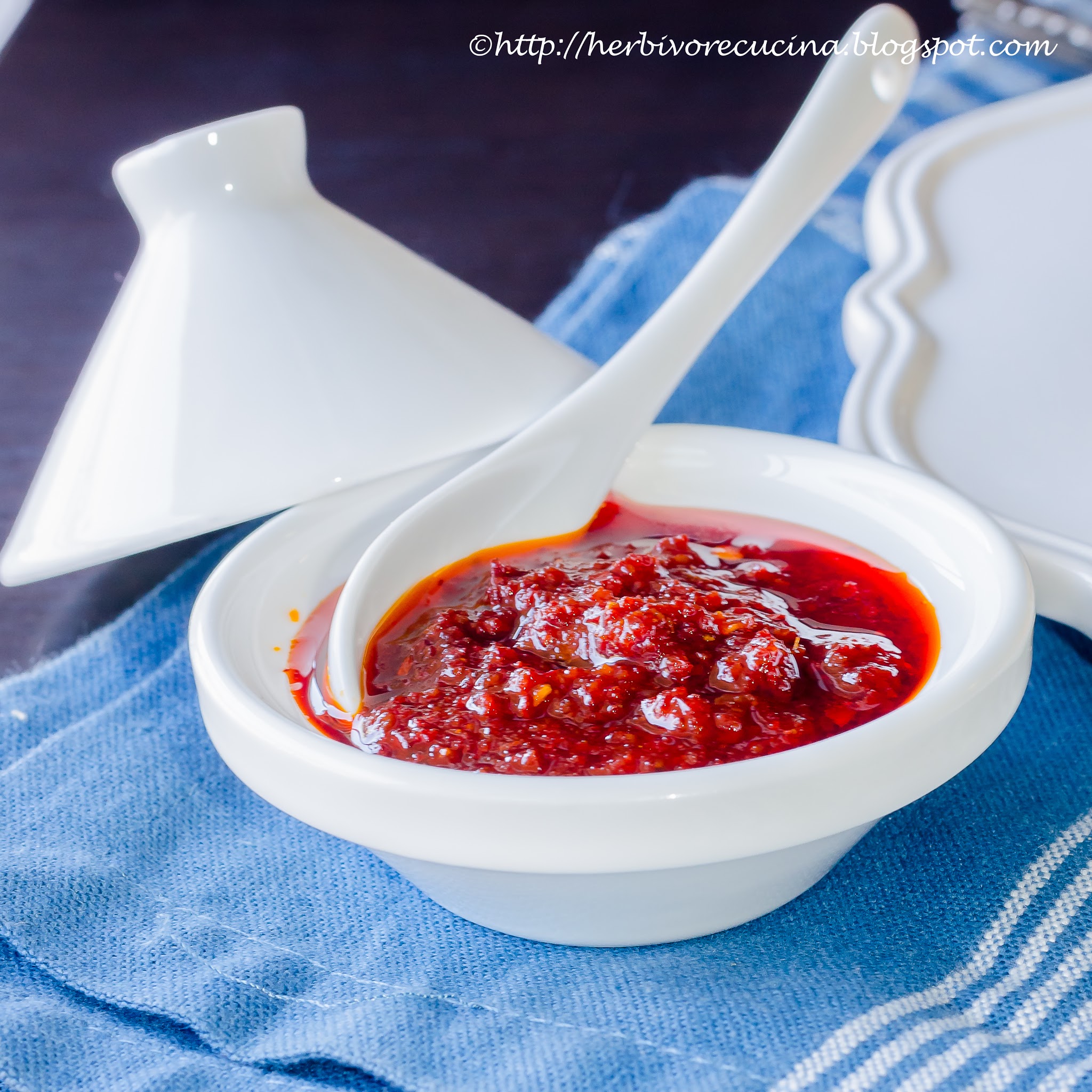 Made in under 20 minutes, this soup is apt for an Indo-Chinese meal. While Manchow soup is my personal favorite, this mild soup is perfect to complement the spicy counterparts in the Thali.
Paneer Chilli
Probably the most famous Indo-Chinese main, this gravy based dish made from paneer pieces, peppers and lots of garlic and spice makes a perfect accompaniment to rice and noodles.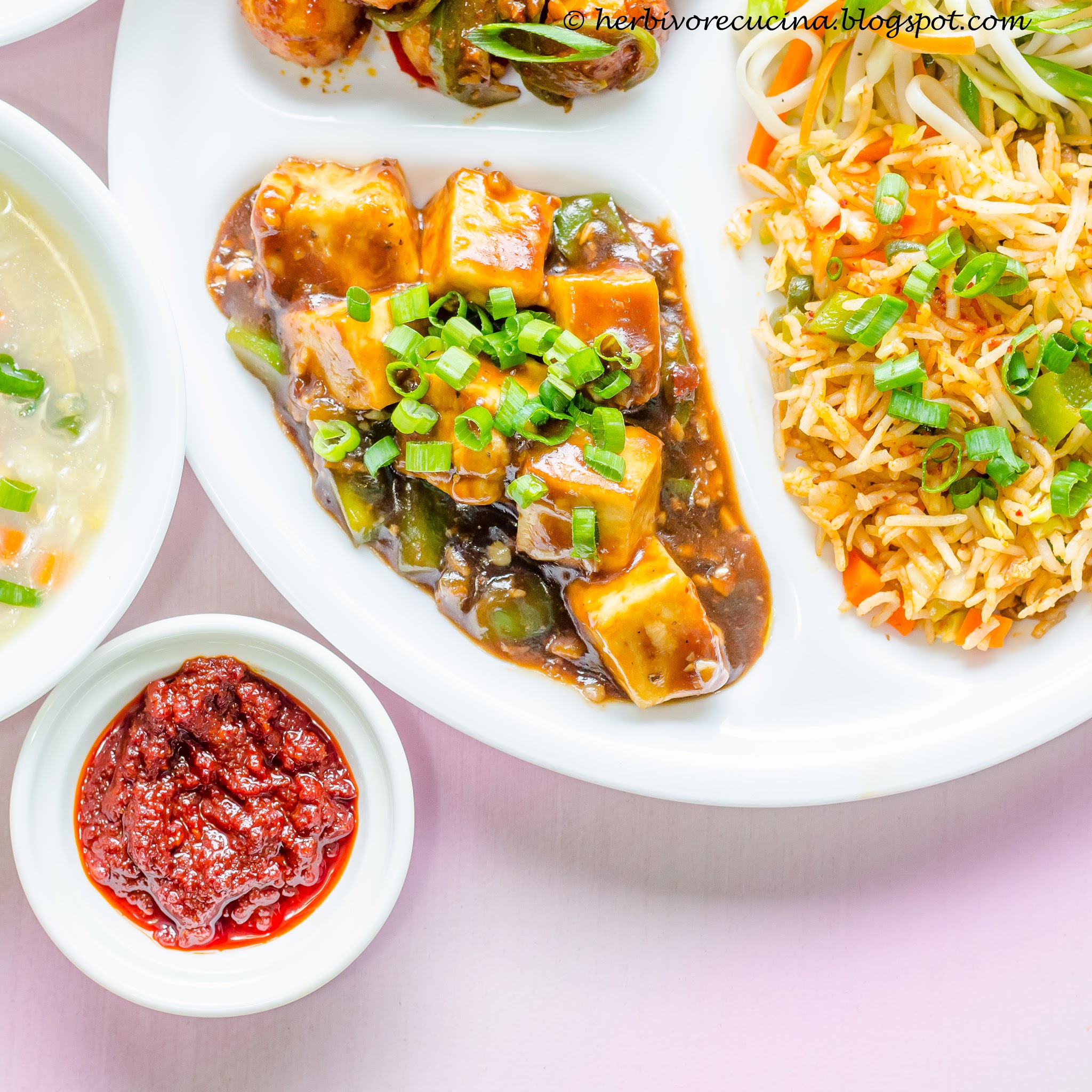 While the other elements are spiced on this platter, this bland yet flavorful noodles full of vegetables mellow down the dish a little.
One of the favorite dishes from the Indo-Chinese menu, this yummy rice tastes amazing with the paneer chilli and schezwan potatoes.
Enjoy this meal and come back for another thali tomorrow!