A PERFECT side for Thanksgiving; this Jalapeño Cheddar Corn Bread can easily be made in the Instant Pot!
I love how EASY and delicious this is! 


Thanksgiving is almost here and we are all ready with our main dishes and sides. This year the STAR of my preparation has been my Instant Pot Duo. I made ALL my sides in the Instant Pot and that left me with an EMPTY OVEN! I even made the mains in the Instant Pot! This year can easily be called Instant Pot Thanksgiving.
I posted a few sides and mains on the blog recently. Being a Vegetarian, we plan to have a Thanksgiving table full of Vegetarian delights. It is awesome to have everything made from scratch and this year I am more prepared and confident than ever before!
For those who are following the blog; you know already that I have a lot of Instant Pot recipes for Thanksgiving. I shall do a separate post with them all; but here are a few of my favorites:
Not long ago I bought a few accessories for the Instant Pot. I am using them all frequently but the Silicone Egg Bite mold was not used as much. I pulled it out to make this Corn Bread! I loved how I could make single serve bread bites in them that were easy to serve.
Cornbread is great as a Thanksgiving side and we LOVE the one that a local restaurant makes for their salad buffet. It is moist and full of corn kernels. I decided to make something similar; full of fresh corn. Plus, to make the bread even more delicious; I added in some fresh jalapeño and cheddar cheese. The combination of these three made the bread super delicious.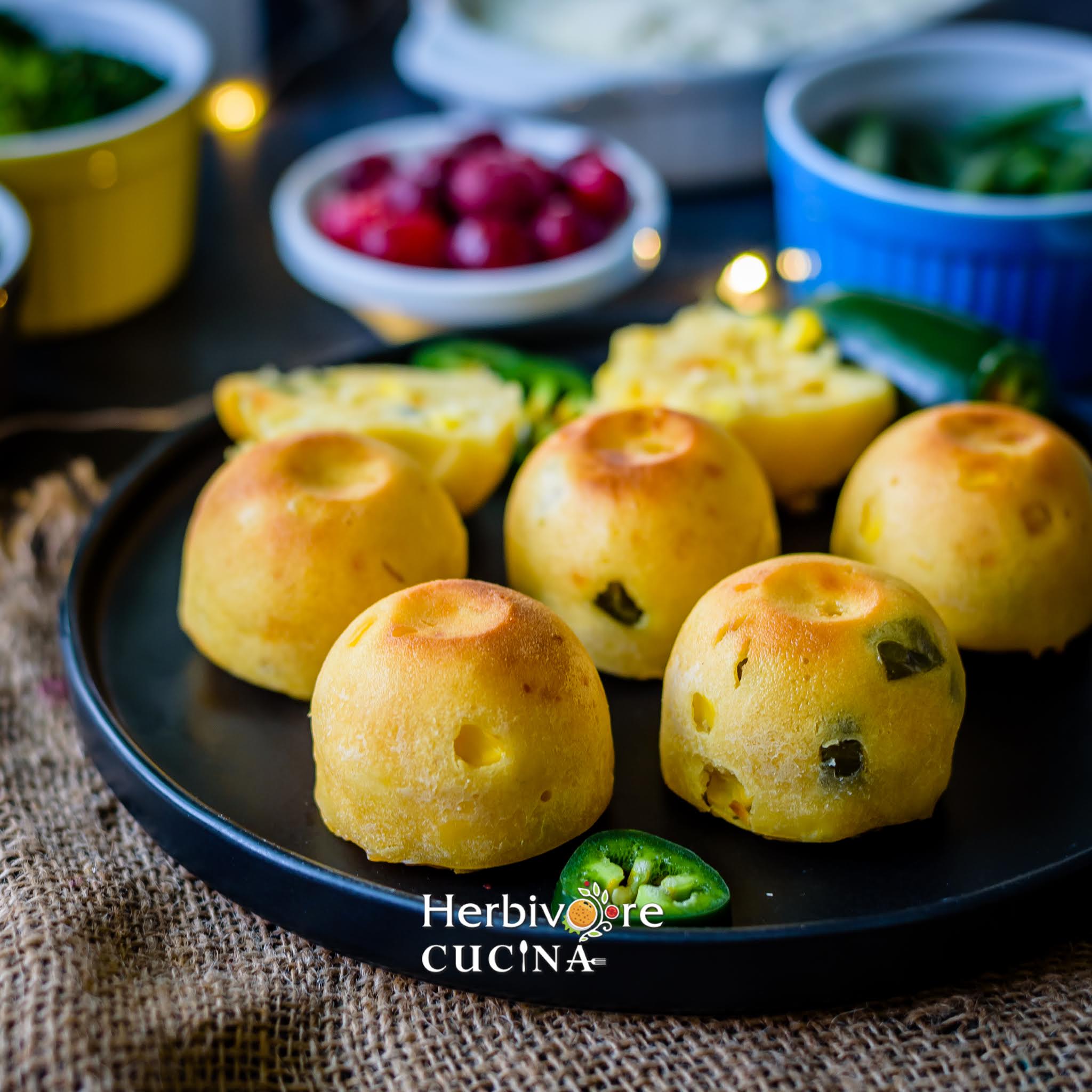 Why make Corn Bread in Instant Pot?
Who does not know how jam packed the oven is on Holidays. Baking is the most widely used technique for the dishes. Transferring the load away from the oven is important to get it all done quickly.
Though the last step here is to Broil the breads once they are cooked; it is optional. If you like a crunch on them; do this. Even without this step the breads taste awesome!
Plus, this recipe is perfect for enjoying beyond the Holidays too. Make a batch of eight breads in the Instant Pot and enjoy with some warm soup or chili. Such a comfort meal for weekends!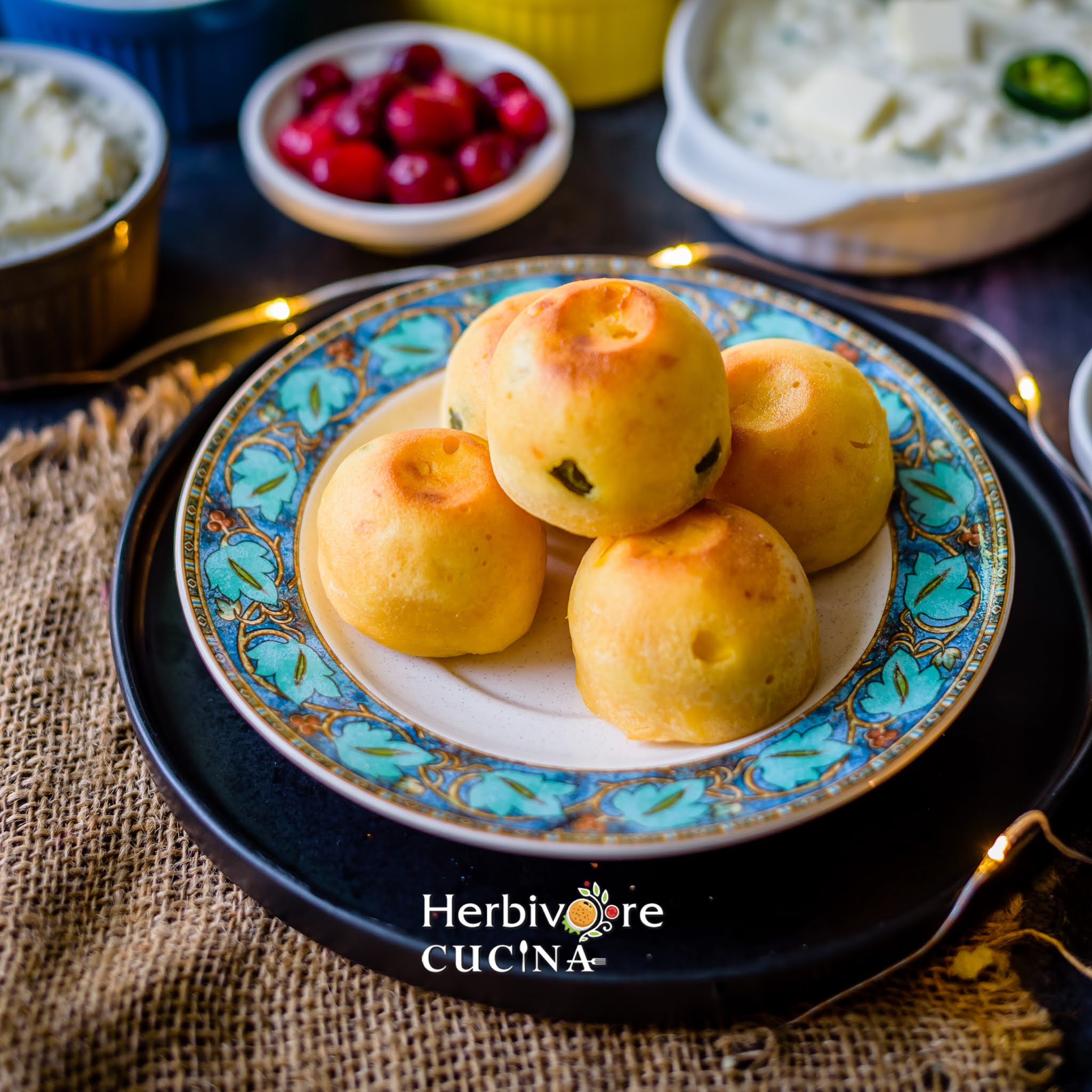 Variations
In this recipe I went all out and added corn kernels, jalapeño and cheddar cheese. If you would rather prefer a plain version, skip them all and just add corn.
This recipe is vegetarian but it can be easily converted to Vegan. Substitute regular milk with soy milk or almond milk. Leave out the cheese and use maple syrup instead of honey. The recipe works great with these variations.
I made bite size breads using the Silicone Egg Bite mold. The same can be made in a Springform pan too. Because it has to cook through; increase the cooking time to 25 minutes.
Finally, if you are not a fan of making everything in the Instant Pot; use the same recipe and divide the batter into muffin molds and bake them at 350 F for 20 minutes. It gives great results too!
Ingredients
Cornmeal ¾ cup (make your own using Nutrimill)
Allpurpose flour ¼ cup
Frozen/Fresh corn Kernels ½ cup
Minced Jalapeño 2 tbsp
Milk ¾ cup
Shredded Cheddar Cheese ¼ cup
Oil 2 tsp
Baking powder 1 tsp
Maple Syrup/Honey 1 tsp
Lemon Juice ½ tsp
Salt ¼ tsp


Method
In a bowl mix together cornmeal, allpurpose flour, baking powder and salt. Once mixed, stir in the cheese, corn and jalapeño. They should get coated with flour to avoid them from sinking while cooking.
Add the milk, oil, honey and lemon juice. Mix only till the ingredients blend. Do not over mix.
Pour the batter into the cavities of a Silicone Egg Bite mold. Fill them till ¾ full. If overfilled they will overflow on baking. I could make 7 breads in this mold. Cover with a paper towel and seal with a sheet of aluminum foil.
In the base of the Instant pot add 1 cup water. Place a trivet in it. Place the silicone mold on the trivet.
Close the lid and set the mode to 'Pressure Cook' and pressure to 'High'. Adjust time to 13 minutes and move valve to sealing. Once the Instant Pot beeps; let the pressure release naturally for 10 minutes.
Manually release the remaining pressure and remove the mold. Let the Corn Bread cool for a few minutes and remove.
Place the breads in a baking tray and broil in the oven for 3-4 minutes to get a golden brown crust. This step is optional.
Enjoy warm with a side of Instant Pot Cheesy Mashed Potatoes and Instant Pot Roasted Cauliflower.
Today we get together with bloggers who love the Instant Pot and put together a list for your Holiday Table!! We are calling it 'ULTIMATE Instant Pot Holiday Recipes'. Check out the recipes below: