Blogging Marathon #74 Week 3 Day 3
Theme: Quick and Delicious Stir-Fries
Dish: Japchae | Korean Stir-Fry Noodles
A flavorful stir-fry made from sweet potato noodles, vegetables and tofu. This Korean recipe is a keeper!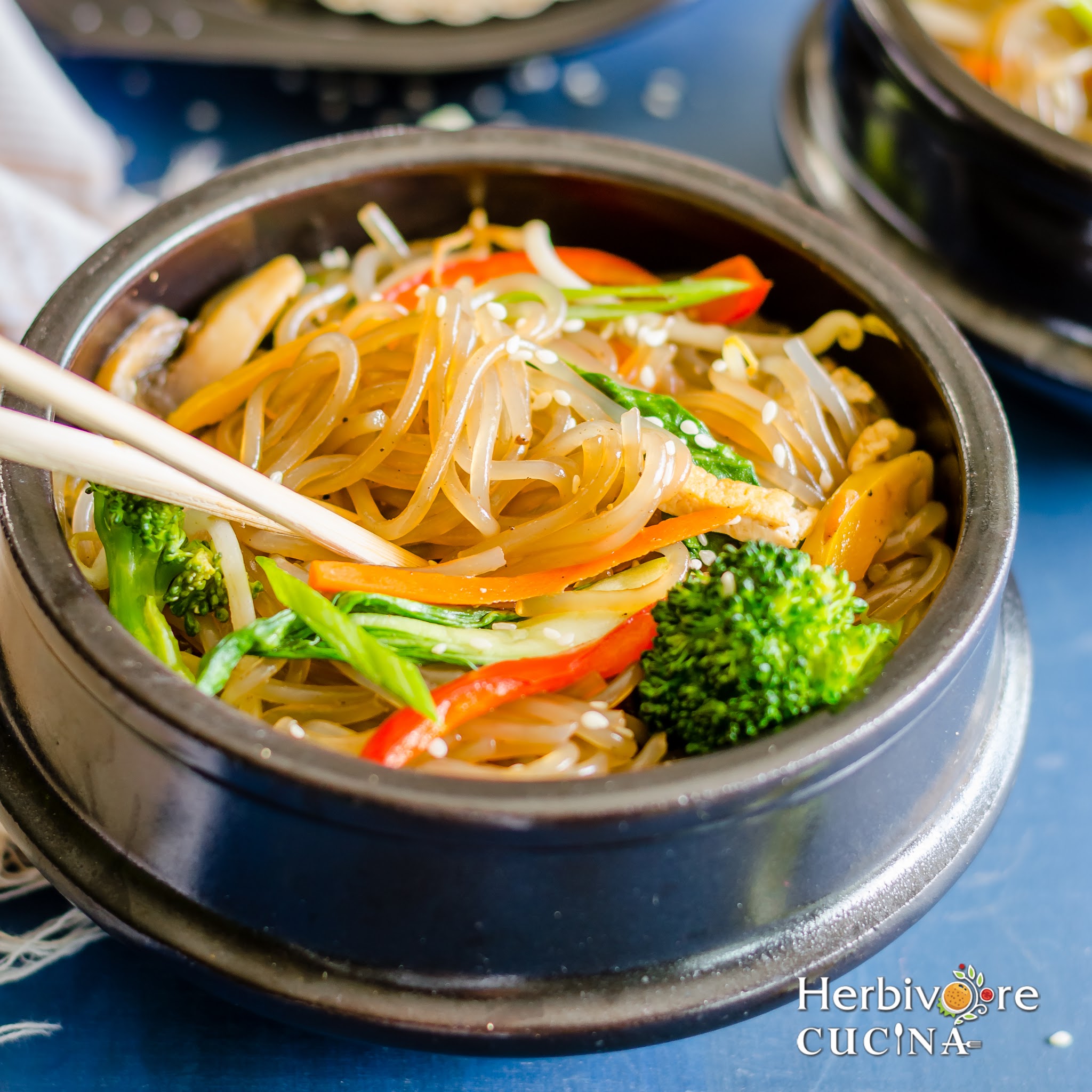 Asian cuisine has a ton of noodle recipes. The noodles in the recipes vary from super thin to round and from flat thin noodles to the super thick ones. Plus, every noodle is made from a different ingredient. From oats, brown rice and quinoa to chickpeas, sweet potato and rice.

I have tried most of these noodles and they all have a special flavor that is perfect for a different dish. Some noodles are specific to a cuisine; like rice noodles for Pad Thai, Flat noodles for Malaysian, Thick ones for Udon recipes and Ramen for Soups.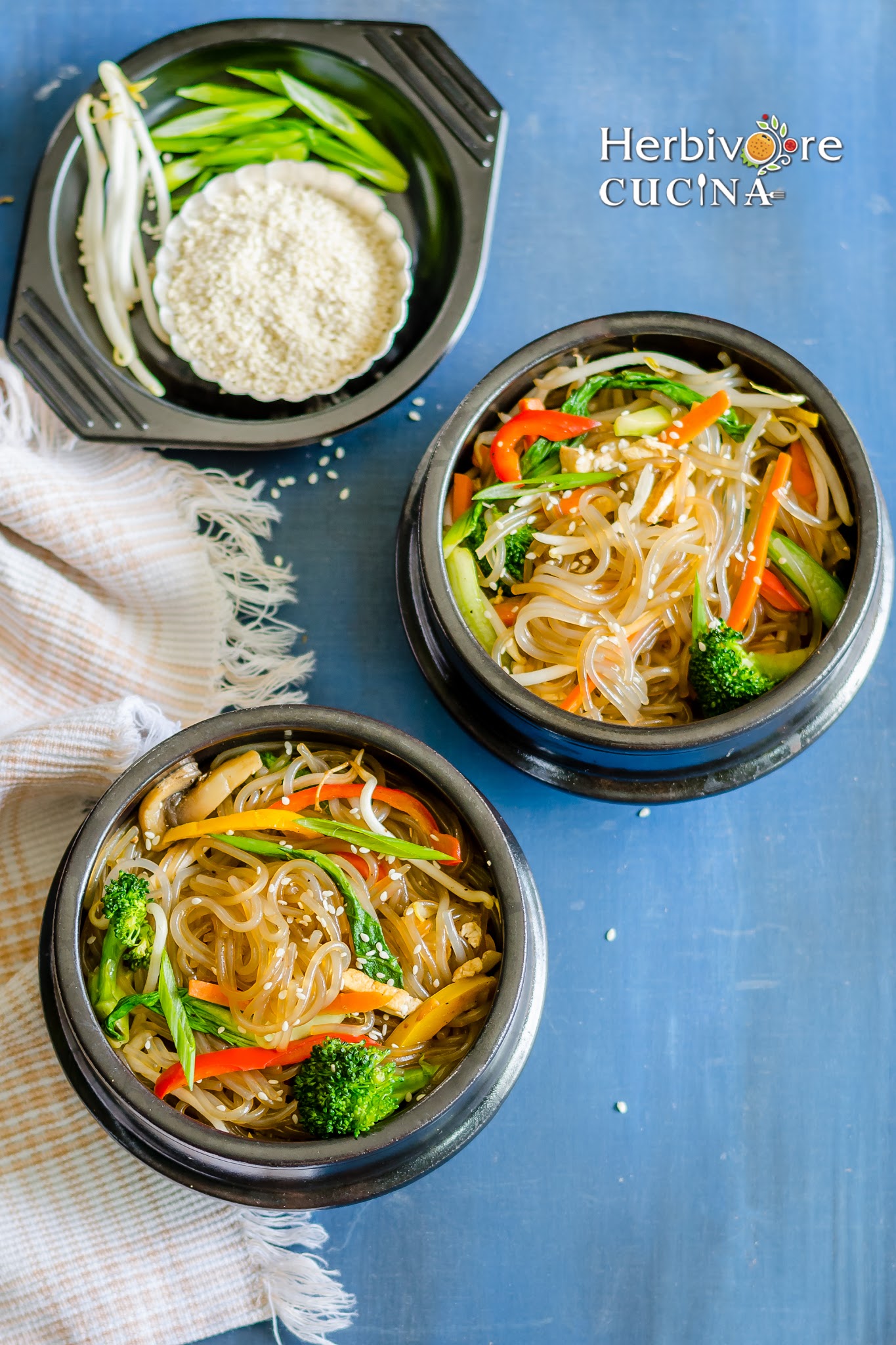 My pantry is filled with all the different types of noodles, given our love for Asian cuisine. We make it all at home and LOVE it too much. Thai, Chinese and Vietnamese cooking was always a star in the house, now Korean has been added too. Recently we got two clay pots to make Ramen noodle soup. We had it a couple of times, though I still have not shot them.

For those who are aware, Korean places generally serve their Ramen Soup with an array of sides. A local joint here has the following: brown/pink rice, sweet potato fry, seaweed salad, a glass noodle stir fry and kimchi. So the day I made the Ramen Soup, I HAD to make this Glass Noodle dish called Japchae. It was made as a side and we loved it so much, that I made it as a main dish this weekend. So I shot it too, and included it this week for the theme Quick and Delicious Stir-Fries.


What is Japchae?


Sweet Potato Noodles are really popular in Korean Cuisine. A simple Stir-Fry made from these noodles and vegetables and protein is called Japchae. The dish is super flavorful and generally has peppers, carrots, mushrooms and onions. As a protein, the vegetarian versions generally have tofu. The most attractive part of the noodles is that they turn translucent on cooking. The result is a beautiful noodle dish, slightly tinted with the Soy Sauce. Sometimes also referred to as Cellophane Noodles, in my opinion a stir-fry with them is essentially a Salad :p Given that the noodles are just sweet potato starch and the add-ins being vegetable, protein and sauces.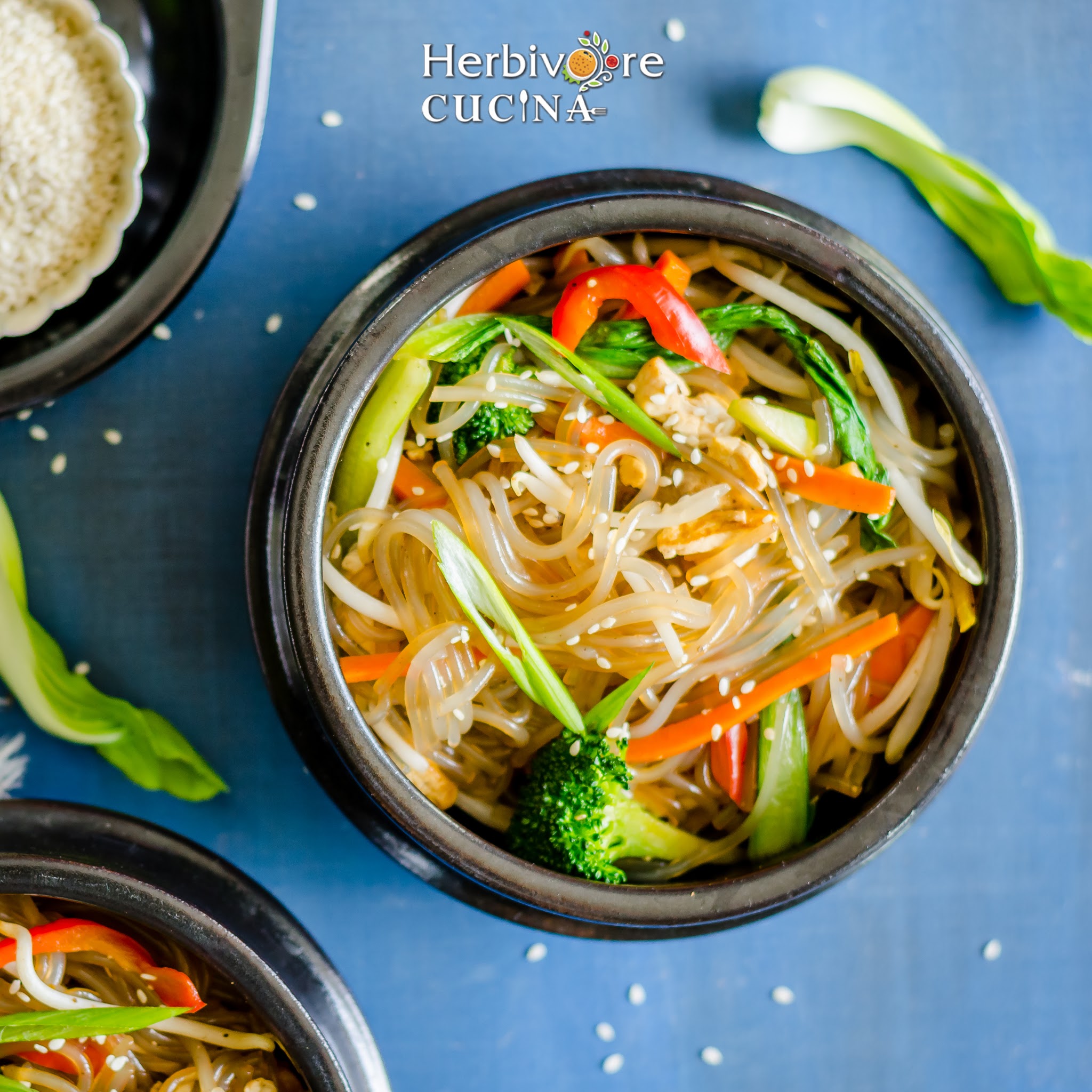 To make Japchae


The noodles packet is pretty big and the noodles generally come all tangled. I read a TON of recipes on different websites to make them. Some recipes said that the noodles need to be soaked in cold water to separate the noodles. A few other recipes said you can boil them directly and cut them using kitchen scissors once the noodles cook.

I found that method easier, so followed that. The result was perfectly separate noodles that cooked really well. I added vegetables and tofu in the noodles. I had a lot of bean sprouts and they tasted perfect in the dish. Though I added them and the vegetables as mentioned below, you can substitute with vegetables of your choice.

I made an eggless version of Japchae, but adding fried eggs cut into strips is common. You can add a protein of your choice; from chicken to tofu! Just add whatever you have in your refrigerator and whip up a yummy dish.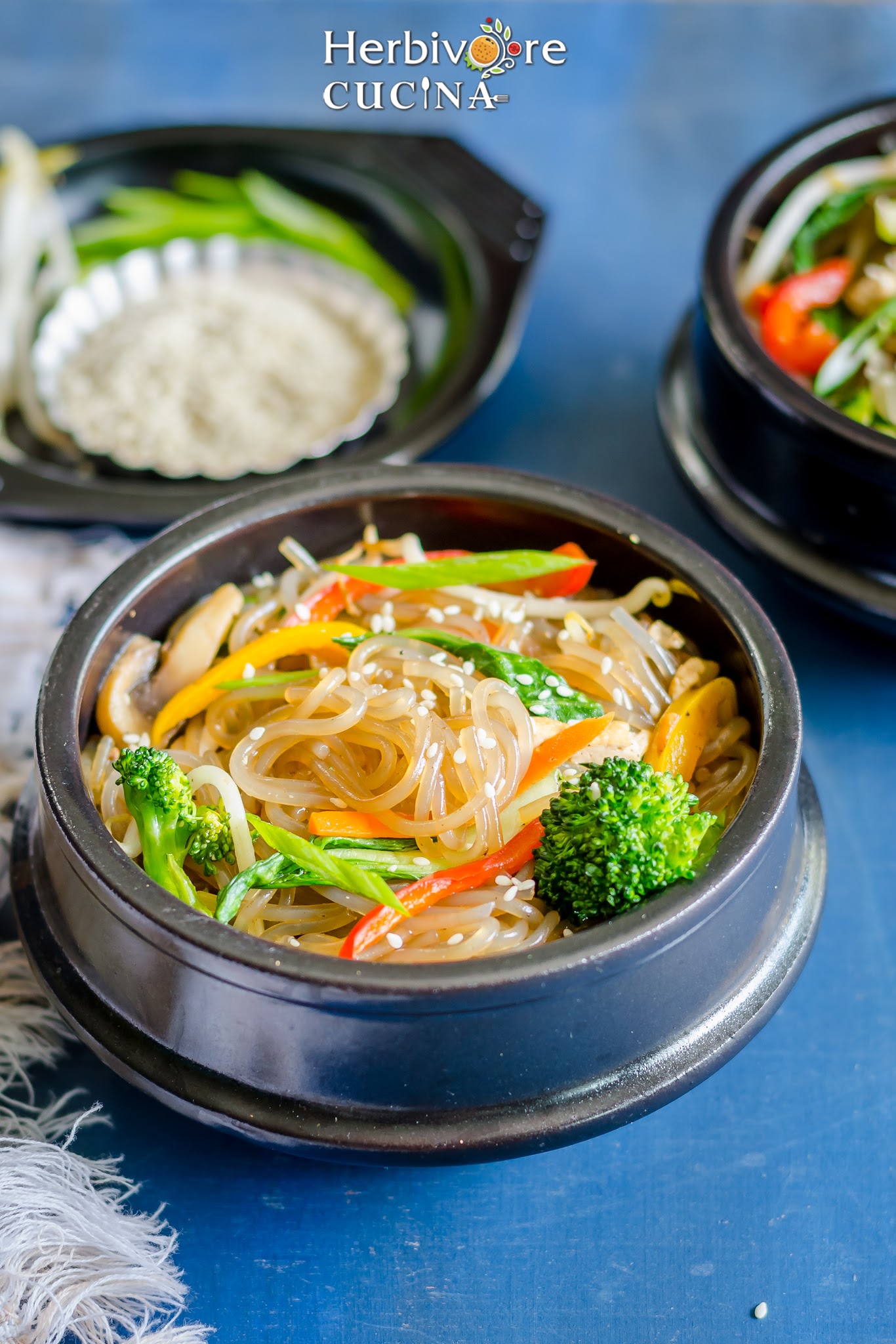 Ingredients

Japchae / Korean Sweet Potato Noodles 10 oz
Firm Tofu 7 oz
Garlic 2 pods, minced
Spring Onion 1 bunch, shredded
Red and Green Pepper 1 each, sliced
Carrot 1 medium, julienned
Bok Choy 1 bunch, separated
Broccoli a few florets
Bean Sprouts ½ cup
Soy Sauce 1 ½ tsp
Vinegar ½ tsp
Sesame Seeds 1 tsp
Oil/ Chilli Oil 1 tsp
Salt and Pepper to taste

Method

In large pan heat 6-7 cups of water. Once it boils, add the noodles. Cook for 5-6 minutes till soft. Using clean kitchen scissors, cut the noodles to smaller pieces.

In about 8 minutes, the noodles will be cooked. Remove and drain completely. Add some soy sauce and toss to ensure the noodles do not stick.

Heat the oil or chilli oil in a wok. Add garlic and saute till brown. Then add spring onion whites, peppers and saute for a minute. Add broccoli and carrots and cook for a few minutes, till tender. Finally add bok choy and cook till it is wilted.

Season with ½ teaspoon salt and ½ teaspoon pepper. Also add Soy Sauce and Vinegar. Add the cooked noodles and toss well. Cook for a minute and turn down the flame.

Add bean sprouts and spring onion greens. Mix well. Sprinkle sesame seeds and serve immediately.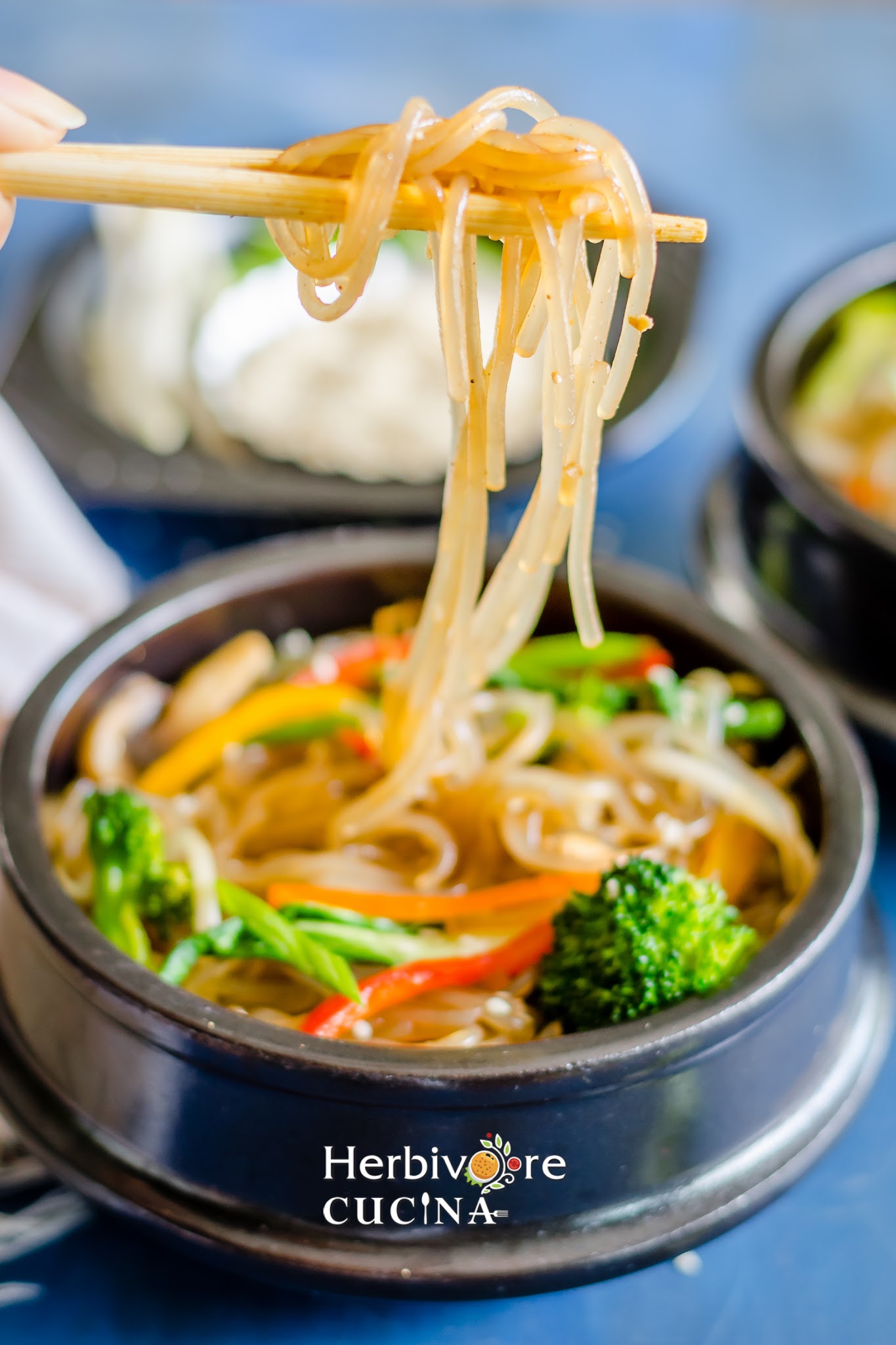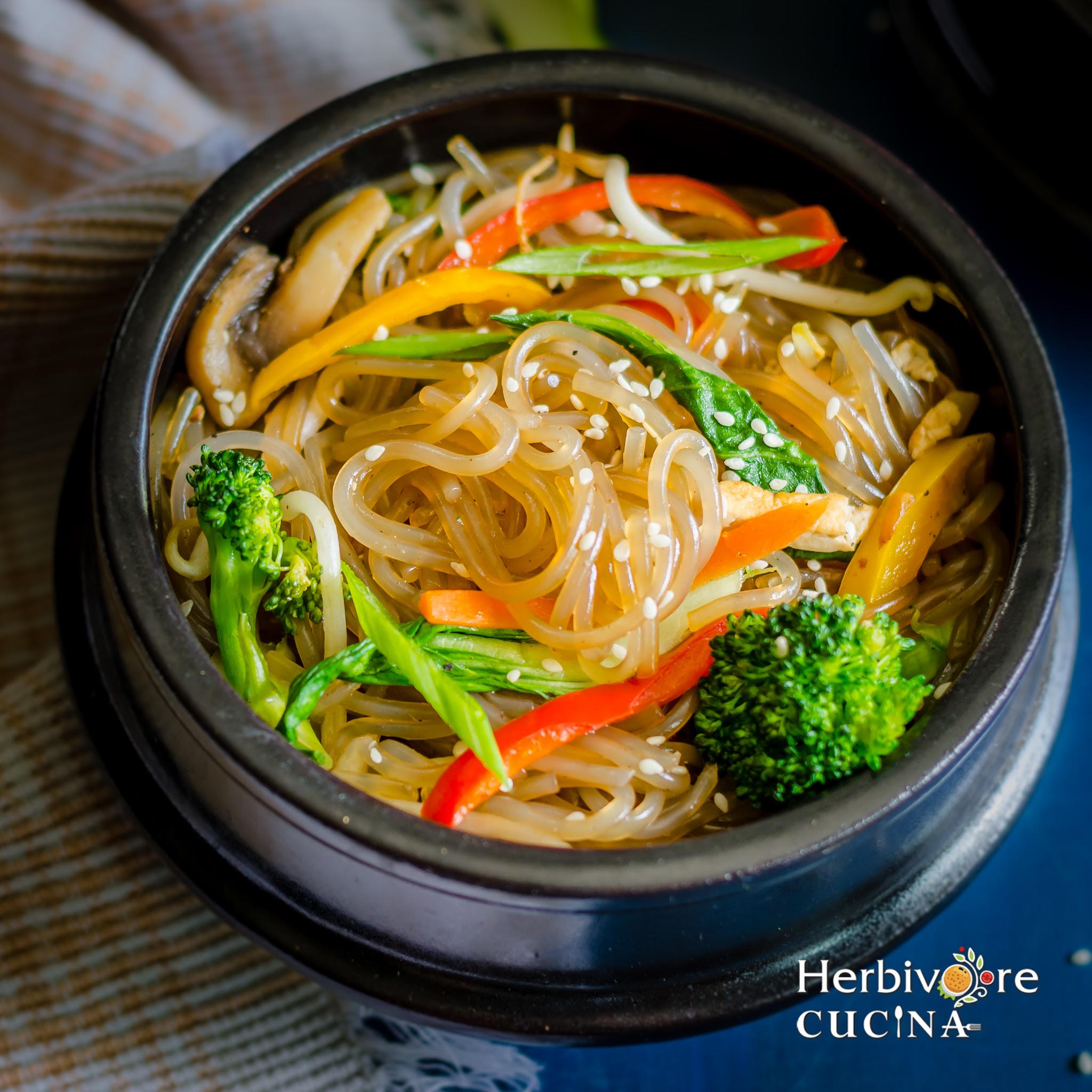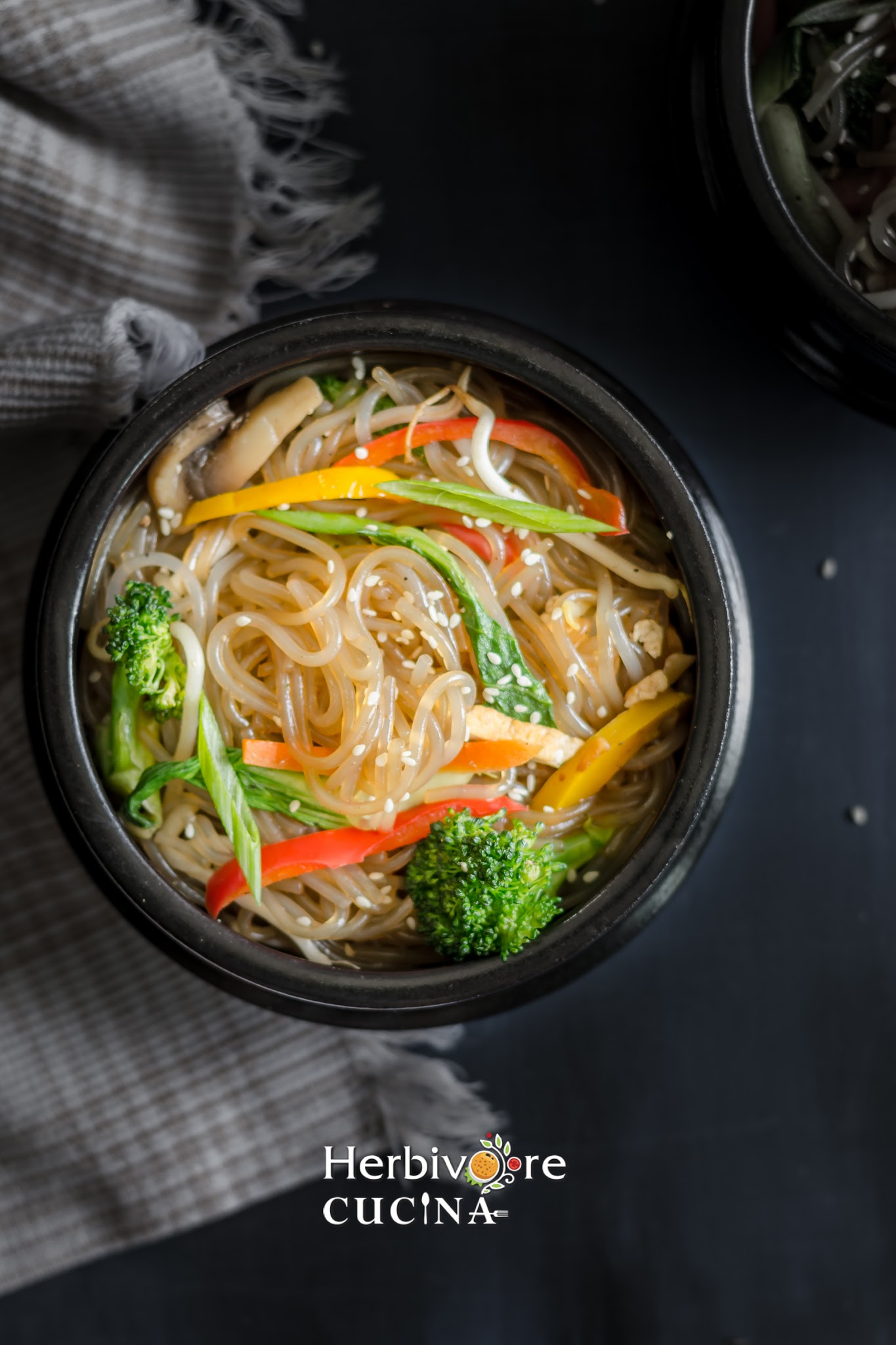 Check out the Blogging Marathon page to see what the other Blogging Marathoners are doing for BM#74