A warm slice of bread full of banana, walnuts and pecans; straight from Starbucks to your table. Are you ready to bake this one for breakfast or quick snack?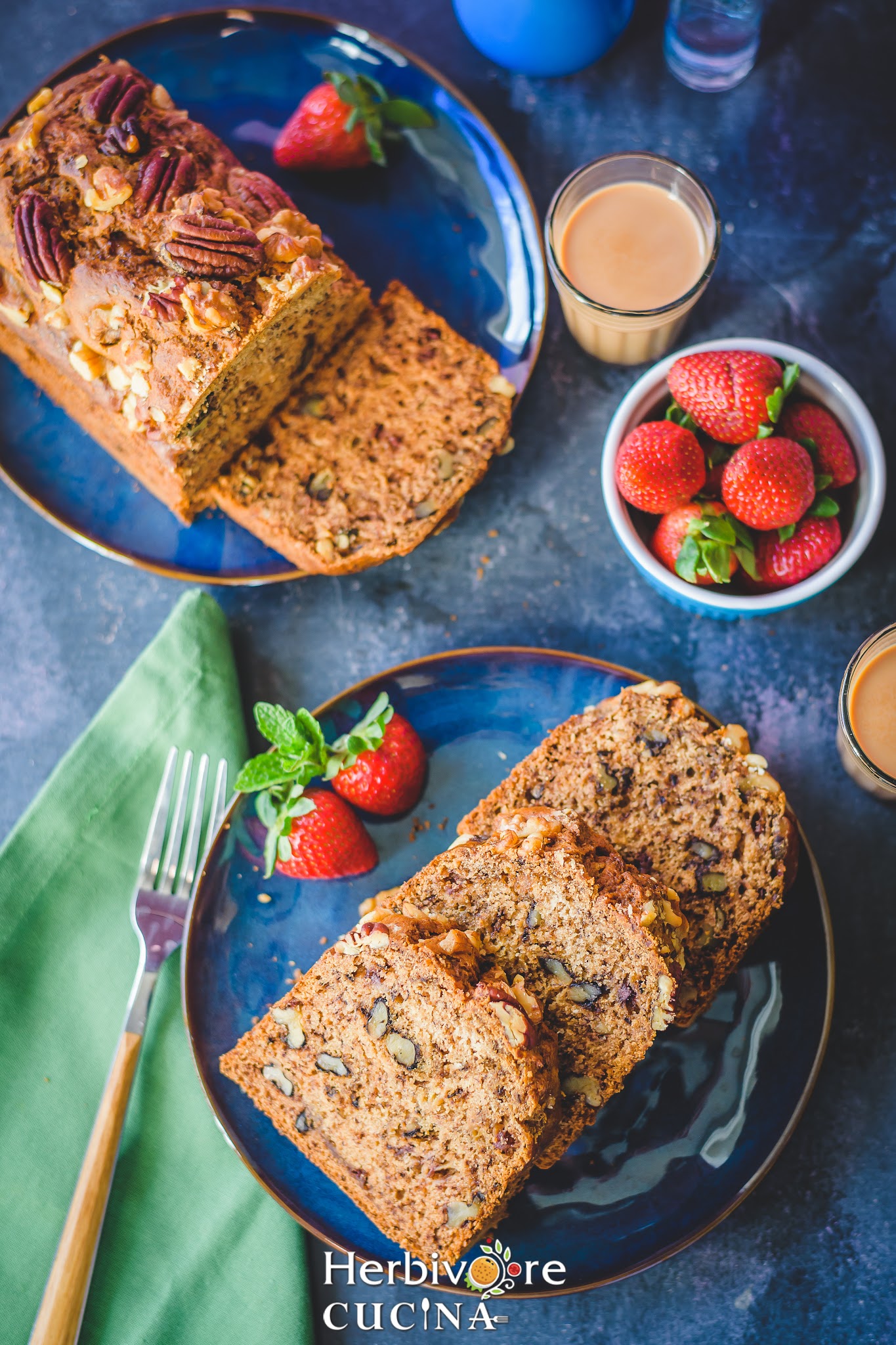 Who does not like the Banana and Nut bread at Starbucks? The thick slice of warm bread that is full of banana, walnuts and spices? If this is on your list of favorites, this recipe has you covered!
Video Recipe
I tried a couple of banana bread recipes in the past, but THIS one is just like the one from Starbucks! With the aroma of spices, crunch from the nuts and moisture from bananas, this recipe is MY favorite.
And so I HAD to share it here! This recipe is addictive, yet super easy to make I promise.
With exactly TWELVE ingredients, 10 minutes to put together; this recipe has just one challenge; waiting for an hour for the bread to bake slowly to get all the flavors together!
This bread is now my favorite and I make so often. This bread is the reason I keep all the bananas out to ripen. Such a treat to enjoy a slice of this bake slathered with butter and a cup of coffee or tea for breakfast.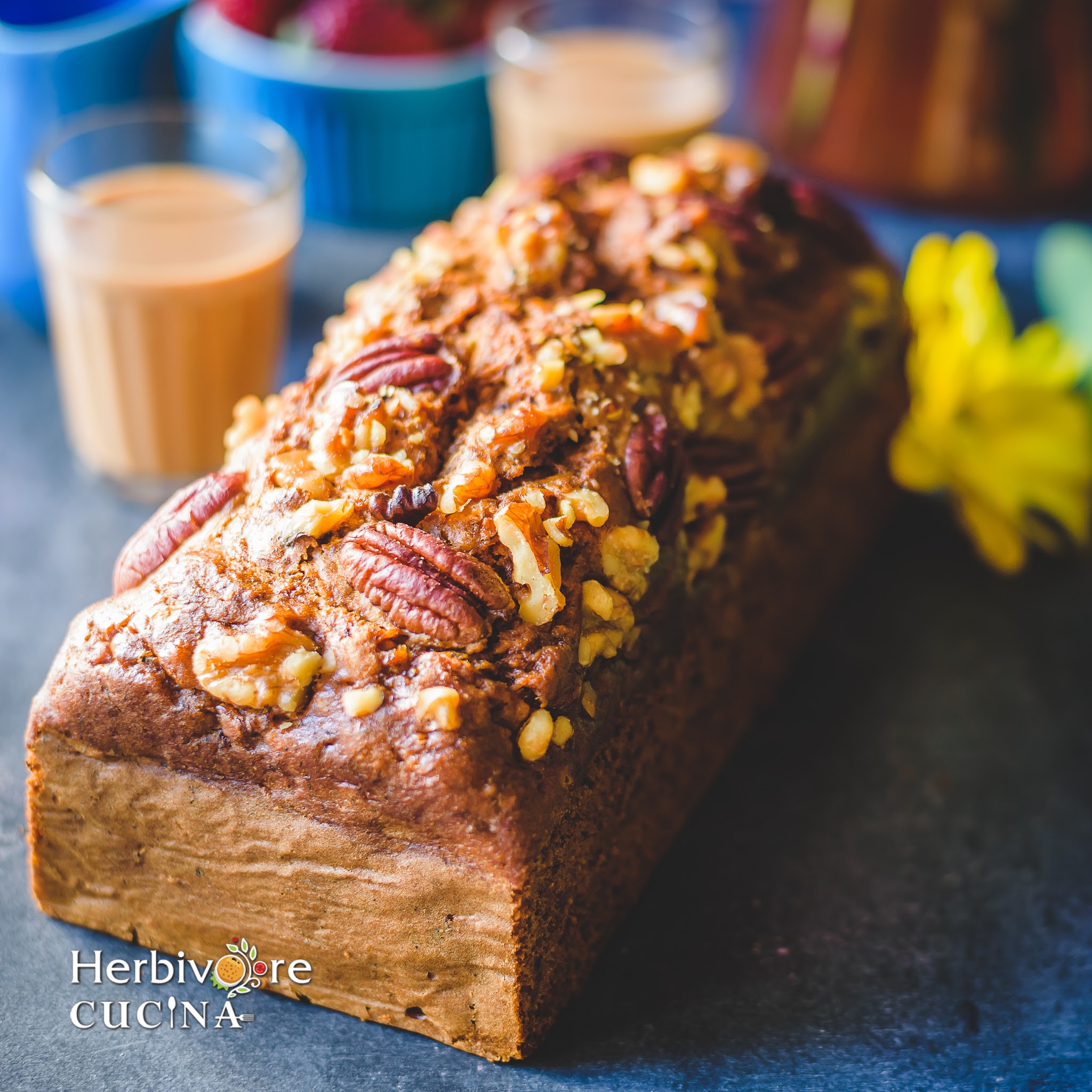 This recipe is good for one loaf. But if you take my word, you need to double the recipe and make two loaves at a time. They disappear in no time if your family likes bananas.
Honestly, I believe bananas were made with the intent if them going in a rich loaf! This bread is one the most amazing nut and fruit combination and should be made more than once a month.
Breakfast can be sorted for days with these two loaves. Plus, with summer just around the corner, this bread makes a great picnic treat. Take along the loaf and some butter; it makes a mess free treat for kids and adults alike.
I sometimes add some chocolate chips to make it kids favorites; but this version with just nuts is a winner too.
So look no further and make sure you make a batch right away! If you have to wait for the bananas to ripen, do that NOW! Because the bread does require the bananas to be perfectly ripe and soft.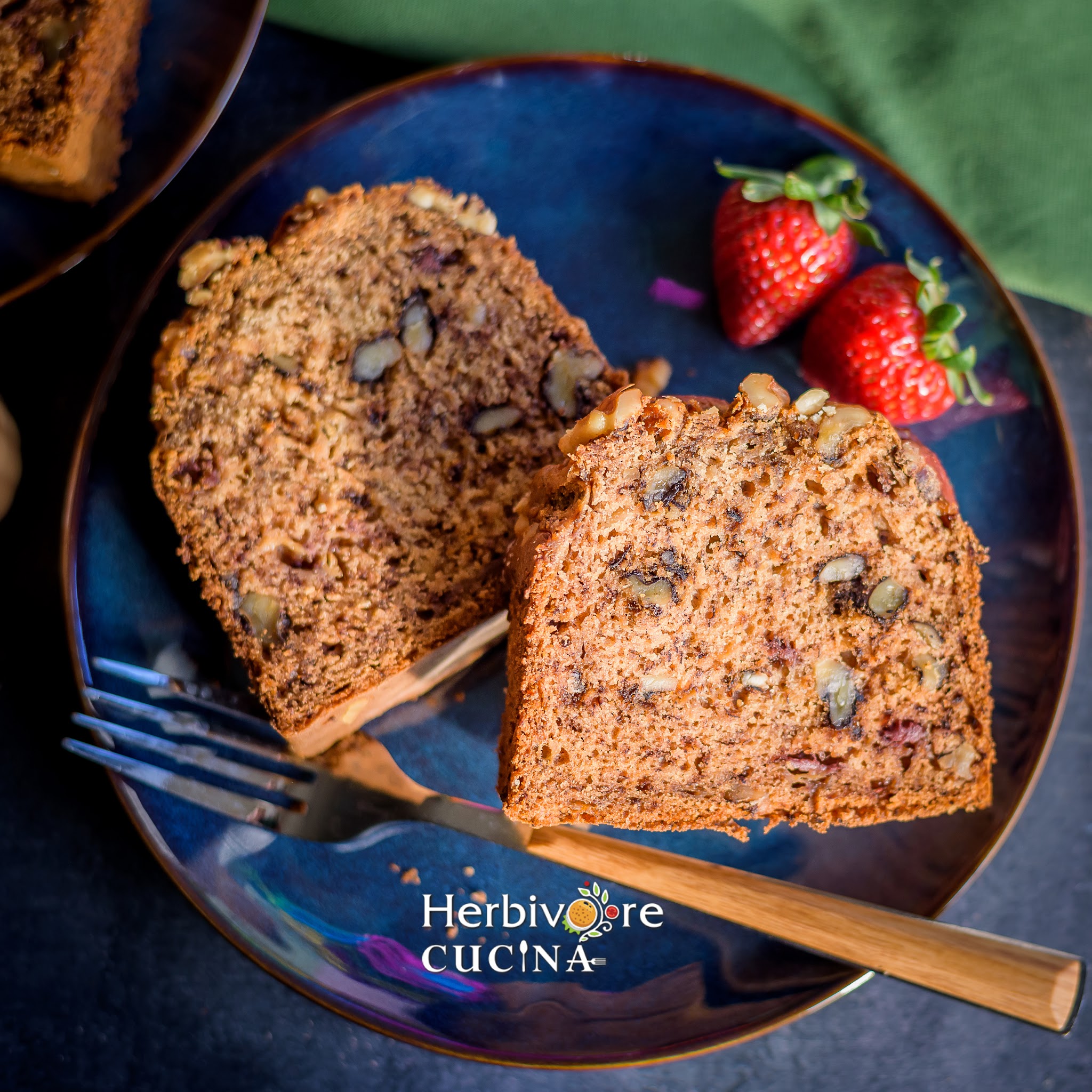 What you need to make this bread?
This recipe needs only a few pantry essentials. Flour, sugar, baking soda, a tad bit of salt and some nuts. That is all you need from your pantry.
Three-four SUPER ripe bananas are used here. The sweeter the bananas, the lesser the sugar required! So wait an extra day if you need but use ripe bananas.
Eggs, milk and vanilla extract play their roles in this recipe. I would not recommend skipping any of them here!
For the nuts, I used pecans and walnuts. You can choose the ones you like and use them. All nuts are great in the bread.
You can also add chocolate chips to the bread if you like them. They do make the bread a tad bit sweeter so adjust the sugar accordingly.
Can this bread be made eggless?
This version of the bread contains eggs. However, to replace the egg just whisk together 1 tablespoon flax seed powder with 3 tablespoon water. Let it stand for a while and add it to the batter. This works great in all bakes.
Love bananas? Try one of these recipes: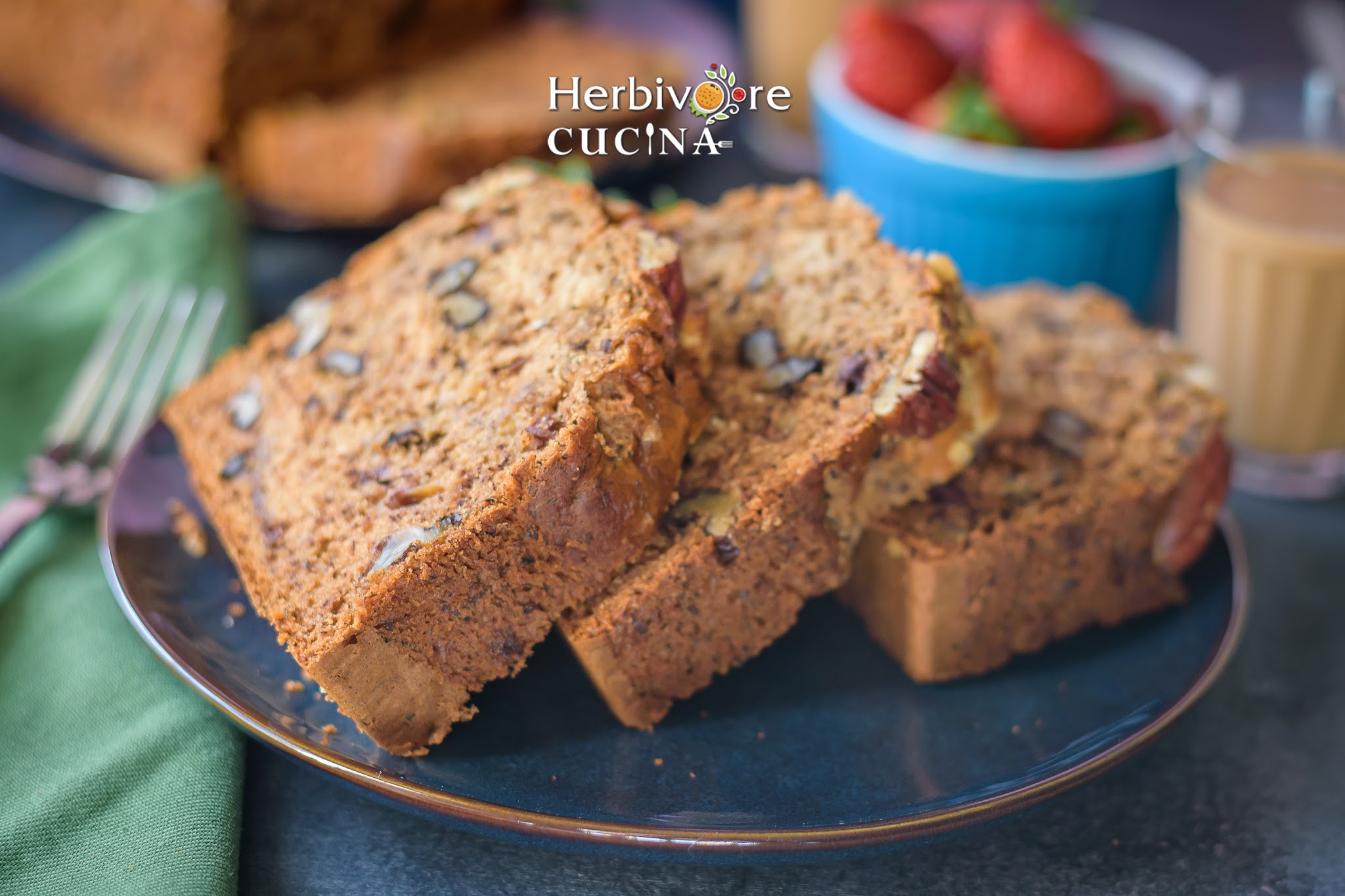 Making breakfast muffins with this recipe
I made the bread in a rectangular pan. However, making single serve bread bites in a muffin pan is a great idea too.
The result is single serve breads that make a great way to serve it for parties. Or make the same bread in a round pan. The shape does not really matter!
Pin for Later
Ingredients
All purpose flour 2 cups
Sugar 1 cup
Mashed Banana 3-4 medium
Walnuts ½ cup
Pecans ½ cup
Oil ½ cup ( I used Sunflower oil here)
Milk 2 tbsp
Egg 1 medium, room temperature
Cinnamon Powder 2 tsp
Pure Vanilla Extract 1 tsp
Baking Soda 1 ½ tsp
Salt ¼ tsp
Method
Grease a 9 inch bread pan with non stick spray or parchment paper. Set aside.
Preheat oven to 325 F/ 170 C. Mash the bananas and add vanilla extract to them. Mix well.
In the base of a stand mixer or a bowl add sugar, vegetable oil and egg. Beat till combined.
In another bowl mix together the dry ingredients; flour, baking soda, cinnamon and salt.
Add the dry ingredients to the wet ones, mix well and then add in milk and mashed banana mixture.
Beat once again till combined; fold in half the walnuts and the pecans.
Transfer the batter to the greased pan and top with remaining pecans and walnuts.
Bake the bread for 60-70 minutes; till a skewer comes out clean from the center.
Serve immediately or store in an airtight container in the refrigerator.