Spring ready dessert that is EASY to make and delicious; Vanilla Mousse Cream Rolls is the recipe you need for all your parties!
Spring is knocking already and it is time to make Spring special recipes! For any party or special occasion; desserts always take center stage. Whenever I am planning a get together I decide on the dessert FIRST!
For the longest time my favorite ingredient to make easy and delicious desserts is Pepperidge Farm® Puff Pastry Sheets. With endless possibilities to use them with all kinds of ingredients, everyone enjoys these.
This Spring I wanted to start off with this dessert that doubles up as a snack! Cream Rolls or Cream Horns are super popular in many bakeries. These rolls were always a treat growing up! I would always wonder how these rolls have such a crispy outer layer with a melt in the mouth cream inside.
Once I discovered Puff Pastry Sheets I had the answer! Now I know how to get the layered rolls right each time; in under 30 minutes and with just a few ingredients. I started making these at home and now it is a home-made treat for every party. All it needs is some patience to wrap the cone tight so that the filling does not leak.
On my last grocery trip I brought home two packets of Puff Pastry Sheets (as always) and I used one to make a puffed pizza and the second box got converted to this yummy dessert! I filled mine with Vanilla Mousse, that melt in the mouth filling that adults and kids LOVE!
Now that Easter and many more Spring parties are lined up, each one of you need to try this delight for your family. I bet they would have a great time and ask for MORE! I have never been satisfied with ONE roll myself.
I have seen that one sheet of Puff Pastry is enough to make over a dozen of these horns. If you do not have the metal cone molds to make these, fret no more. All you need to do is roll a piece of foil into a triangle and use that. If you have some sugar cones, wrap the foil on them and make perfect cones! Or if you want a quick recipe, just cut rounds of the Puff Pastry and lay them in a muffin tray. They make really cute 'nests'.
Coming to the recipe, this one is pretty simple. Needing just a few ingredients, quick to make and so easy to customize. The method involves making the rolls, decorating them and filling them with your favorite flavor. I filled these with a vanilla mousse this time, but everything from a Strawberry Mousse, Chocolate Mousse, Lemon Curd to just whipped cream is great with the crispy Puff Pastry Sheets.
So on your next grocery shopping trip, make sure you grab a box of Puff Pastry Sheets, whipping cream and your favorite fruit or flavor. Whip up these rolls and enjoy them your loved ones!
Wondering what else you can make with these Puff Pastry Sheets? Check this Pinterest Board for MANY more inspiring recipes. Plus, try one of these:
See how this ONE ingredient is so good for all kinds of savory as well as sweet recipes. It is GREAT for all courses from snacks, appetizers, main course to desserts. These sheets always make preparation easy, super yummy and quick recipes. So wait no further and head STRAIGHT to this one!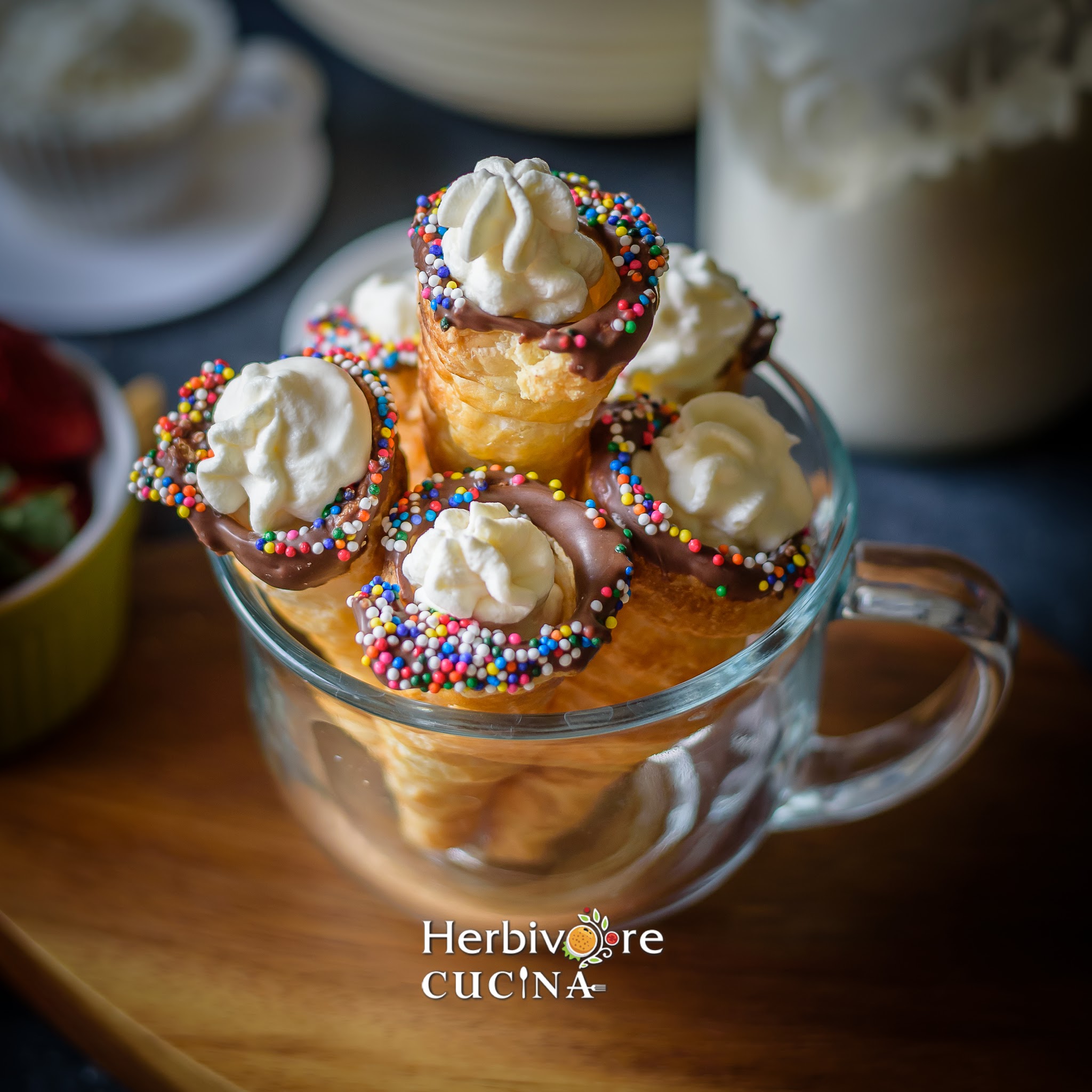 Ingredients
Puff Pastry Sheets 1 box
Heavy Whipping Cream ½ cup
Confectioner' Sugar 1 tbsp
Vanilla extract ½ tsp
Unsalted Butter/Oil 1 tsp
Dark Chocolate ½ cup, chopped
Sprinkles as desired
Egg 1 whipped (optional)
Pin for Later
Method
Remove the Puff Pastry Sheets from the package and thaw for 45 minutes on the kitchen counter. Let it remain till the sheets fold out easily.
Use a couple of metal cones that are oven safe or make them by rolling some foil. Brush some oil or unsalted butter on them and keep ready. Preheat the oven to 375 F/ 190 C.
Cut 1 inch strips from the Puff Pastry Sheet. Wrap them on the cones, starting from the pointed end and overlapping them as you go upwards.
Brush with egg wash and place in the preheated oven.
Bake for 15-18 minutes, till the rolls are golden brown and crisp. Remove from oven and release the cones and let the horns cool completely.
In a oven safe bowl add the chocolate and microwave till it melts completely (about 1 minute to 1 minute 30 seconds). In a plate place the sprinkles of your choice.
Dip each Puff Pastry horn in the molten chocolate and then in the plate of sprinkles. Lay on a parchment paper till the chocolate hardens.
In a bowl add the whipping cream, sugar and vanilla extract. Whip till you have firm peaks. Transfer to a piping bag.
Once the horns are completely cool, pipe the vanilla cream into them. Serve immediately.