This post is written on behalf of Almark Cage Free Hard Boiled Eggs. All opinions are mine alone. #EggcellentProtein
Instant Pot Egg Biryani; a PERFECT combination of Basmati Rice, spiced hard-boiled eggs and Indian spices. Great for dinner, this biryani is super easy to make and comes together in UNDER 30 minutes!

The love for Indian Biryani is universal. Whether it is a takeout from an Indian restaurant or biryani made at home; most people enjoy this dish in various forms.
Made from mixed vegetables, eggs or meat in fragrant basmati rice and seasoned with Indian spices; biryani is a perfect meal for weeknight or for weekend brunch. We enjoy biryani very often with a side of yogurt or raita.


Video Recipe
Why make Biryani in the Instant Pot?
A lot of people believe that biryani is a super complex recipe to make at home. This is not entirely false but there are a few recipes that make the task easy and yet have perfect results each time.
The Instant pot is the perfect device to make biryani using just one pot. I have made several versions of biryani in the past and today I am showing you all how to make Egg Biryani in under 30 minutes.
I make this recipe pretty often for weeknight dinner and I must admit, biryani tastes AWESOME as lunch the next day! So I tend to make a big batch each time.
The PERFECT ingredients to make a great Biryani!
As I mentioned earlier, there are a few ingredients that this dish perfect. Starting off with the right ingredients always gives perfect results. Here are the ones I used to make this delicious recipe:
Eggs: I like to use store bought hard boiled eggs for the recipe. I use Almark cage-free eggs from Sam's Club. You can buy them in a pack of 12 which saves me money and I always have my protein rich eggs in the refrigerator when I need them.
Rice: The next important ingredient is the rice. Long, fragrant basmati rice is perfect to make any biryani. The grains cook well, separate out after cooking and give great results each time. You can get yours from any Indian store.
Spices: Indian cooking is incomplete without spices. Whether it is the whole spices or the ones like mustard and cumin; make sure your pantry is stocked with the best quality spices. They result in delicious results I promise!
Ghee: Any form or oil, butter or ghee is generally used in all kinds of biryanis. However, ghee is the ingredient of choice due to its unique flavor. It can be substituted with oil but I would suggest using ghee in the biryani or a mix of oil and ghee.
Water: This might seem like a obvious ingredient but water is an important one here. If you add too much water; the biryani will be super soggy and that is not what you want. So make sure you only use the quantity required to soak the rice completely. About ½ cup is enough for 1 cup soaked rice.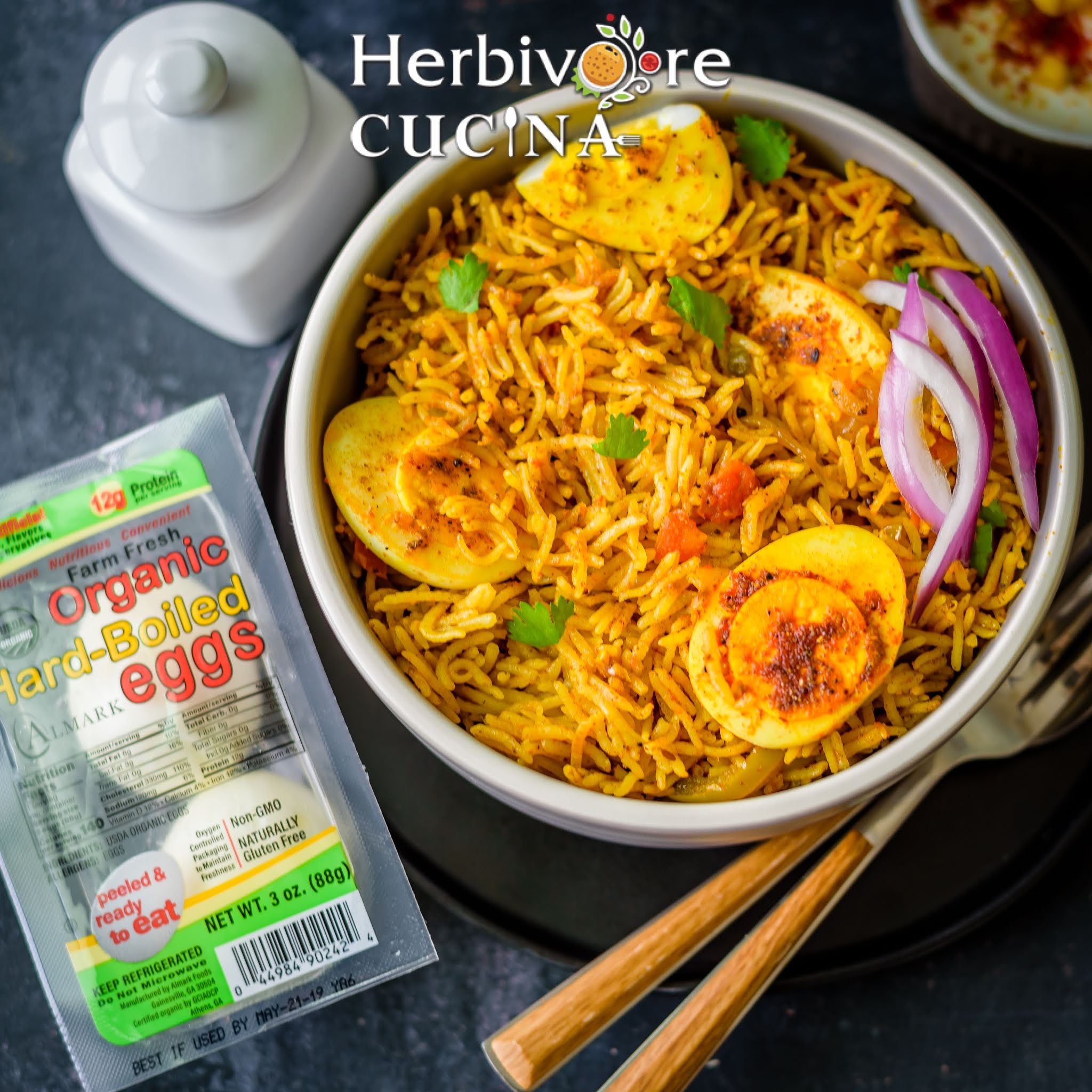 What to serve Biryani with?
Biryani made using boiled eggs and rice is amazing by itself. Because the eggs are spiced and so is the biryani; it is great as a one pot meal. However, serving it with a side of raita is a great idea. If you are looking for a delicious raita; try these: Beetroot Raita, Strawberry Raita, Burani Raita (Garlic Raita) or Mixed Vegetable Raita.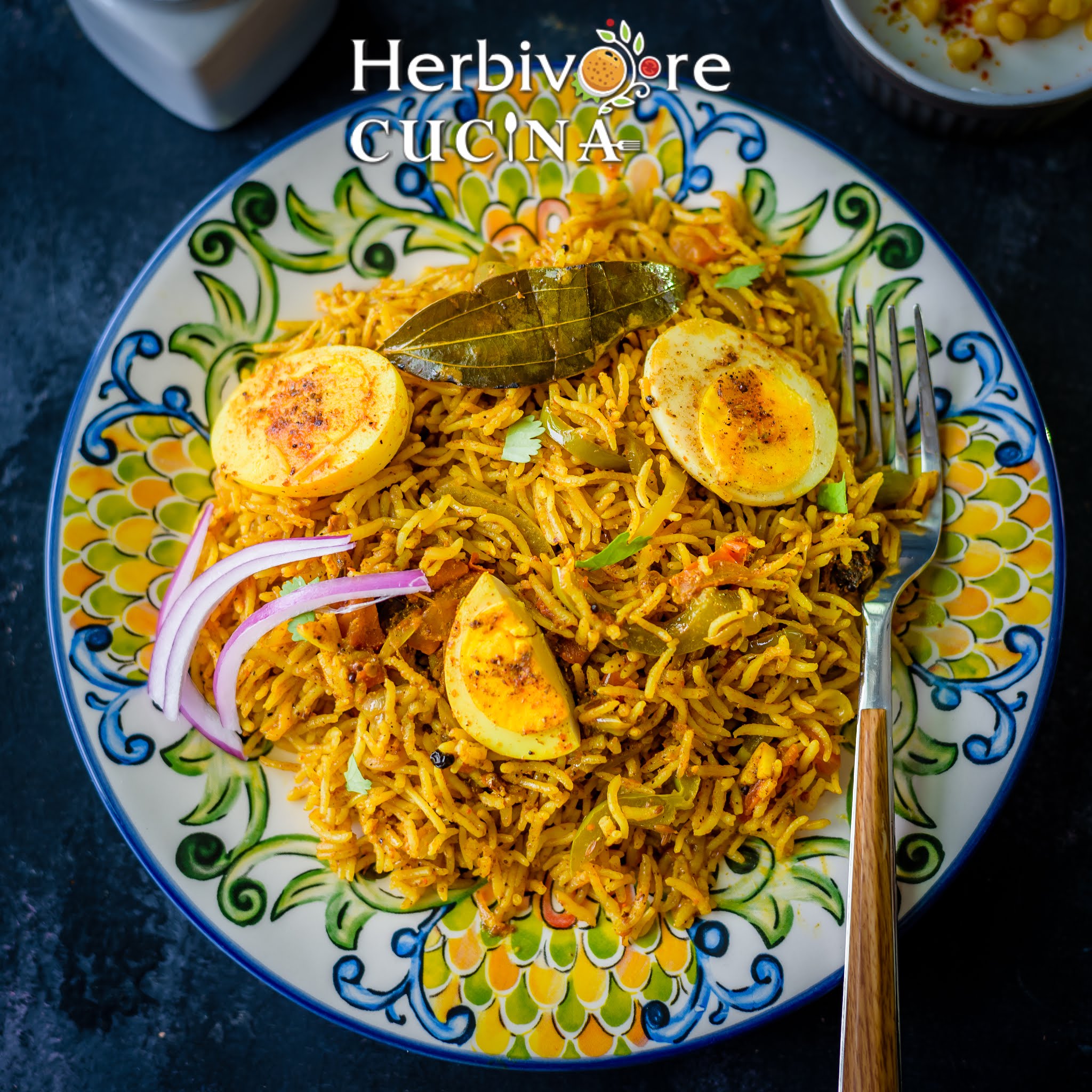 Variations
Egg biryani uses eggs that are spiced with turmeric, red chili powder and garam masala. To make everything in one pot I first used the Instant Pot to sauté eggs and then used the same to make the biryani. If you want super crisp eggs, sauté them in a pan while the biryani cooks.
This biryani I made is with just onion, pepper and eggs. If you want to add some vegetables or paneer, it is a great idea too. Sometimes I add some carrots, potatoes, peas and french beans.
If you are a biryani fan you would definitely LOVE these too:
Looking for more Instant Pot recipes? Join us on Facebook: Instant Pot Recipes Community and check out the recipes bloggers and food lovers share here.
Ingredients


For the Eggs
Almark Cage Free Hard Boiled Eggs 3
Turmeric Powder ½ tsp
Red Chili Powder ¼ tsp
Garam Masala ¼ tsp
Oil 1 tbsp
For the Biryani
Basmati Rice 1 cup
Garlic 1-2 cloves, minced
Ginger 1 tsp, grated
Onion ½ medium, sliced
Green Pepper ½ medium, sliced
Tomatoes 2 medium, diced
Bay leaves 1-2
Cloves 3-4
Black Pepper 3-4
Star Anise 1
Mustard Seeds ½ tsp
Cumin seeds ½ tsp
Red Chilli Powder 1 tsp
Turmeric Powder 1 tsp
Garam Masala/ Biryani Masala 1 tsp
Yogurt ¼ cup
Ghee 2 tbsp
Water ½ cup
Salt 1 tsp
Lemon Juice ½ tsp
Cilantro to top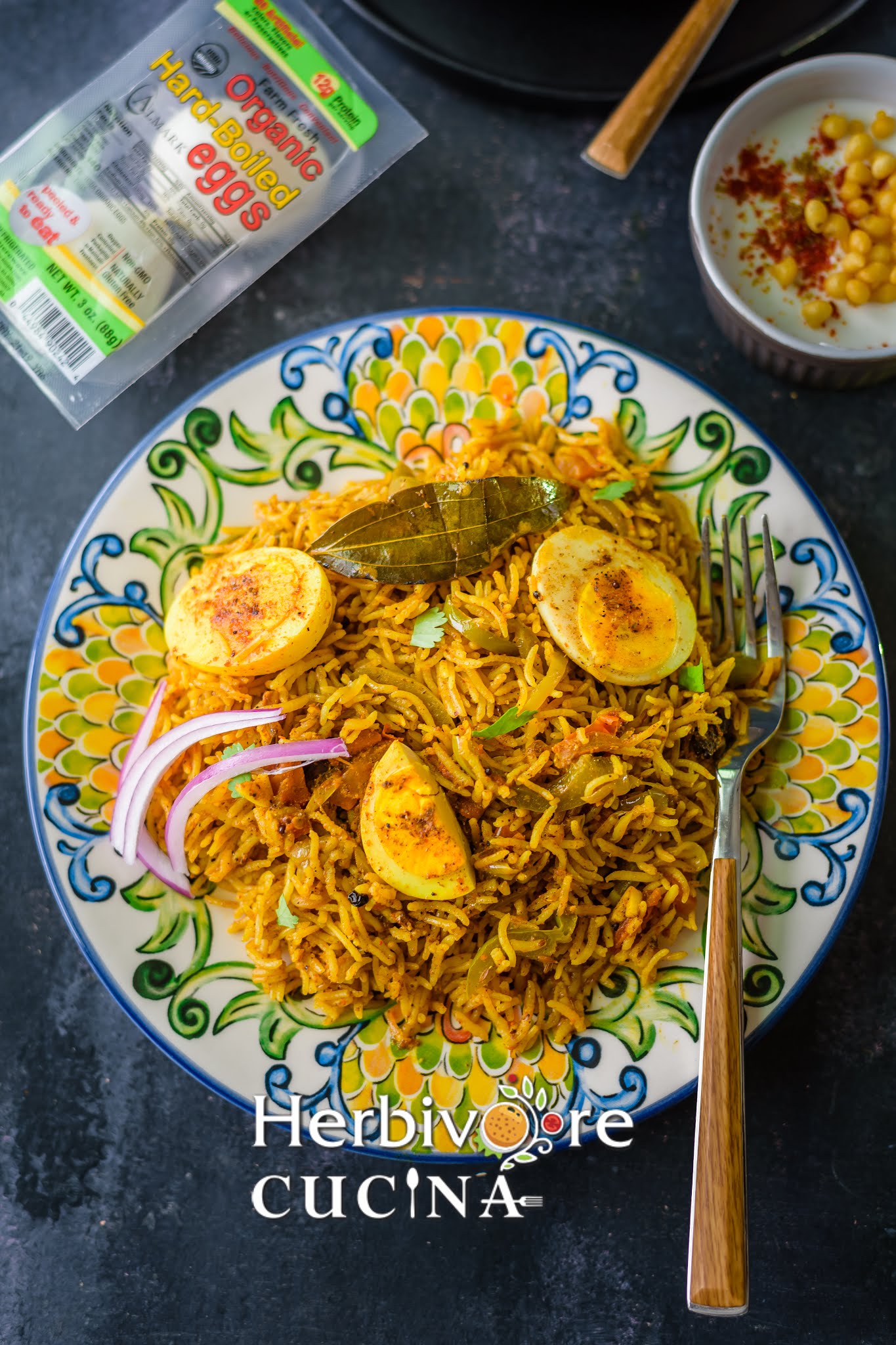 Method
Wash and soak the rice in 2 cups of water for 30 minutes and keep ready. Cut the eggs into half lengthwise and keep them ready.
In the base of the Instant pot add oil. Set the pot to Sauté mode and select normal. Wait till the display reads 'Hot'.
Place the eggs and sprinkle red chili, turmeric powder and garam masala. Let them become golden brown on both sides. Remove and set aside.
Add ghee to the pot and add cloves, star anise and black pepper. Let them pop and add mustard seeds, cumin seeds and bay leaves. Once the seeds pop, add garlic and ginger. Sauté for a minute.
Add onion and pepper and sauté for a couple of minutes. Add in tomatoes and mix well. Whip the yogurt and mix it in. Cook till the tomatoes are mushy.
Once the tomatoes are cooked, add drained rice and water so that the rice is submerged in water. I added about ½ cup water.
Add salt, turmeric powder, red chilli powder and biryani masala. Mix well close the lid.
Set the mode to Pressure Cook. Set the time to 4 minutes and Pressure level to low. Close the lid and set the vent to sealing.
Once the cooking process is complete, let the pressure release naturally for 2 minutes, then do a quick release.
Open the Instant pot, place the eggs in it and add 1 teaspoon ghee. Close the lid and let the flavors get absorbed by the eggs for 2-3 minutes. Open the lid, add cilantro and lime juice. Mix well and serve with Mixed vegetable raita and salad.