Fried flaky melt-in-the-mouth Indian snack, Sweet Shakarpara is a Diwali MUST-HAVE recipe. Made from simple pantry essentials, this is a NO-FAIL recipe for everyone to try!

I cannot believe we are at stone's throw from Diwali; the KING of Indian festivals. Celebrated across India in different ways, the festival is loved by one and all.
For those not familiar with the celebration, we celebrate Diwali each year in October-November depending on the Hindu calendar. The celebration starts with cleaning the house, decorating with lamps, lanterns, rangoli and flowers. We make a TON of Indian sweets and snacks and burst a lot of fireworks too. Plus, families dress up in traditional clothes and meet and greet. It is a great time for everyone to take a break, celebrate and come together.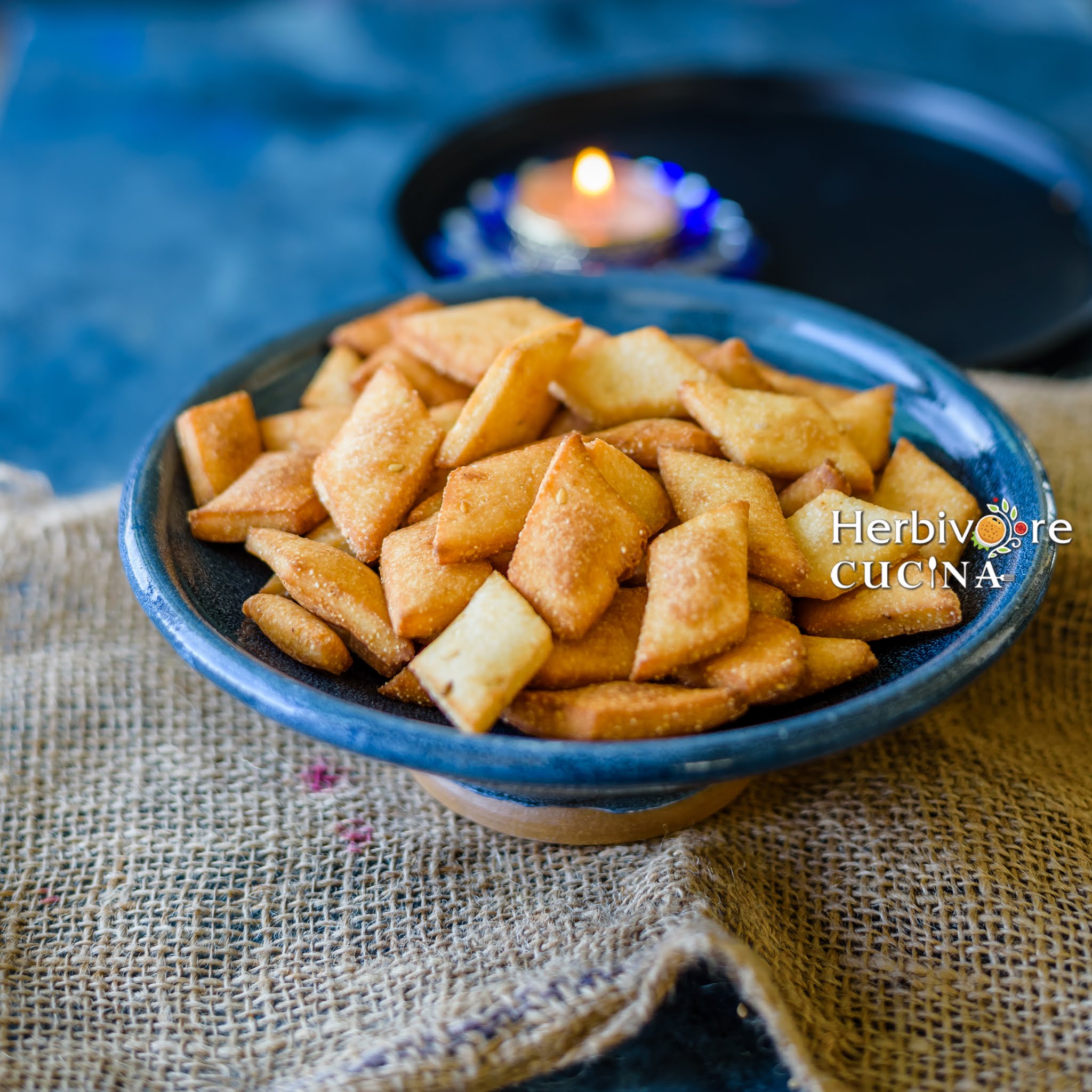 Every year I try to make a few traditional recipes for the blog. Collecting all the recipes in one place, here is a post that has some amazing recipes to try: Sweet and Savory Diwali Recipes. Here are a few more Diwali treats to try: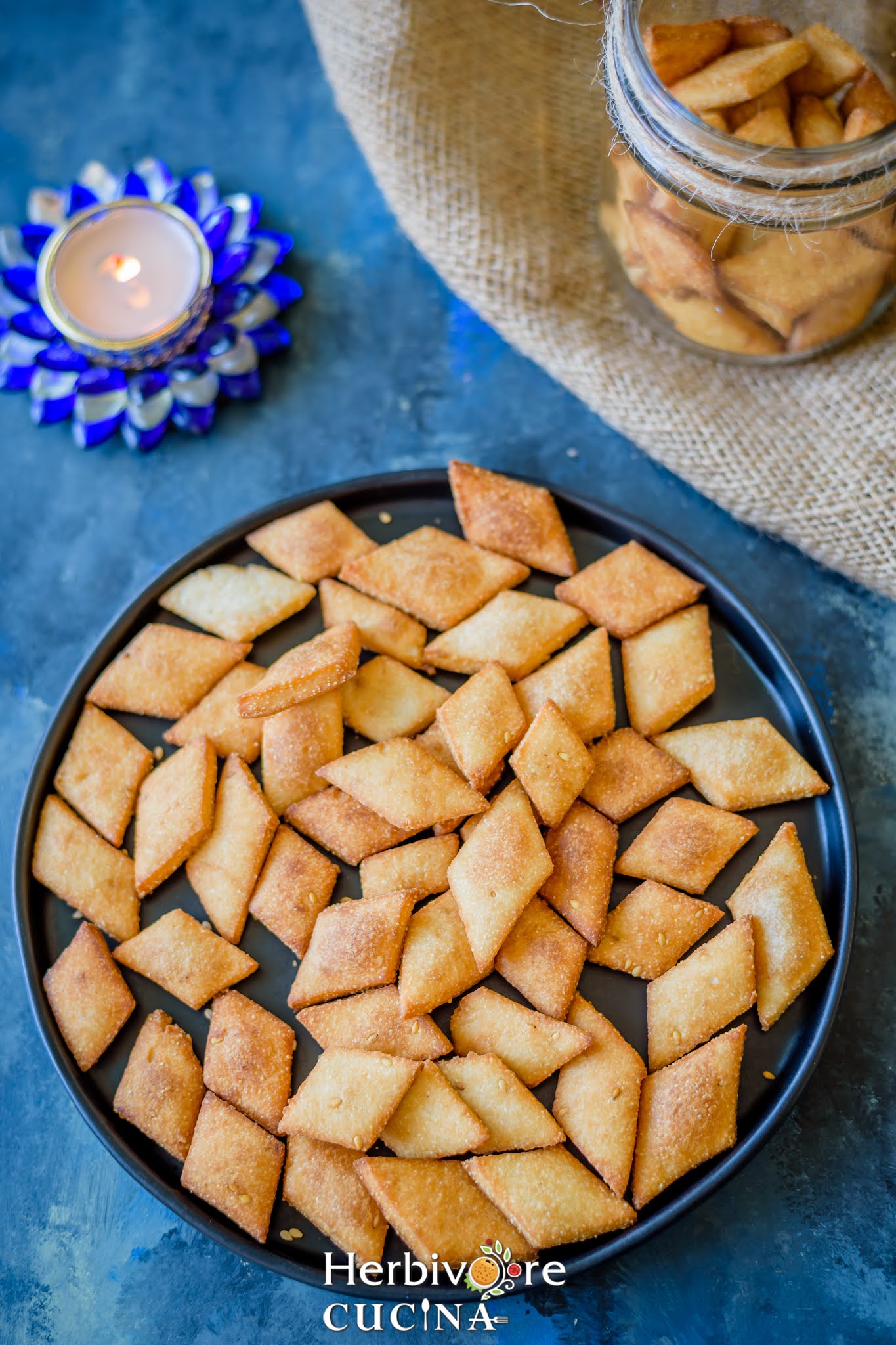 This year I started off with this recipe of Shakarpara. This Indian snack is known by several names like Shankarpali or Sakkarpara. Mildly sweet fried cookies these diamond shaped fried snack is addictive and perfect for festivals like Diwali. It is popular in Gujarat and Maharashtra and made by various recipes and variations across the states.
Though carb-high, this snack is amazing for Diwali. For the longest time I thought that the festival was incomplete without Gujiya, Chakli and Sweet Shakarpara. I promise you will not be able to stop at ONE. You can definitely gobble a bowl full of these!
No Fail recipe of Shakarpara


There are several ways to make shakarpara. Some folks make it with just flour and then dunk them in sugar syrup. Several people make it with sugar syrup in flour. Some also enjoy them made from jaggery syrup.
However, most of these recipes need the sugar or jaggery syrup to be PERFECT consistency. If it is not, the shakarpara will be too soft or rock hard. This recipe uses powdered sugar, making it super simple.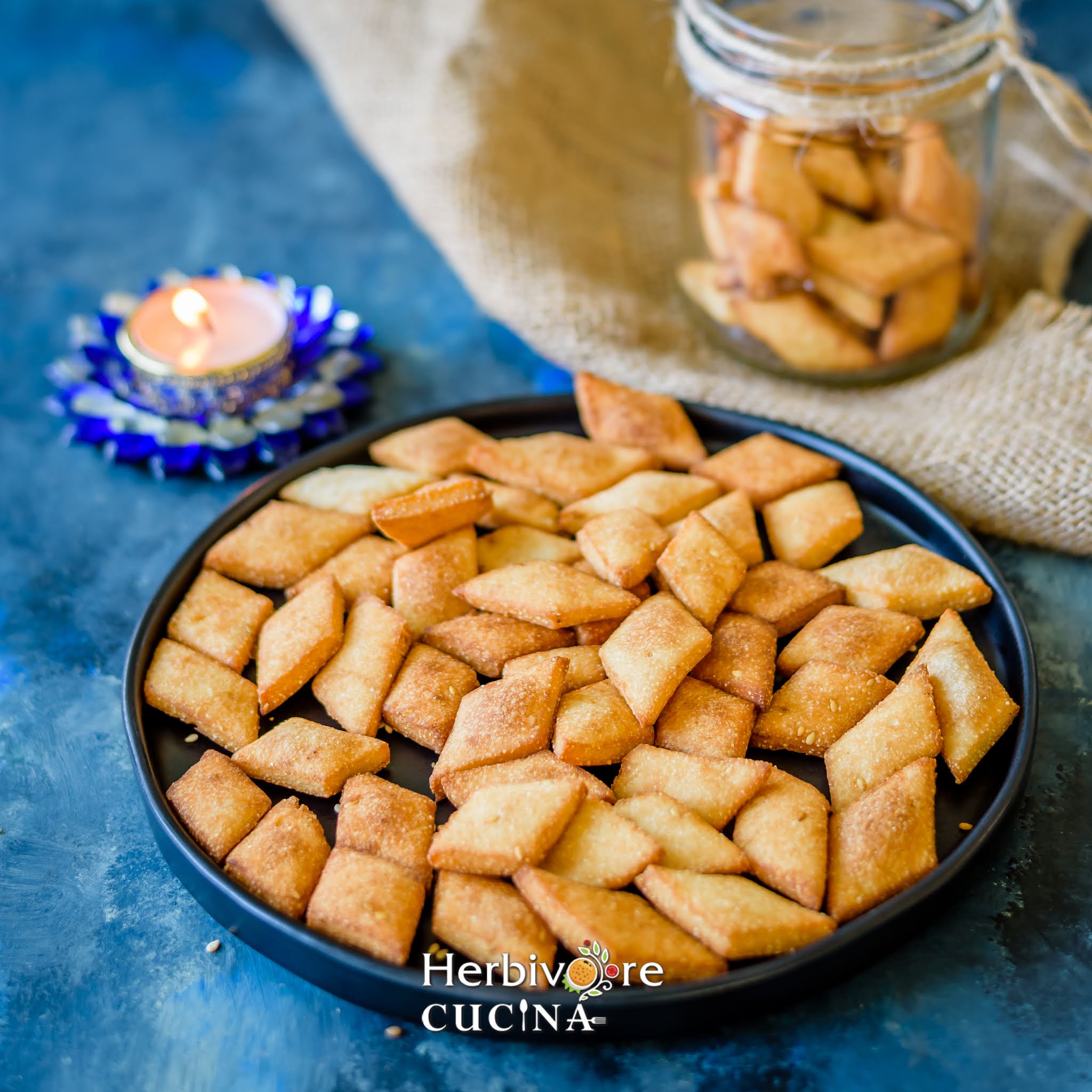 The ingredients in this recipe are those that can easily be found in any pantry. Flour, clarified butter, sugar and semolina are the most important ingredients. Sesame seeds is optional.
I fried these in oil but they can also be fried in ghee. The taste is a little different but depends more on what you like better. This recipe is mildly sweet. However, if you like them SUPER sweet, a
dd 2 tablespoon extra sugar in 3 cups of flour.
This is the first recipe in the series of Diwali treats for 2018. I hope you all try this and keep an eye on the next few recipes. There will be a few snack recipe and a couple of sweets too.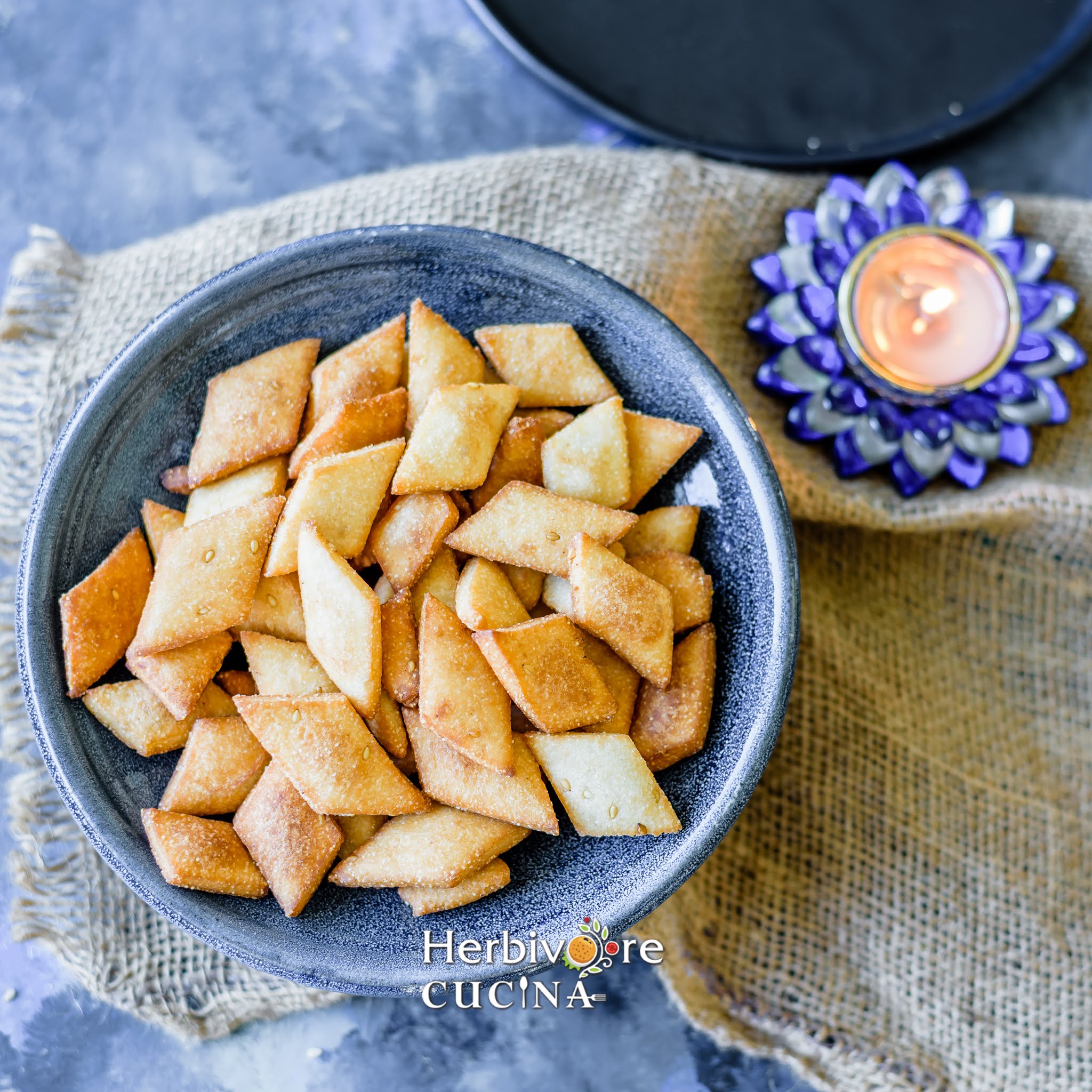 Ingredients
All Purpose Flour 3 cups
Fine Semolina ½ cup
Confectioner' Sugar/ Fine powdered sugar 1 cup
Heated Ghee/ Clarified Butter ⅓ cup
Warm Water ¼ cup
Roasted Sesame seeds 1 tbsp
Salt ¼ tsp
Oil to deep fry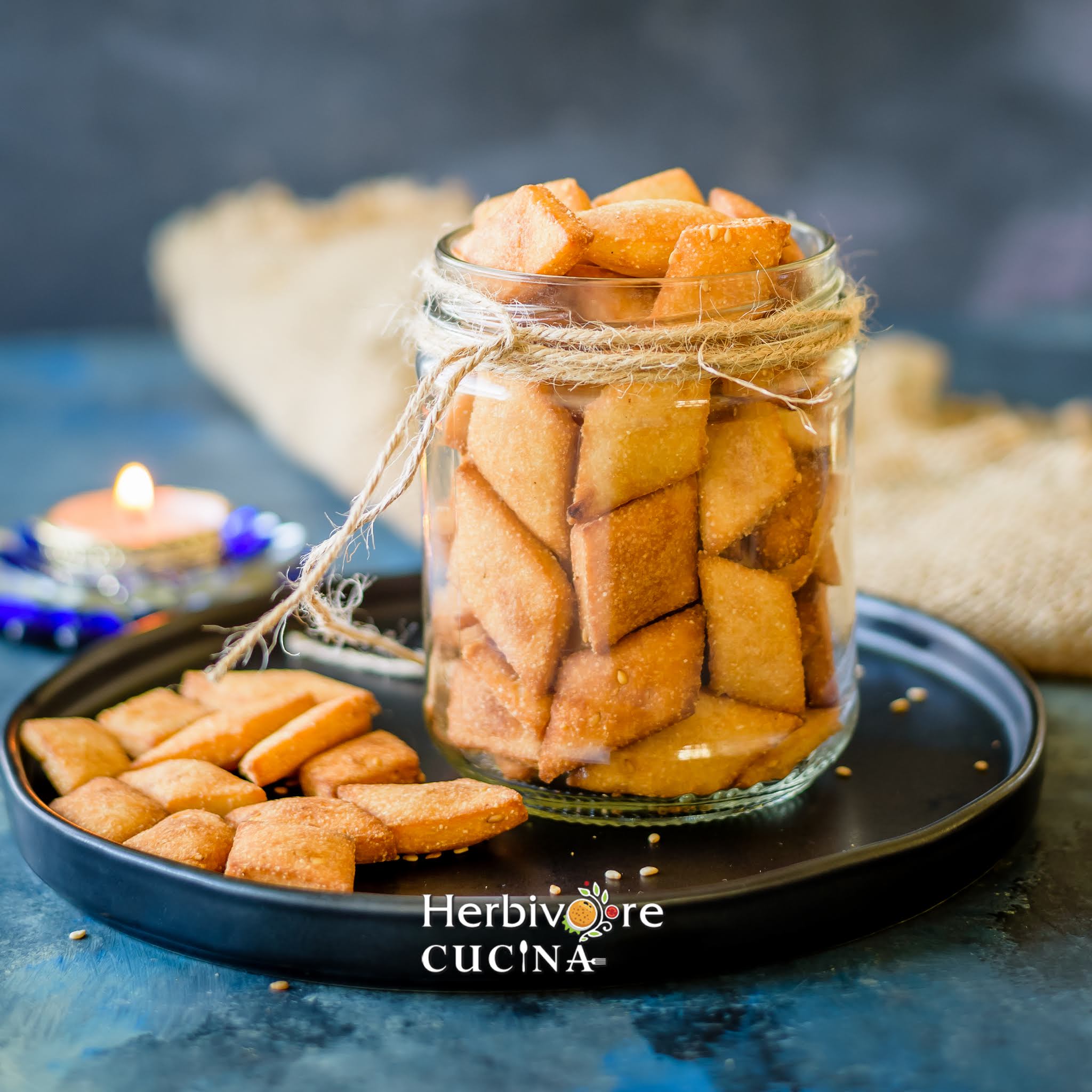 Method
In a bowl add flour, semolina and salt. Heat ghee and add it to the mixture. Mix together till you can make a crumbly mixture. It should be such that the mixture comes together when pressed in a fist.
Add more ghee if required. Then add sugar as well as roasted sesame seeds and mix. Using warm water make a soft dough. It should not be too tough else it will become crumbly.
Wrap in a shrink wrap and set aside for 30 minutes. After 30 minutes divide the dough into 8 parts.
Heat oil in a wok. Use a part of the dough and roll into a round of ¼ inch thickness. Using a sharp knife cut the dough into diamonds.
Add a piece of dough to the oil. If it comes to the top immediately, the oil is hot enough.
Add in the dough diamonds in hot oil and fry till golden brown on both sides. Do not make them really dark else they will burn.
Remove using a slotted spoon and spread on a kitchen towel. Transfer to an airtight container and enjoy! The sakkarpara are great for a week or so.