A collection of fasting friendly appetizer, snacks, meals and desserts. These recipes are easy to make and super delicious too!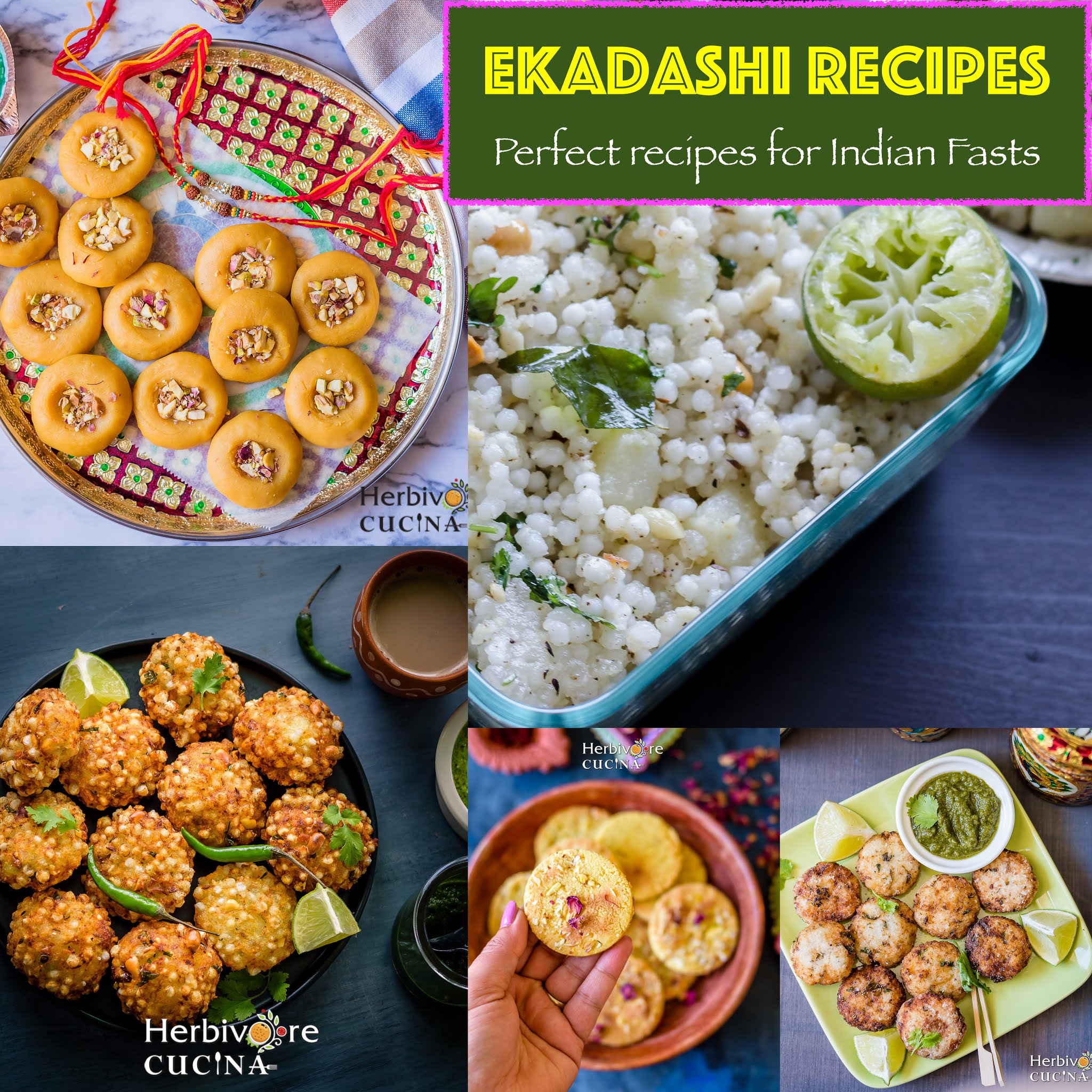 The Hindu Holy month of Shravan is here and many families are observing fast through the month. There are different types of fasts observed by different people, ranging from eating once a day to eating just fruits, nuts and milk.
A vast majority of people do the fasts in the similar way as they would fast for Ekadashi. This includes consuming 'certain' grains, some vegetables, milk, sweets, nuts and fruits. There are plenty of recipes that can be made keeping the requirements of the fast in mind and they are all delicious.
As a kid I used to enjoy these delicious recipes when my grandma would fast. The taste and flavors have stuck and now I make these recipes even without a fast!
List of ingredients to make these recipes
These recipes are quite easy to make and have a few ingredients in common. Once you have these ingredients in the pantry, making these recipes is pretty simple and straight forward. I like to have these stocked up so I can make the recipes pretty quickly.
Sabudana: Tapioca pearls, sago, sabudana all refer to the most popular fasting ingredient. This is easily available in Indian stores as well as on Amazon. They come in various sizes. I use the medium ones for khichdi, kheer and vada and the tiniest ones for recipes like pancakes.
Barnyard Millet: Another popular grain to enjoy while fasting is barnyard millet. Also known as samai, samo or vrat ke chawal; this millet is great for recipes like khichdi, tikki and vada. It cooks pretty fast and makes a great breakfast for non fasting days too.
Amaranth: Rajgira or amaranth is a popular flour that is allowed during fasting. This powerhouse of nutrients makes a great gluten free flour for everyday use as well as for fasting recipes. Available as a grain and as a flour, this is perfect for parathas and as a thickening agent for kadhis.
Quinoa: A seeds that makes a great addition to the family of fasting ingredients, quinoa is healthy, delicious and easy to make for fasting days. This can be used in many recipes like kheer, khichdi or even tikkis. The versatility of quinoa makes it great for sweet and savory recipes.
Peanuts: Peanuts are added in most fasting recipes either as whole or converted to a powder. They give a great nutty flavor to dishes and thicken curries without having to add any kind of flour. Buy them in bulk, lightly roast and store them. That makes cooking with them pretty simple.
Potatoes: One of the MOST popular vegetable for fasting recipes is potatoes. In its original form or in the form of sweet potatoes; this vegetable finds an easy application in all recipes for fasting.
Spices: The spices that find application in fasting recipes includes black pepper, green chili, Curry Leaves, Ginger and Cumin Seeds. These are used to spice up the food and to add a lot of flavor to the recipes. The ingredients like red chili powder, turmeric, garam masala and mustard seeds are generally not used to make fasting recipes.
Add-ins: The popular ingredients to add to fasting recipes includes lime juice, salt, sugar and cilantro. These are required to add flavor to the recipes and strike the right balance of sweet, salt and sour in the recipes.
I love seeing when you share my recipes!
Tag me on Instagram @herbivorecucina or mention #herbivorecucina so I can enjoy them virtually with you! You can also find me on Pinterest, Facebook, Tik Tok, and YouTube.