Reviewing Mealthy Multipot 2.0; a gadget that is well made and super attractive. Read about the hand-free automatic pressure release, self sealing lid and other cool features of this brand new offering from Mealthy!
I was sent the Mealthy Multipot 2.0 by the manufacturer for review. All opinions expressed here are mine alone.
Some of the links below are affiliate links, meaning, at no extra cost to you, I will earn a commission if you click through and make a purchase.
Electronic pressure cookers have been around for a while. There are SO many brands that have various models in different sizes with varied capabilities.
It is a delight to explore these machines and see how they are all similar and yet so distinct!
What is Mealthy Multipot?
Mealthy is a brand that has a wide range of product offerings. From pressure cookers and immersion blender to non-stick pan and electric kettle; they have gadgets to make life in the kitchen easier.
The brand's signature product is the electronic multi-cooker called Multipot.



They launched their first one a while ago and now they have a newer 6 quart version called Multipot 2.0 in the market. They call this one Game Changer and I cannot deny that at all!
Mealthy is a brand that is quickly expanding its product offerings. Check out their products here. Remember you can get $10 off on any product (above $59.95) using the code HERBIVORECUCINA. Or get yours from Amazon.
What is in the Multipot 2.0 box?
When you get a Multipot from Mealthy, it comes with almost EVERYTHING you need to get started! Once you open the box, you will have the pot and some accessories to start cooking, steaming etc!
No more hunting for accessories to start using the pressure cooker.
The box of the multipot has the following in it:
Mealthy Multipot 2.0

An extra gasket (having two makes it easy to use separate ones for sweets and savory dishes)

Steel Steamer

4 cm raised trivet

2 silicone mitts

rice paddle and ladle

8 oz rice measuring cup

Instruction manual, cheat sheet and recipe book
How is the Multipot helpful?
The multipot helps make meals efficiently and is great for the kitchen as it helps do away with so many appliances from the kitchen counter! The 9-in-1 Multipot 2.0 can help you replace the yogurt maker, steamer, stovetop pressure cooker, cake maker and slow cooker. It is awesome that one appliance can do it all!
Available in one size i.e. 6 quart, this newer version has some features that many of the competitor brands. This makes the Multipot 2.0 a great buy for the price.
Cool features of Multipot 2.0
Hands-free and Automatic pressure release: Having used both stove top and electronic pressure cookers for years, I know full well the dangers of manual pressure release.
The multipot can release all the pressure in small bursts with just a touch of a button. What?? Yes, you need to set the mode before you start cooking and it happens AUTOMATICALLY! This feature HAS to be my favorite!
Self sealing lid: When using the stove top pressure cooker, you just need to close the lid to set the mode to sealing. Now with the multipurpose electronic cookers, there is a need to seal the lid while pressure cooking.
There are so many times that I forget to move the vent to sealing and then do it midway through the cooking. This is a hassle and sometimes ends up over cooking what is inside or the dreaded 'burn' message on the screen.
Multipot addresses that with a self sealing lid! Brilliant I must say.
True Slow Cook: The makers clearly mention that the pot can be used to slow cook and that it actually works unlike the older pressure cookers. The feature sounds amazing and I am looking forward to trying it soon.
Easy to read LCD panel: The LCD panel on this one is actually a screenshot of what exactly is going on with the multipot.
It mentions the pressure setting (low, medium, high); the preset (if any) and the pressure release (quick, auto or natural).
Plus, it has a progress bar that shows the current mode of the pressure cooker. So good that you know when the pot is hot enough to add ingredients and start cooking.
Deep Dive into the Multipot 2.0
The instant pot has been the market leader in electronic pressure cookers. Mealthy's offering is directly in competition with that one and it does give a tough fight.
Most of the electronic pressure cookers look and feel similar. Stainless steel body with a removable lid and a display panel. Mealthy's bold black version looks awesome and is has a sophisticated look.
The panel on this one is big and bright. The white text on black buttons is easy to read and the screen has symbols that are self explanatory. The progress bar on the screen is neat and removes guesswork out of pressure cooking.
The box includes a bunch of accessories which is great! For a first time buyer it is awesome to have them all included instead of scouting for the right ones. Plus, given that these are included in the price; it makes the cooker slightly cheaper than its closest competitor Instant Pot Duo 7-in-1 pressure cooker.
Compared to the Instant Pot, Multipot comes to pressure quickly and has far lesser sensitivity to burn. I have not spotted the burn message yet!
Cleaning the Multipot is easy as the lid and stainless steel cooking pot along with the accessories are all dishwasher safe. I use my trusted Bar Keepers Friends to keep the pot sparkling clean.

There are 33 chef-approved presets on the multipot. While all of them may not be used by everyone, they are definitely good to have. Programming them is super simple with a touch of a button. Personally, I must say it is great to have a setting to make cake in mason jars! A marvel indeed!
The multipot comes with an extra piece compared to the other instant pots. The piece is a steam diffuser that helps diffuse steam when doing a quick release. This is especially useful when using the multipot next to cabinets. The steam does not all go in one direction and ruin the cabinets directly above it.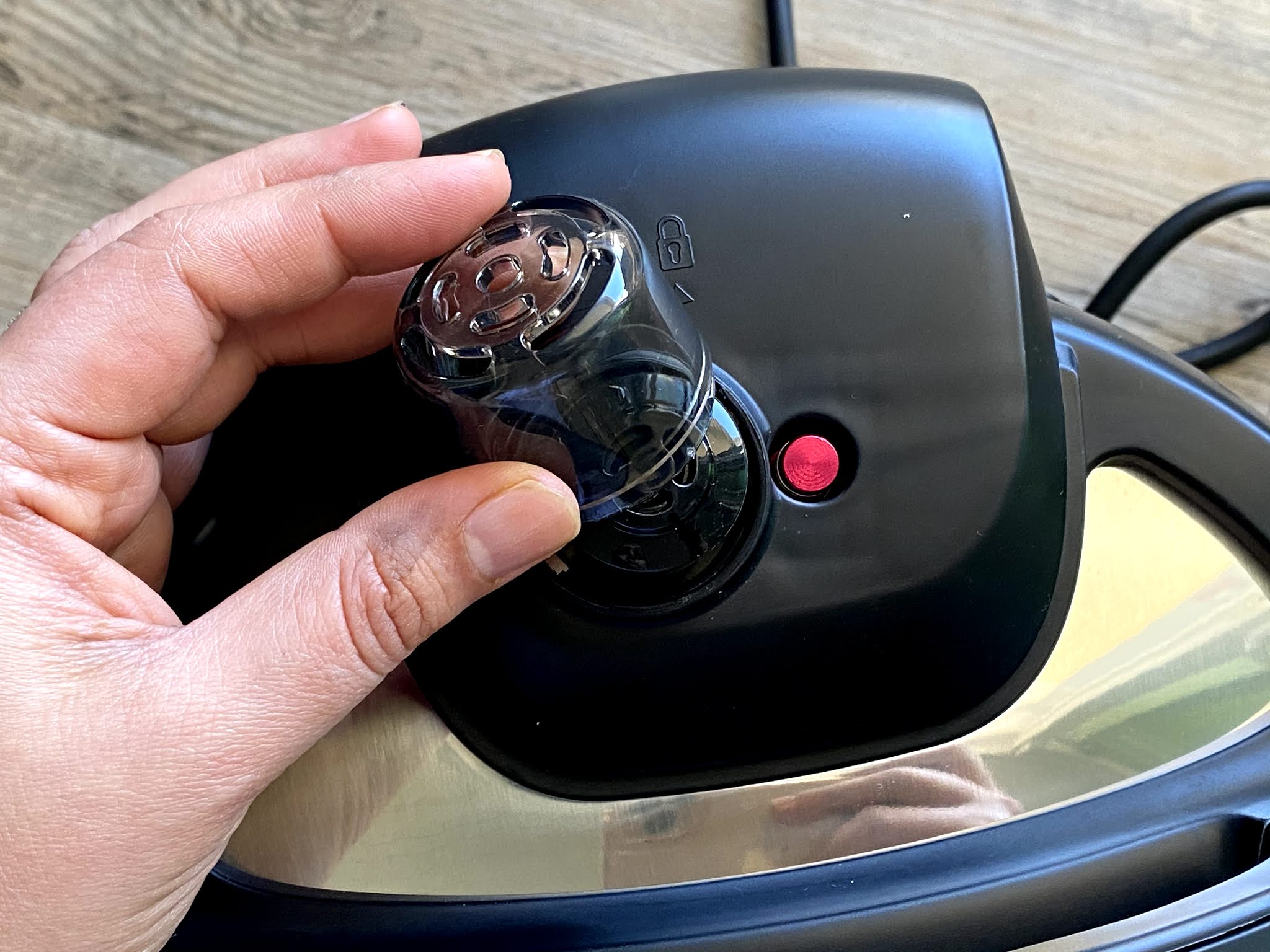 Overall, the Multipot 2.0 does offer a LOT of features that can give the Instant Pot a run for its money!
Recipes to try in the Multipot
I have published a lot of recipes using the Instant Pot. While all the recipes work perfectly with the Multipot too, here are some of my favorites using the Multipot:
Get your own Multipot!
I hope you have enjoyed this review as much as I enjoyed writing it. You should get your own Multipot 2.0 NOW. Use the coupon code HERBIVORECUCINA to get $10 on it here.
DISCLOSURE: WE ARE A PARTICIPANT IN THE AMAZON SERVICES LLC ASSOCIATES PROGRAM, AN AFFILIATE ADVERTISING PROGRAM DESIGNED TO PROVIDE A MEANS FOR US TO EARN FEES BY LINKING TO AMAZON.COM AND AFFILIATED SITES.