All so often we want to make something tasty and easy for weeknight dinners, but cannot come up with an alternative. This is a simple list of 12 entrees made from different ingredients, taking different time and effort to cook but a common result, yummy weeknight entrees that can be served with roti, paratha or any kind of rice like steamed rice or jeera rice. This is a collection that I will keep updating as and when I update my blog with a new recipe. So keep an eye on this post!
This list of entrees has a couple of quick recipes like Tindora or Ivy-Gourd and Bharwan Bhindi and a couple of little complex yet amazing dishes like Baingan Bharta and Gobi Musallam. At times when the refrigerator is totally empty, head straight to the pantry and whip up this simple Aloo Gatte ki sabji, that requires few ingredients and hardly any time! So head straight to the recipes listed below and surprise your family tonight!
This is a simple dish that can be prepared when the refrigerator is empty and the only things you have is potato, onion and a few other pantry items like besan and spices. From start to finish, this Aloo Gatte ki sabji can be prepared within 20 minutes.
Go to any Indian restaurant anywhere across the globe and the first item most people will order will be Paneer Makhani. A combination of paneer pieces simmered in makhani sauce makes this tasty Indian entree.
3. Gobi Musallam: Roasted Whole Cauliflower
Generally made as a vegan substitute to the roasted turkey on Thanksgiving dinner, this dish is made from a whole roasted cauliflower and put in rich red gravy made from ripe tomatoes and onion.
Looking for a recipe using fenugreek leaves, but without all the cream and calories? Your search ends with this methi mutter masala curry. Light, healthy and totally delicious!
Bhindi or okra is one of the most loved vegetable in people of all ages. When you get nice and green okra that are similar to the ones we get in India, my family loves to enjoy this Bharwan Bhindi, okra stuffed with besan masala.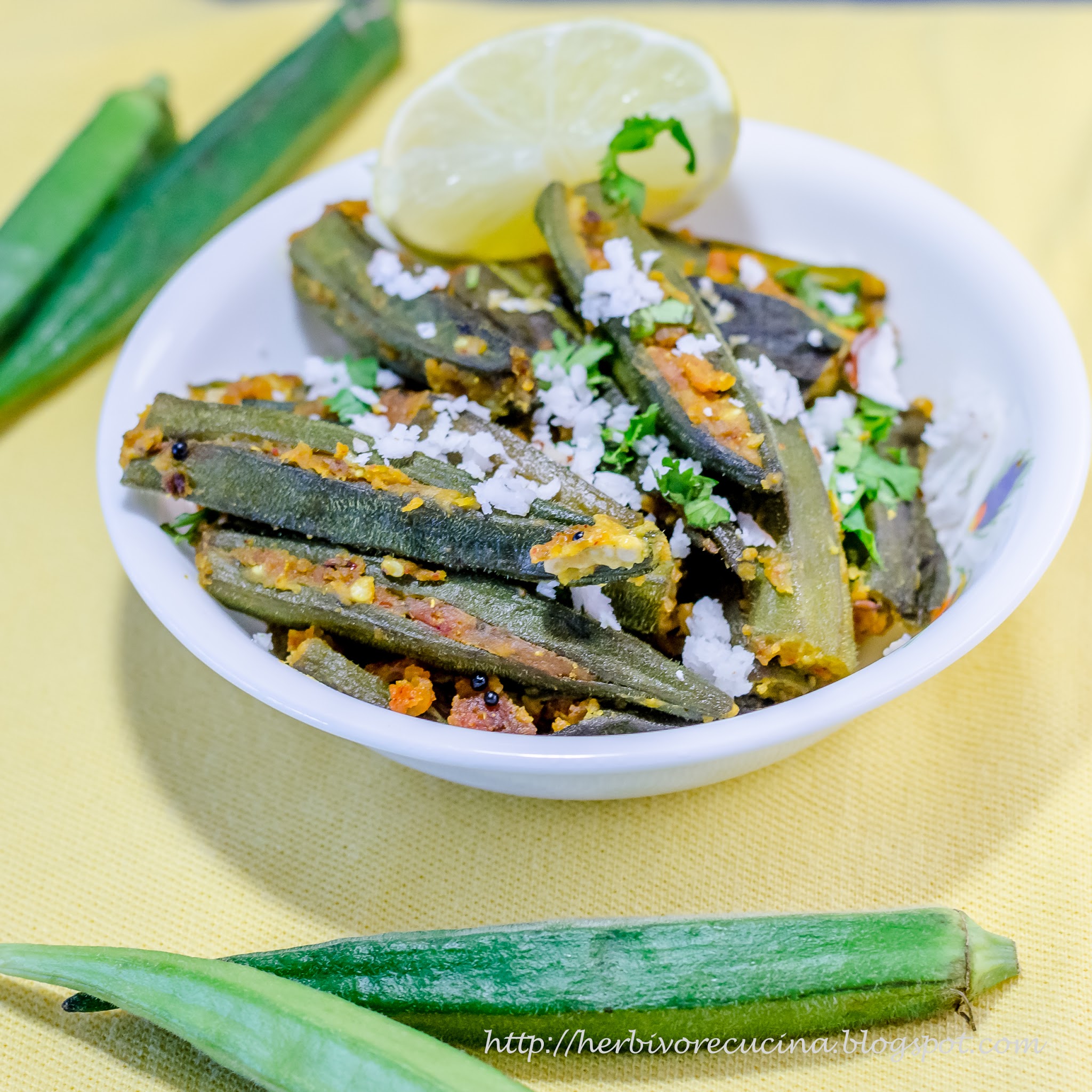 6. Aloo Tindoda Sabzi | Ivy-Gourd Stir Fry
This is a recipe that I learnt from my grandmother. A combination of potato sticks and thinly sliced ivy-gourd. The spices in this recipe are simple and the taste unbeatable!
7. Winter Vegetables and Tuvar Lilva In Green Sauce
This recipe is a simple variation of the famous Gujarati dish Undhiyu. Using simple things like potato, Surti Papdi and purple yam in a green sauce made from garlic, cilantro and indian spices, this vegetable can be enjoyed with roti or puri.
8. Baingan Bharta
Eggplant that is first charred over direct heat from the stove and then simmered with onion, garlic, peppers and spring onion. A traditional Kathiawadi dish, Baingan Bharta or Oodo is enjoyed best with Bajra Roti, Chaas and Garlic Chutney.
9. Chole
This Indian curry made from garbanzo beans and a gravy made from onion, garlic, ginger and ripe tomatoes, Chole is generally served with Puri or Bhatura. But if you like a non fried version of the bread, make oven baked kulcha or parathas.
10. Mooli Besan | Daikon Leaves in Gram Flour
I love this dish a lot. A simple combination of daikon leaves and besan, this is a rarely made dish; mostly owing to the fact that mooli leaves are not very easily available. However, when found, these leaves can be transformed to make this yummy Indian entree.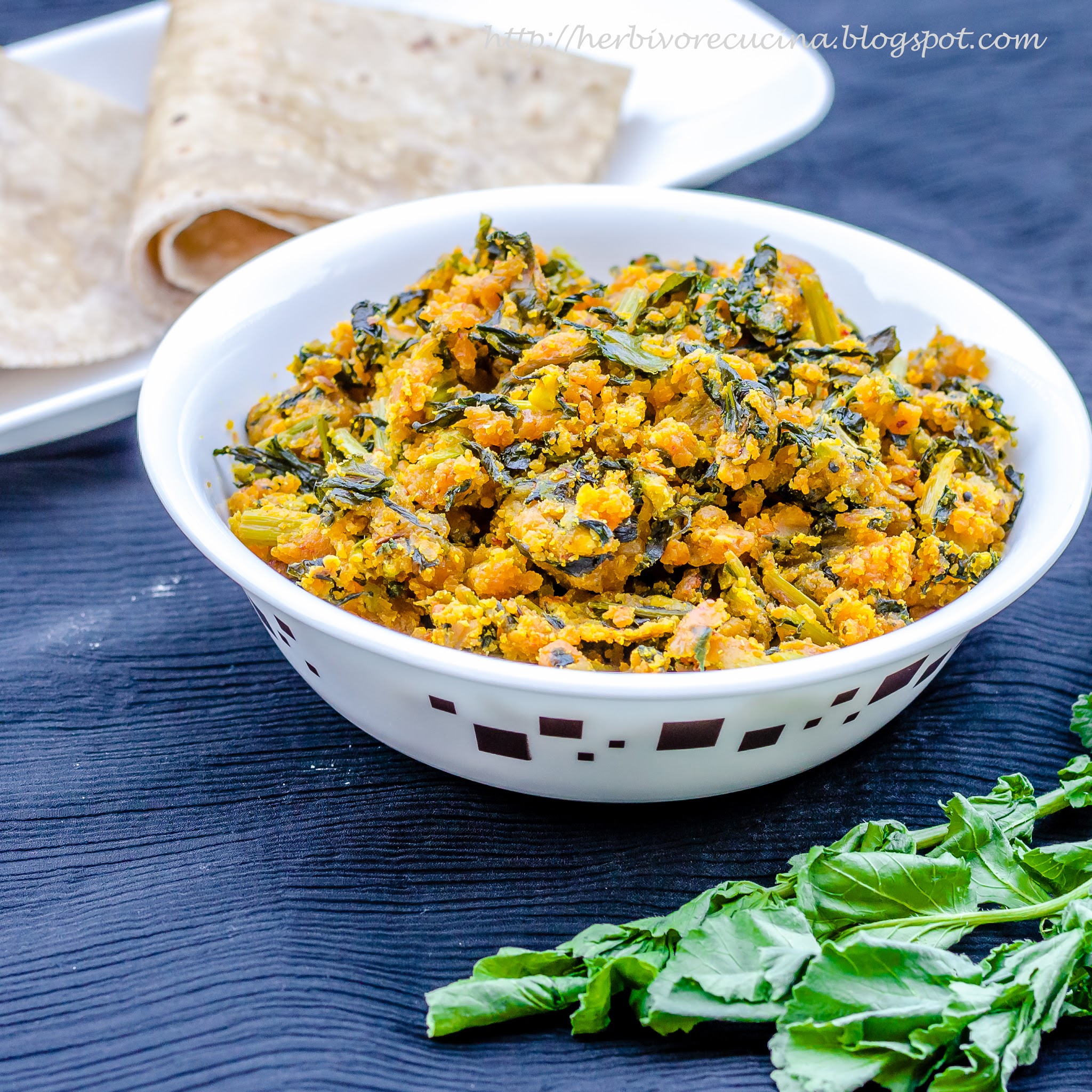 11. Mutter Tofu | Tofu and Peas Curry
Paneer Mutter, one of the famous Punjabi curry can be made differently by substituting paneer with tofu. Not only is this dish lower on calories, but also high on protein. Enjoy this Indian entree with parathas, roti or steamed rice!
12. Palak Paneer | Cottage Cheese in Spinach
Last but not the least, this Palak Paneer is made a little different from the traditional method. The paneer pieces are just stir fried instead of deep frying and then added to a palak gravy.
This concludes the list of 12 entrees, but the list on the blog is endless. Refer to this tag and find all the other recipes too!