A collection of the BEST recipes to celebrate Ganesha Chaturthi. These Indian sweets are delicious and loved by all!
Some of the links below are affiliate links, meaning, at no extra cost to you, I will earn a commission if you click through and make a purchase.
The festival of Ganpati is around the corner. This festival is celebrated in honor of Lord Ganesha.

Generally lasting for 10 days, this festival is celebrated around August- September. A beautiful form of the lord is brought home and worshipped for this time.

One of the MOST amazing things about this and other Indian festivals is the food associated with it. For this festival it is the sweet that is super striking.

Offered to the Almighty and later distributed to everyone in the form of prasad; these sweets are something that I always looked forward to as a child. In fact, I still do!
What to make for Ganesha Chaturthi?

Modak and Ladoos are perfect for this celebration. While all kinds of sweets are made for different festivals, modaks are mostly made during Ganpati.

Modaks are cone shaped Indian sweets popular in the states Maharashtra and Goa. They vary from steamed, fried and stuffed with sweetened coconut, jaggery etc.

Ladoos are also super popular. They are Indian sweets that are made for festivals or other occasions. There are several types of ladoos based on ingredients used.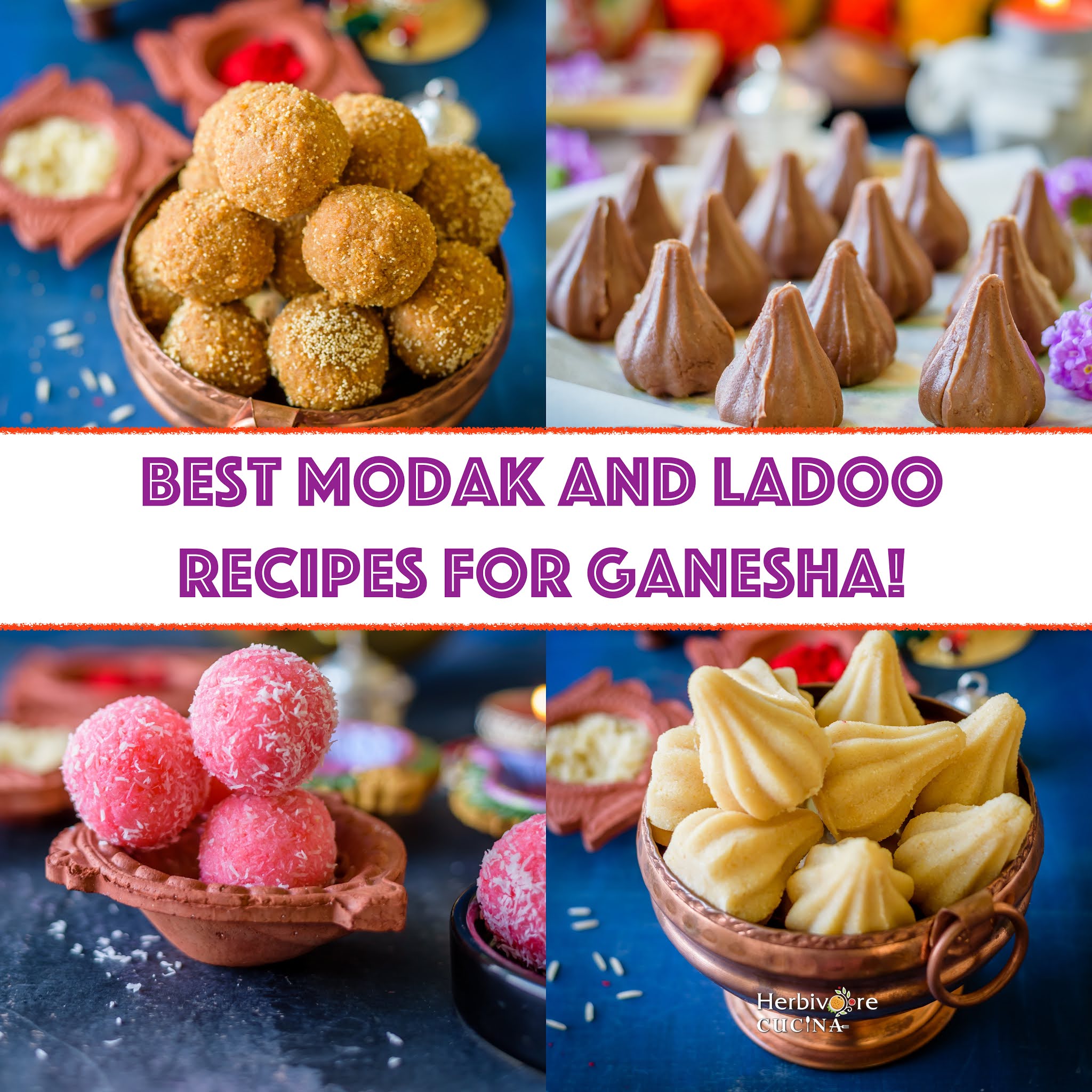 Commonly used ingredients in these recipes

Different states have their versions for sweets. These variations to traditional modak and ladoo recipes can be made using different ingredients.

I have made them with wheat flour, ricotta cheese, coconut, rava and a few other ingredients.

The most used ingredient are these:

Ghee: Clarified butter is the fat used in almost all sweets. I like to make my own using unsalted butter using this recipe. If not making my own, this is my favorite store bought ghee.

Sugar: All of the sweets use some form of sweetener. Sugar is the most popular. I like to use this sugar for my recipes.
Jaggery: Along with sugar, jaggery is popular in Indian sweets. Using dark colored Kolhapuri Jaggery is a great idea for the sweets. It helps give the sweets a deep brown color.
Sweetened Condensed Milk: Another popular sweetener for the recipes is condensed milk.
It is thick and sweet and blends well into the recipes seamlessly. Have a jar of this shelf stable ingredient in the pantry to use it for recipes like these.
Ricotta Cheese: A variation of mawa; ricotta cheese makes the BEST Indian sweets. I use it throughout the festive season! A large tub does give a LOT of mawa to use in Indian sweets.
Nuts: The commonly used nuts in most Indian sweets are Almonds, Cashews and Pistachios. Either in powdered form or slivered, these are handy to have for so many sweets.
Saffron: Rich and flavorful, saffron finds application in several Indian sweets. This is my favorite brand to use all the time!


Cardamom Powder: Another flavorful addition to Indian sweets is cardamom. Green cardamom pods have black seeds in them and they are ground to make Cardamom Powder.
This ingredient adds a lot of flavor for sure! It is often used in combination with Nutmeg powder.

Desiccated Coconut: The sweets made in Ganesha Chaturthi are often stuffed with sweetened coconut. Fresh or desiccated coconut can be used. It is easy to have shelf stable desiccated coconut for these recipes.

I hope you try these recipes and share how they turned out!

Ricotta cheese is the main ingredient in this recipe. These modaks have condensed milk and saffron too. These are definitely a favorite in our family.
An easy to make recipe using semolina; these modaks are super delicious. They are filled with sweetened coconut and make a great offering for puja. Plus, these come together pretty quickly.
Ukadiche Modak | Steamed Rice Flour Dumplings
The most commonly made modaks for Ganesha are these steamed rice flour modaks. The crust is made using fine rice flour and the stuffing is made using sweetened coconut.
These modaks are filled and steamed. They taste great with some ghee on top.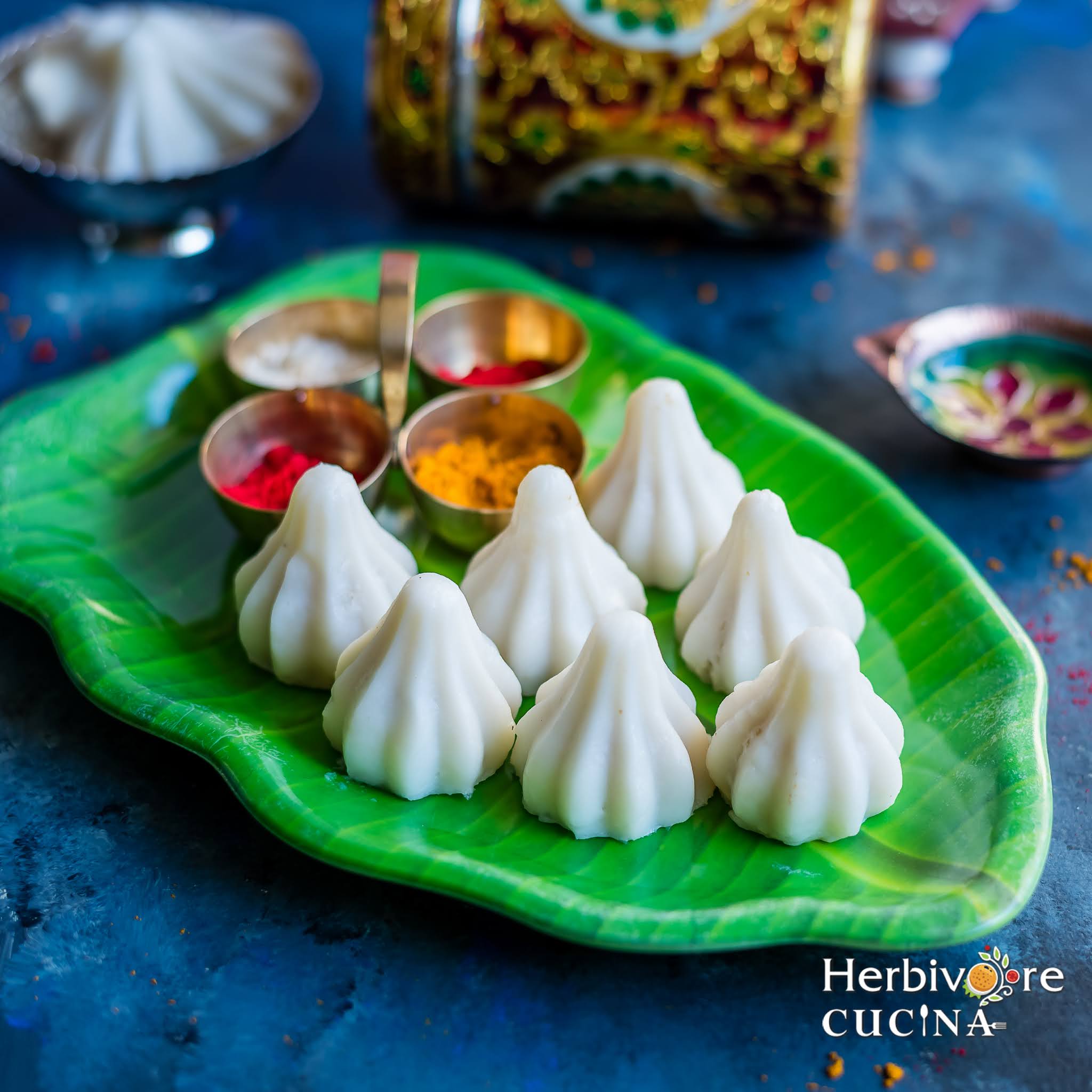 When you need a variation to the traditional modak recipes, this Chocolate Modak is perfect. Unsweetened cocoa powder gives these modaks a great taste and flavor; plus an interesting color!

A sugar free version of modak; these are made using dates, nuts and seeds. Made without a mold, these are super quick to make, delicious and need only a handful of ingredients! Plus, sugar free!
Another variation to traditional modak is this recipe. Wheat flour halwa is a commonly prepared sweet. Use that along with a mold to form modaks for the God.
The taste is exactly the same as wheat flour sheera; just the form is difefrent!
Besides modaks, ladoos are popular in Ganesha Chaturthi. The super amazing ladoo that is made in most families is Churma or Choorma Ladoo.
Made using what flour, ghee and sugar or jaggery; these ladoos are a MUST-HAVE for Ganesha!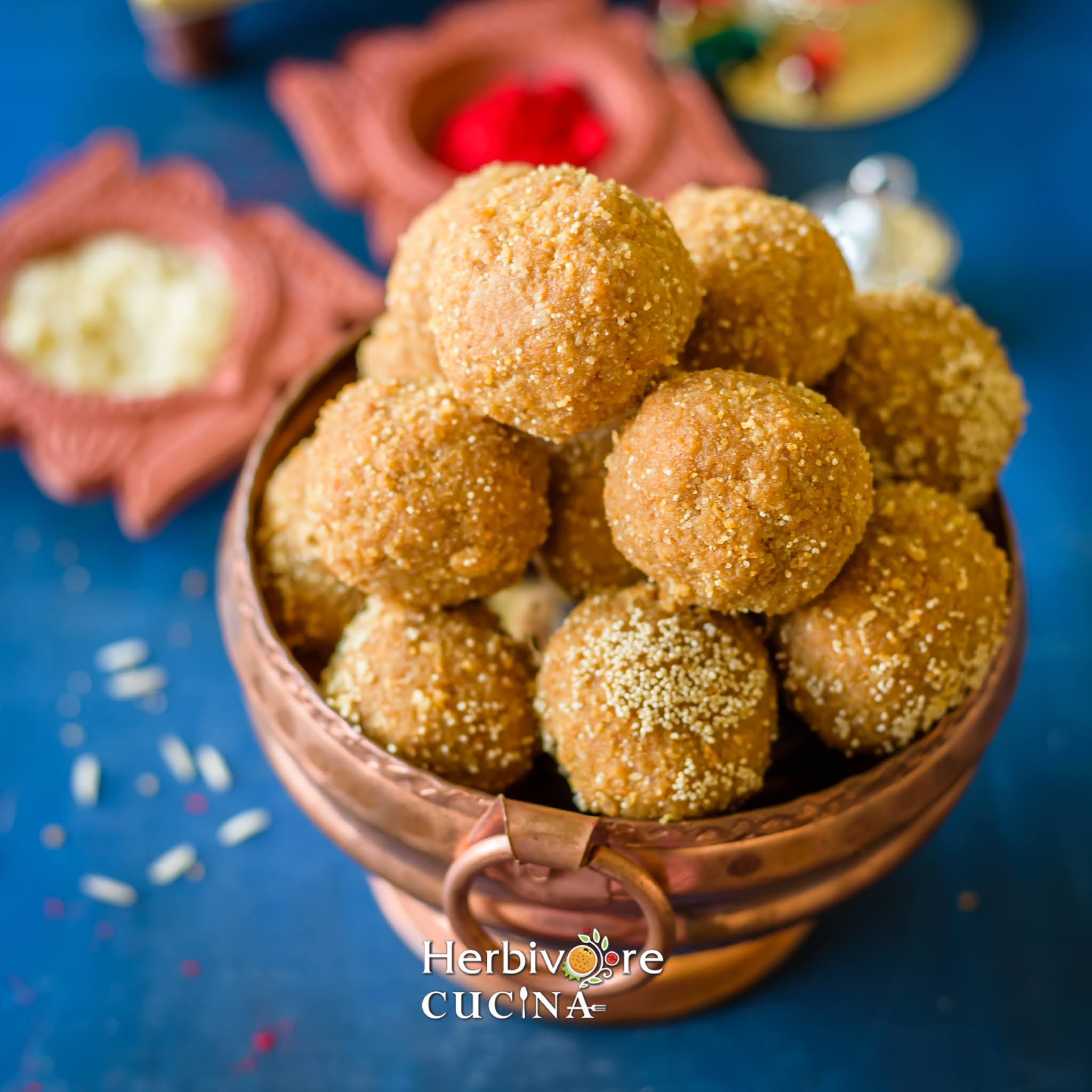 If you need a quick, simple yet delicious recipe for ladoos; this one is great. Made using strawberry syrup, desiccated coconut and ghee; these ladoos come together in no time.
Plus, these are super chis and great for the festive season!
A non-fried version of churma ladoos; these are made by baking the flour dumplings and then mixing with ghee and jaggery.
They taste almost the same as the fried ones; just fewer calories! Try them to believe.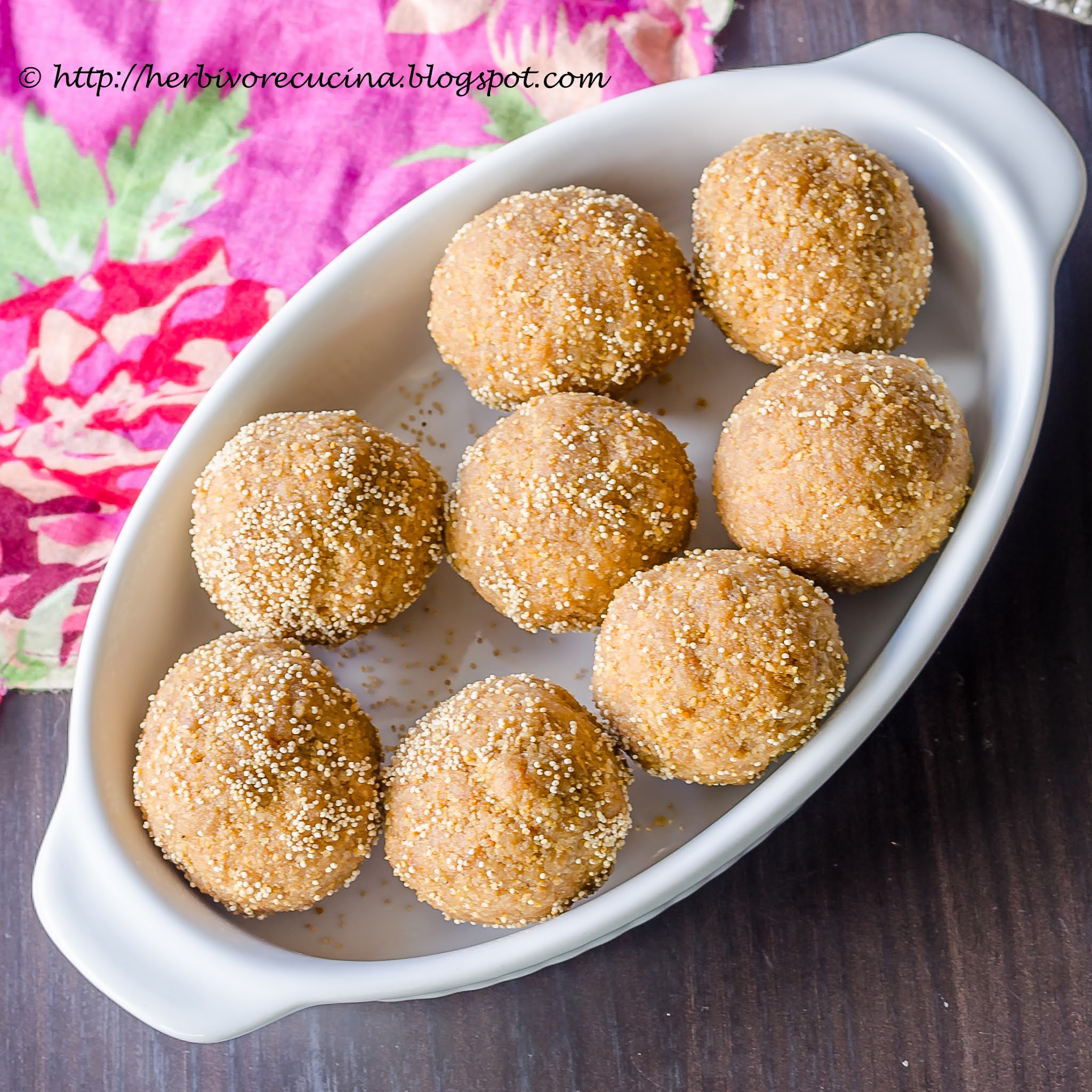 Besan ladoos; the perfect sweet for any occasion are great for Ganesha Chaturthi.
Made using gram flour, sugar and ghee; these are easy to make and taste delicious. I love making these for Ganesha Chaturthi or for the other days in the festival.
DISCLOSURE: WE ARE A PARTICIPANT IN THE AMAZON SERVICES LLC ASSOCIATES PROGRAM, AN AFFILIATE ADVERTISING PROGRAM DESIGNED TO PROVIDE A MEANS FOR US TO EARN FEES BY LINKING TO AMAZON.COM AND AFFILIATED SITES.