Perfectly delicious, pillowy soft and easy Garlic Naan at home. This version is yeast-free and is made on the stove top. No special equipment or ingredient needed!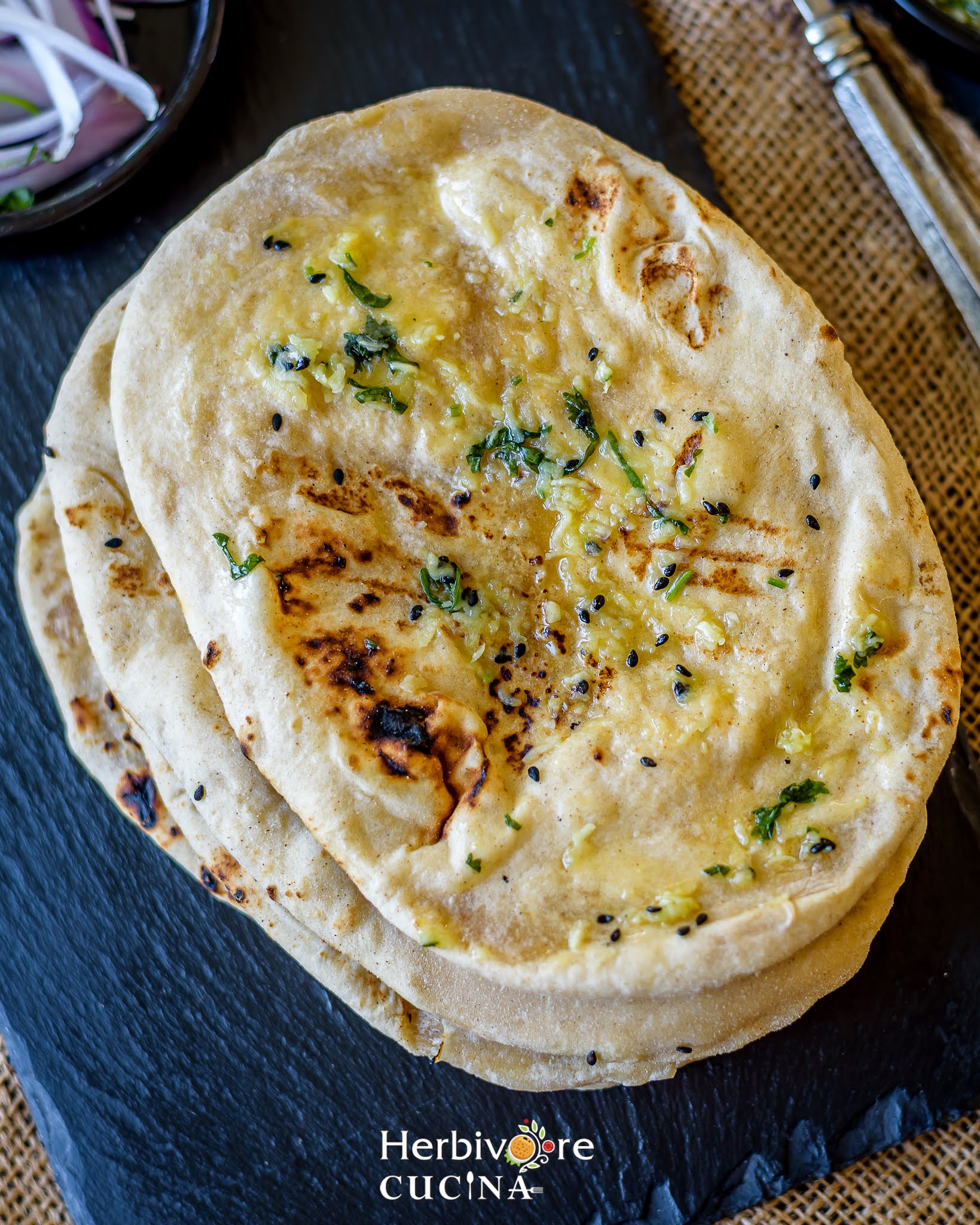 Some of the links below are affiliate links, meaning, at no extra cost to you, I will earn a commission if you click through and make a purchase.
Garlic Naan, a popular Indian flatbread is actually super easy to make at home. With just a handful of ingredients, different variations of this bread can be easily made.
A great side for all kinds of Indian curries; naan is the BEST item at Indian buffets, weddings and at home. Plus, it can be used to make so many different recipes like pizza, sandwich or chips to serve with a dipping sauce.
I started making this at home with the stovetop version and honestly have been using this recipe for YEARS. No yeast needed, no oven required and lately the Instant Pot to proof the dough!
This recipe is addictive and will definitely become a family favorite!
What is Garlic Naan?
A popular Indian flat bread; naan is traditionally made in a tandoor and served with curries.
The leavened bread has signature golden brown spots, is super soft and airy.
There are two kinds of naan recipes: one with yeast to proof the dough and one with yogurt and baking soda. The second kind is the one that I use more often.
Naan is actually like a canvas that can be used to make multiple kinds of flatbreads. Top it with garlic, rosemary, butter, onion seeds etc to make them delicious!
Out of the many kinds of naan recipes, garlic naan is probably the most popular. Naan topped with butter, garlic and cilantro is unbeatable and tastes SUPER amazing with all kinds of curries.
What you need to make Garlic naan
This recipe of Garlic naan uses a handful of ingredients that are generally easy to find in the pantry.
I make this one with a 50:50 blend of whole wheat flour and all purpose flour. The portion of all purpose flour can be varied based on how you like your naan.
Adding atleast 25% of all purpose flour results in softer naans than just using whole wheat. The recipe can be made with just all purpose flour too.
Garlic is obviously an essential ingredient in the recipe. Using good quality garlic helps in getting the BEST flavor. Garlic mixed with salted butter and cilantro makes a delicious topping for the naan.
The leavening in the naan is achieved by the mix of yogurt, baking powder and baking soda. This combination helps make the naan soft, airy and just like the ones served at the restaurants.
Apart from the ingredients, all you need is a thick griddle. A cast iron one or hard anodized works really well for the recipe. And a rolling pin is needed to roll out the dough.
That is pretty much what you need to make these naan breads at home!
Using the Instant Pot in the recipe
The naan dough requires a warm spot to rest. The BEST way to achieve the correct temperature and shortening the resting time is to use the Instant Pot.
The yogurt mode on the instant pot helps maintain a constant temperature and this is definitely my favorite way to rest the dough.
While it takes 2 hours or so for the dough to rest outside, the instant pot takes just 45 minutes to an hour. I use that time to make my favorite curry to serve with the naan!
Have you tried the Mealthy Multipot 2.0? Read my review for that here. Buy your own Multipot here. Remember you can get $10 off on any product from Mealthy (above $59.95) using the code HERBIVORECUCINA. Or get yours from Amazon.
How to cook naan at home?
Traditionally naan is made in a tandoor. The tandoor that Indian restaurants use heats up to 900 F and that temperature is enough to completely cook the bread within minutes.
The modern kitchen does not have any possibility of having a tandoor. Instead of that there are a couple of options to make naan.
The oven is often used to replicate the tandoor setting at home. It heats up to about 500 F and can be used.
The easier way to make naan is to use a cast iron griddle. One side of the naan is coated with water so it sticks to the griddle. Once partially cooked, the griddle is over turned on open flame to get the signature brown spots on the naan.
This method is easy, scalable and works really well. It needs no special equipment and it is the method of choice for me for a LONG time!
What to serve Naan with
Naan is best enjoyed with curries. The soft naan absorbs the curry perfectly and becomes super delicious. Our favorite curries to serve with naan are:
Gobi Musallam: Roasted Whole Cauliflower
Naan is also a perfect carrier for pizzas and sandwiches. Here are some of my favorites:
How to store Naan
Naan is best enjoyed hot. Serve it while it is still hot or store it to warm before serving.
To store, completely cool the naan and then wrap them in a kitchen towel or in paper towels. Let them rest and make sure to heat them on an open flame or on a griddle before serving.
Ingredients
Whole wheat flour 1 cup
All purpose flour 1 cup
Thick yogurt ½ cup
Baking Powder 1 tsp
Baking Soda ½ tsp
Oil 3 tbsp
Salt 1 tsp
Cilantro, finely chopped
Black sesame seeds 2 tbsp
Garlic 3-4 cloves, grated
Butter 2 tbsp, melted
Method
Mix the flours, salt, baking powder and baking soda in a mixing bowl or a stand mixer.

Add the yogurt and oil and mix for 4-5 minutes to make a crumbly mixture.

Add water as required to make a soft dough. I needed about ¾ cup water to make the dough.

Cover the dough with a damp kitchen towel and place in a warm place for about 2 hours.

To use the instant pot, place the dough in the instant pot and cover with a damp kitchen towel. Press Yogurt mode and cover with the instant pot lid or glass cover. Let the dough stay for an hour to 75 minutes.

In a bowl mix together salted butter, garlic and cilantro. Set aside.
When the dough is well rested, divide into 6 equal parts. Let the dough balls stand for 5 minutes.
Roll the dough ball into a tight ball and press it down. Roll it out to a round or oval of about ¼ inch thickness. Spread the flavored butter on it.
Give it one final roll to ensure the toppings are stuck well. Turn the naan over and spread about a teaspoon of water.
Heat a cast iron griddle till hot. Place the naan on it, wet side down. A few bubbles will appear in a couple of minutes.

Then turn the griddle upside down and roast the naan on the open flame. Once the charred spots start to appear, remove from the griddle.
Apply butter on it and serve with a curry of your choice.
DISCLOSURE: WE ARE A PARTICIPANT IN THE AMAZON SERVICES LLC ASSOCIATES PROGRAM, AN AFFILIATE ADVERTISING PROGRAM DESIGNED TO PROVIDE A MEANS FOR US TO EARN FEES BY LINKING TO AMAZON.COM AND AFFILIATED SITES.