A collection of easy to make yet delicious Indian Sweets for the festival of the Elephant God Ganesha!!

Ganesh Chaturthi is the Hindu festival celebrated in honour of the god Ganesha, the elephant-headed. The festival, also known as Vinayaka Chaturthi, is observed in the Hindu calendar month of Bhaadrapada, starting on the shukla chaturthi. The date usually falls between August and September. The festival usually lasts for 10 days, ending on Anant Chaturdashi.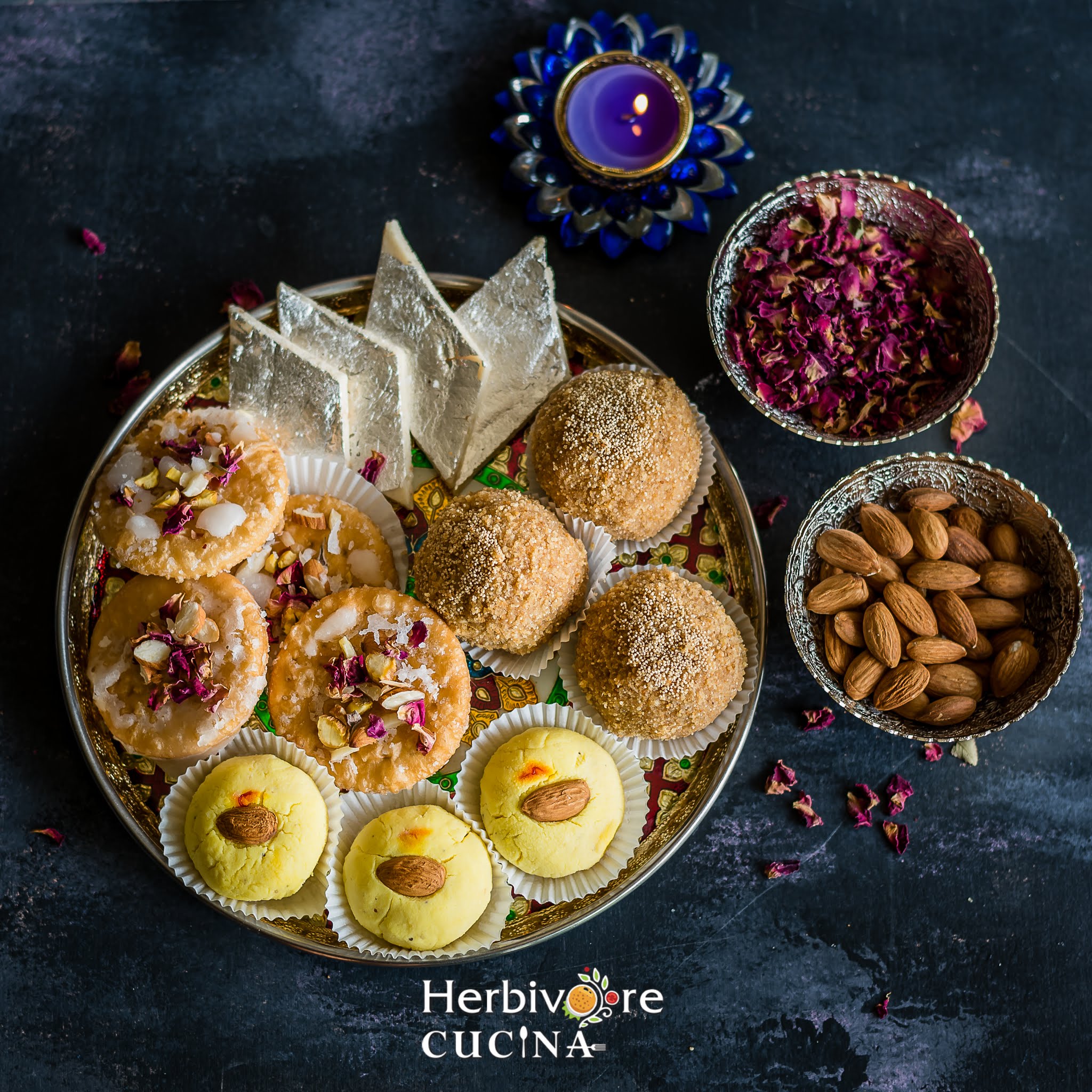 The modern festival involves installing clay images of Ganesha in public pandals, which are worshipped for ten days. These are immersed at the end of the festival in a body of water such as a lake, along with the idol. In a place like Mumbai, it is a pleasure to watch the immersion process, which sometimes last for hours as the big Ganesha murti makes its way from the pandal to the Arabian Sea! While I am missing all the fun back home, I wanted to make sure I do not miss on all the delicacies. So here is a list of sweets I make to celebrate the festival of Lord Ganesha, one dish per day!!



Click on the name of the recipe to read how to make it.
Ricotta cheese and four other ingredients are all you need to make these yummy Kesar Malai Modaks. Totally yummy but so easy to make. And the best part is that they look and taste similar to the modaks from Siddhivinayak!
Lauki barfi, a delicious Indian sweet made with just a few ingredients. Who knew fudge from bottle gourd and milk solids would be so good? I love these for all festivals, so why not make it for Ganpati?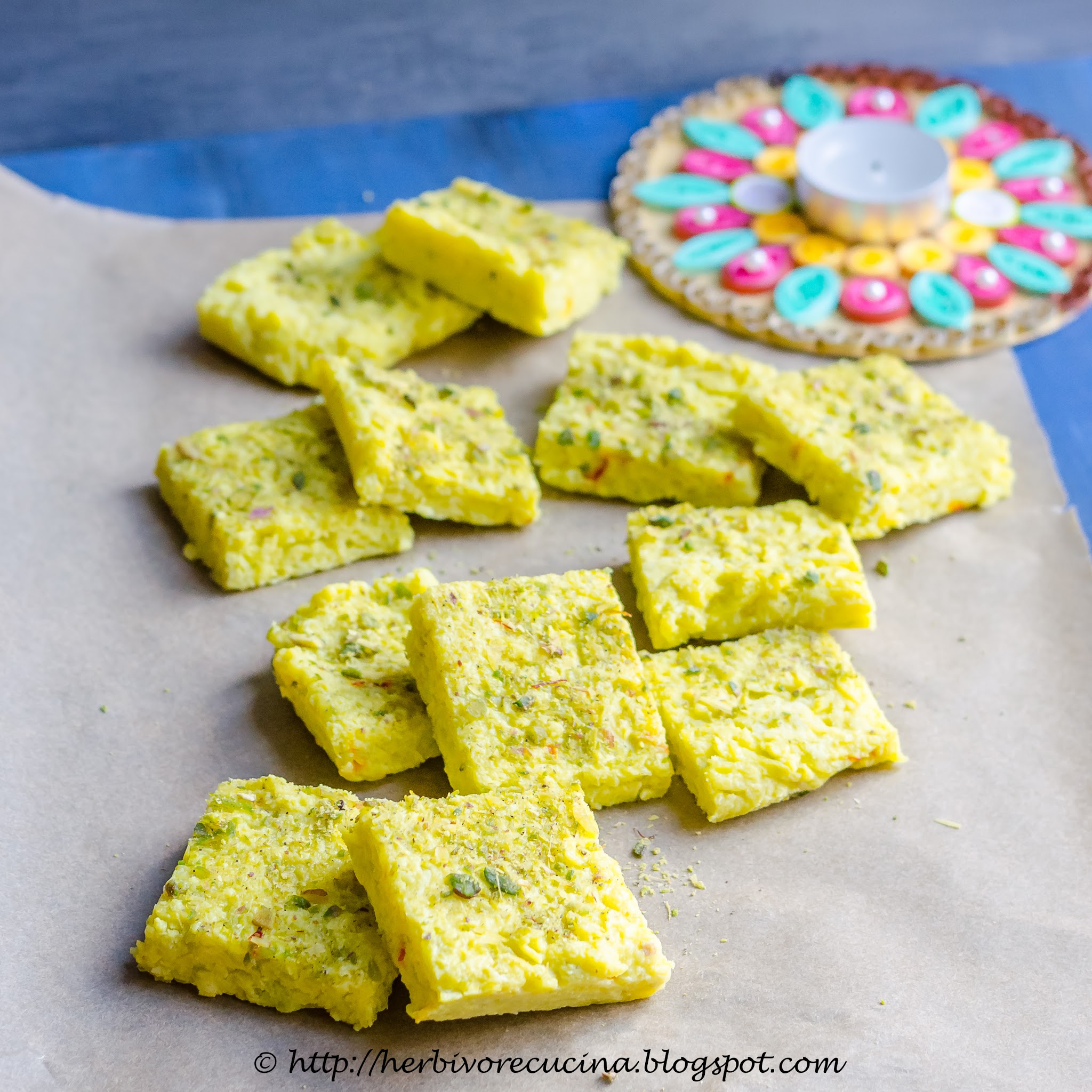 3. Churma Ladoo
Celebrate Ganpati with these amazing Churma Ladoos. Believed to be the favorite food of the Elephant God, these ladoos are made from wheat flour, jaggery and ghee. The topping of poppy seeds makes them look totally delectable!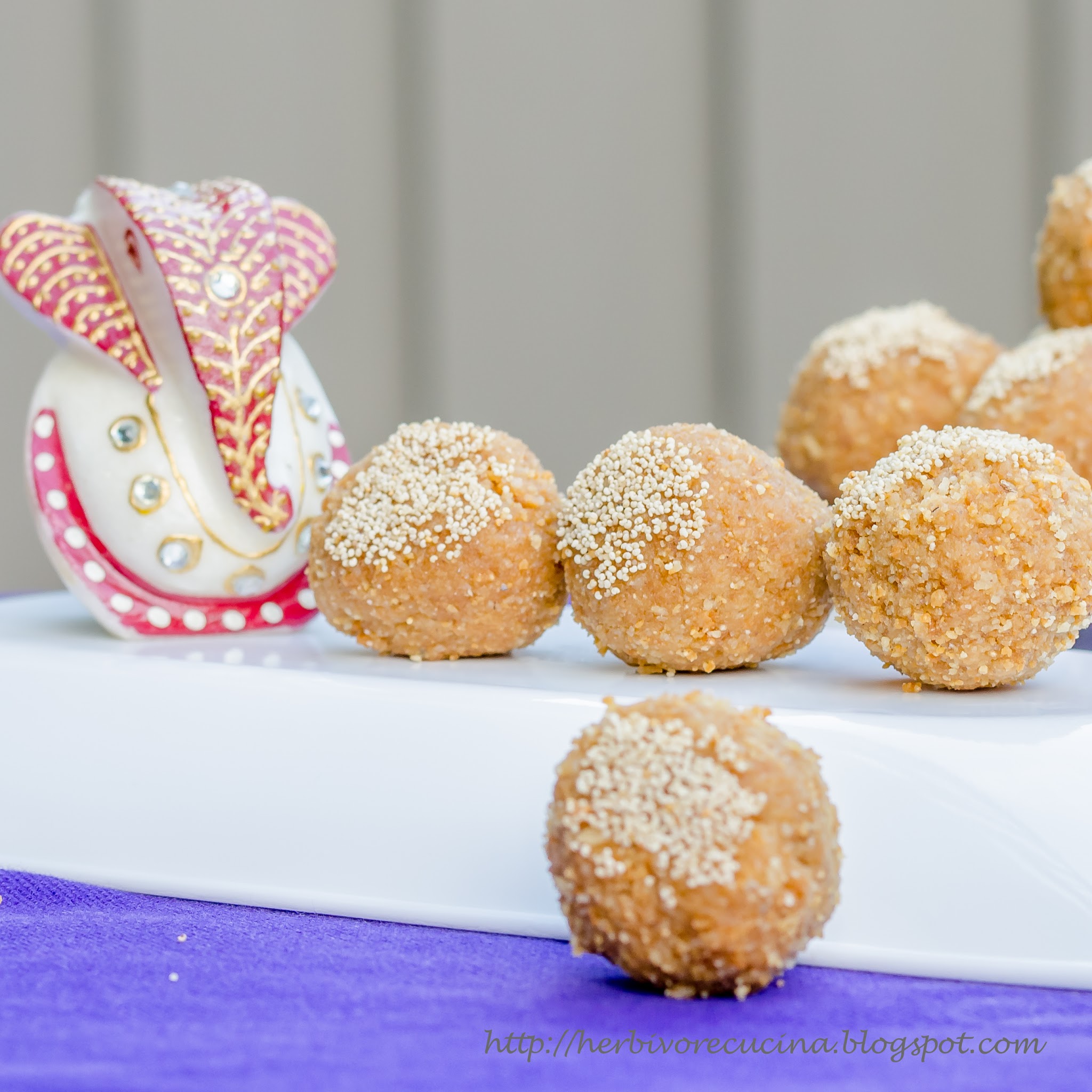 4. Ukadiche Modak | Steamed Rice Flour Dumplings
A traditional offering to Lord Ganesha, these steamed Rice Flour dumplings stuffed with sweetened Coconut mixture are super delicious! Don't forget to make these for the festival! They are PERFECT for celebrating.
5. Kaju Katli
Kaju Katli is easy to make with just 4 ingredients, a couple of optional toppings and 30 minutes of time! Cashew, sugar and ghee (clarified butter) forms the basis of this sweet. Add in some cardamom powder or saffron to enhance the flavor and you may also top it with edible Silver foil (varakh) to enhance it's looks.
Here is how to enjoy the good old Churma Ladoo in a healthy way. The recipe has three parts; one is making dough, frying the dough balls and finally blending in jaggery and ghee. While adding the ghee in the last stage remains the same as the traditional recipe, we can do away with the frying part of the method by baking the dough balls. This eliminates a lot of oil or ghee and the result is a little less guilty ladoos.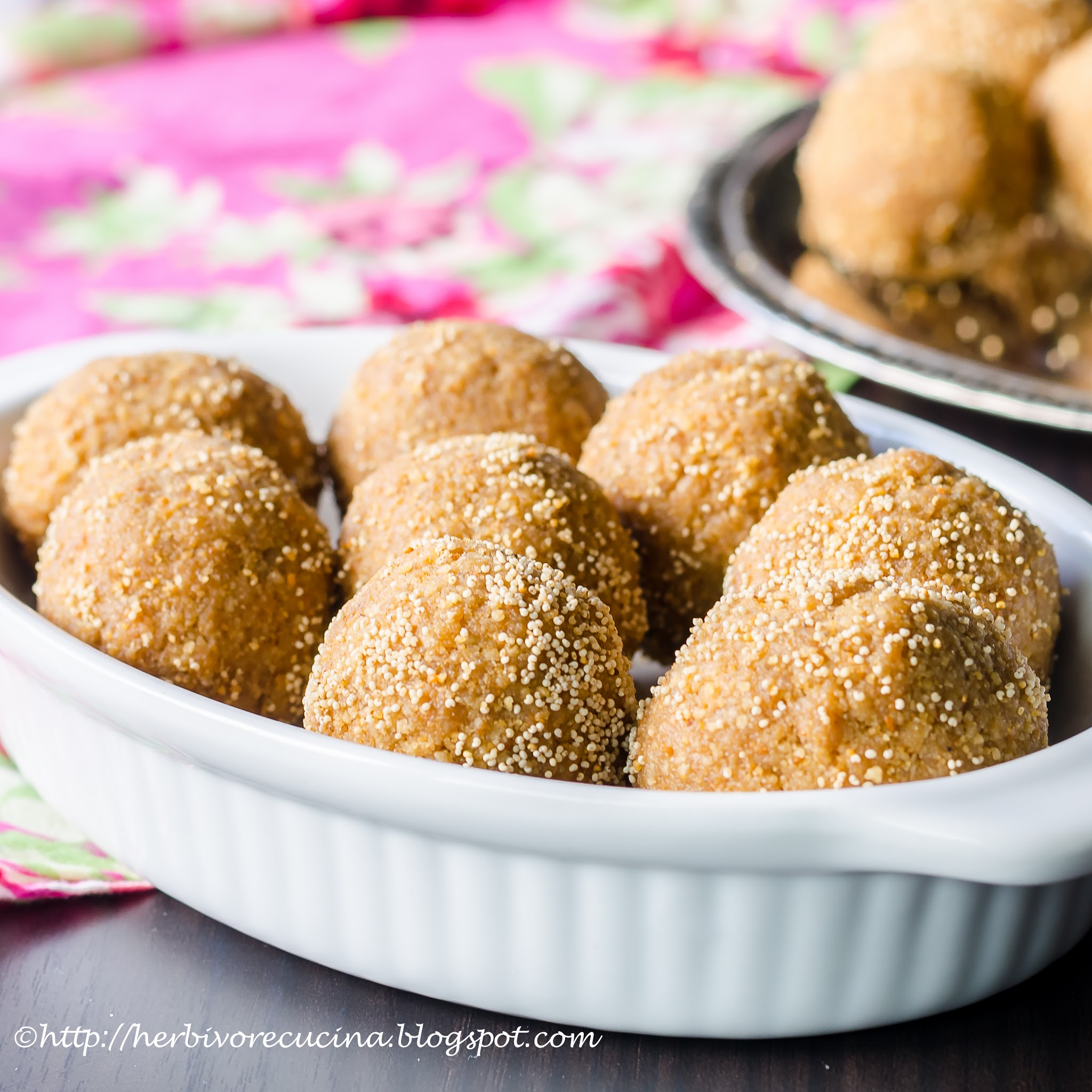 7. Malai Peda
Instant Kesar Peda made from just 5 simple ingredients. These Saffron Milk Fudge are perfect for all festivals or even otherwise! I ALWAYS make these for Ganeshji's aarti one day.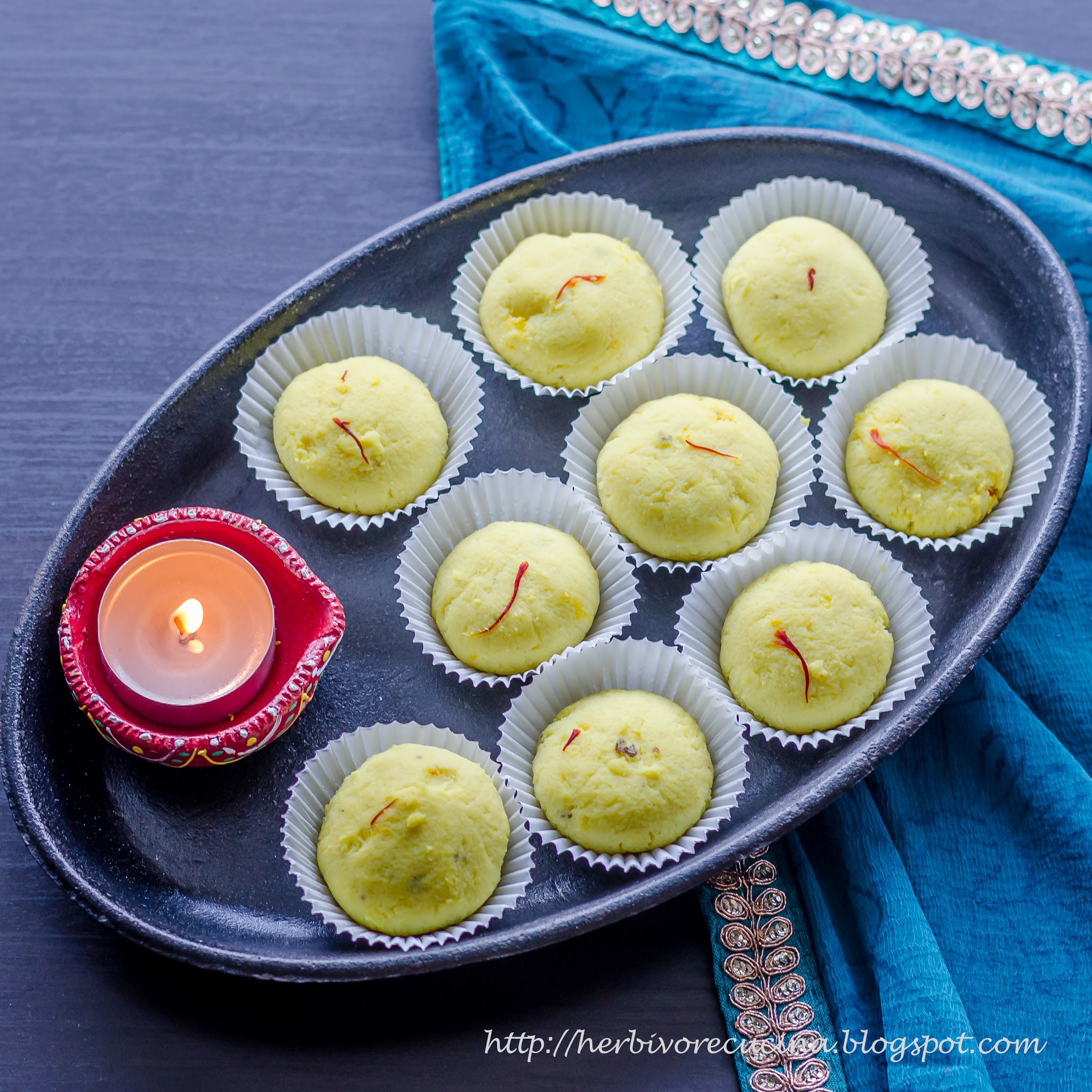 These modaks are quick to make and need ingredients found commonly in any pantry. The end result is light pink colored modaks that are totally amazing! Ready in just 10 minutes, these modaks are a sure try!
9. Instant Microwave Kesar Peda
Satisfy your sweet cravings with this Instant Peda. Made in the microwave, these take under 30 minutes from start to finish! Plus, it requires only ingredients easily available in the pantry!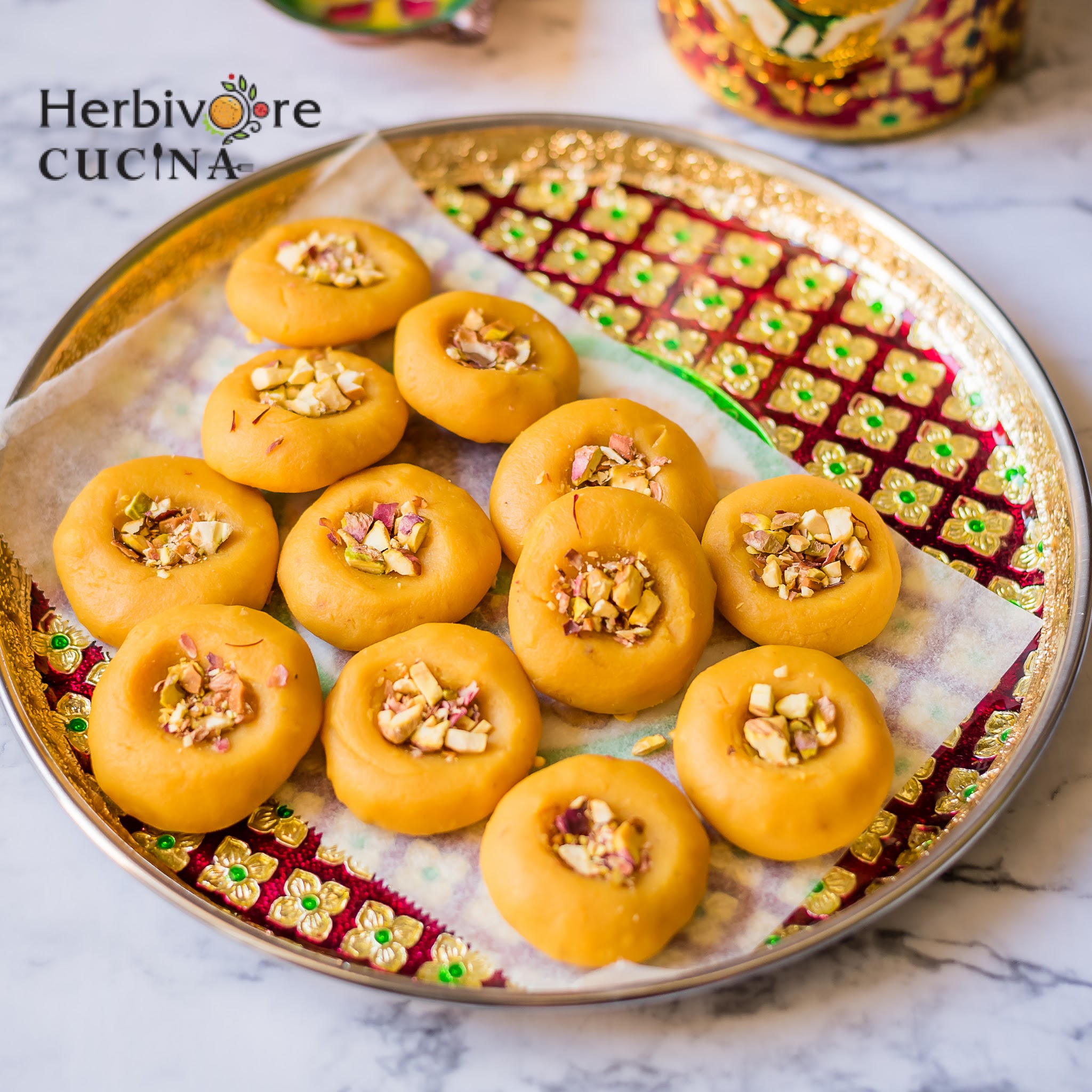 10. The BEST Instant Jalebi recipe
Instant version of Jalebis; sinful crisp fried spirals dunked in sugar syrup. This Indian Funnel cake makes a perfect dessert. It takes under 30 minutes to make these!
This recipe is a shortcut on days when you do not have time, but still want to make something yummy for prasad. Jaggery, sesame and ghee is all you need to make these ladoos in no time!
Rose infused milk fudge made from a secret ingredient! This Indian sweet is naturally colored and flavored using fresh roses. I love the pretty PINK color.
13. Bombay Ice Halva
If you are from Mumbai, you cannot not know this sweet. Ice Halwa is not only great to eat but also pretty artistic in form. Thinly sliced pieces of Halva interleaved with parchment paper makes this dish a cute one. And now with this recipe you can make it at home for your family and Bappa.
14. Sweet Saatha
This Gujarati style sweet saatha is a perfect sweet for all occasions! Discs of fried flour are dunked in sugar syrup and decorated using almonds and rose.
15. Sugar-free Dry Fruit Modak
These sugar-free modaks are made from dry-fruits and has the sweetness from raisins and dates. This sweet can be made in any form, cubes of dates and dry-fruits, balls coated with poppy seeds or like I have done; modaks without a mould!! The recipe is enough to make 20 modaks and is a quick one, taking just about half an hour.
Gujarati style Chickpea Flour dessert that is a staple in most families. This sweet is super easy to make and addictive!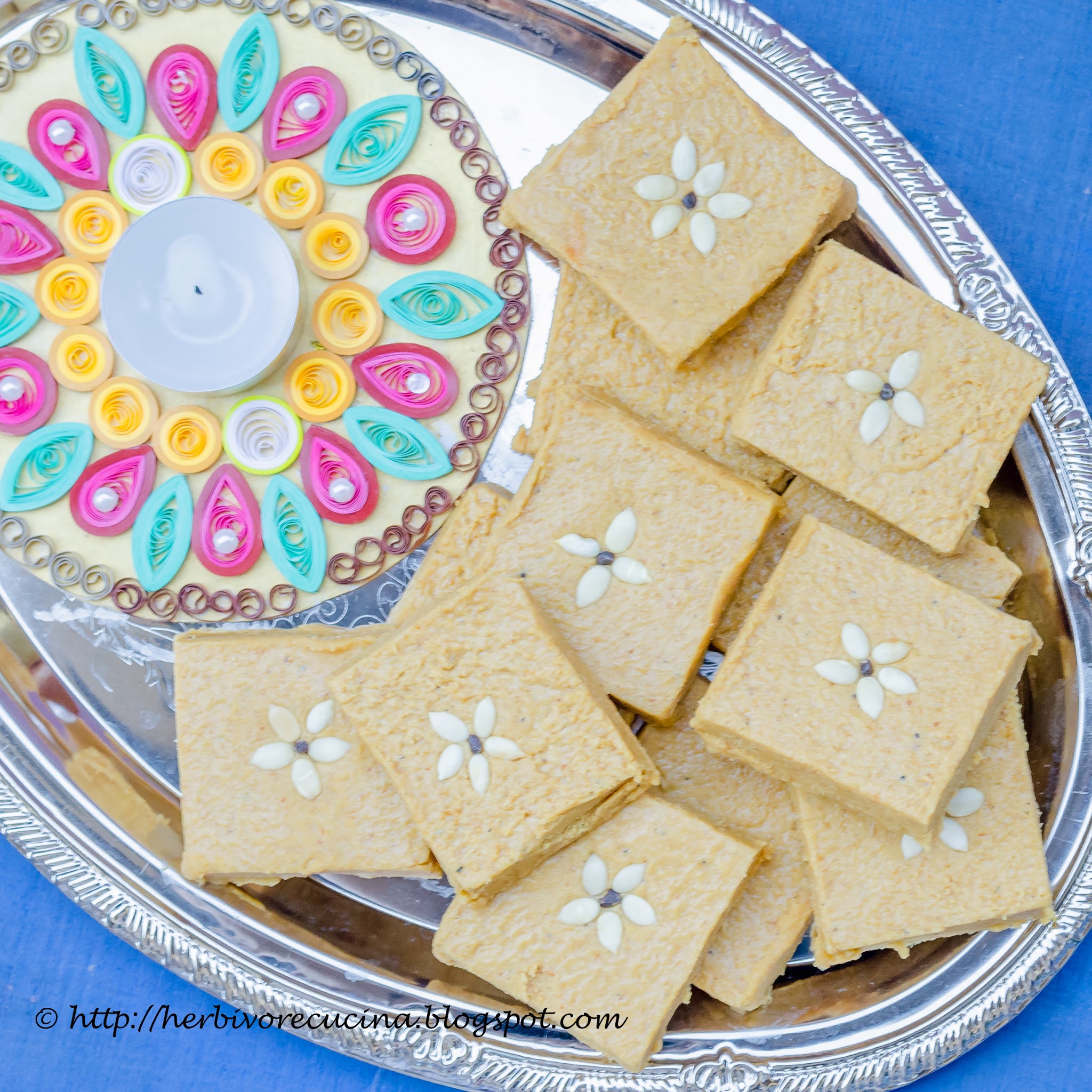 As the name suggests, this is a shortcut method to make Bengal's famous Rasmalai. It uses one important ingredient, ricotta cheese to substitute the traditional ingredients. Just add sugar to the ricotta and flavor it with cardamom. Bake the discs to form cooked cheese. Boil milk and sugar in a pan, flavor with saffron and dry fruits and drop the ricotta discs in it. Ready for Ganesha!!
These BAKED Gujiya recipe is perfect for all festivals! Stuffed with ricotta cheese flavored with Thandai powder and sugar, these healthier version of a traditional sweet is a keeper!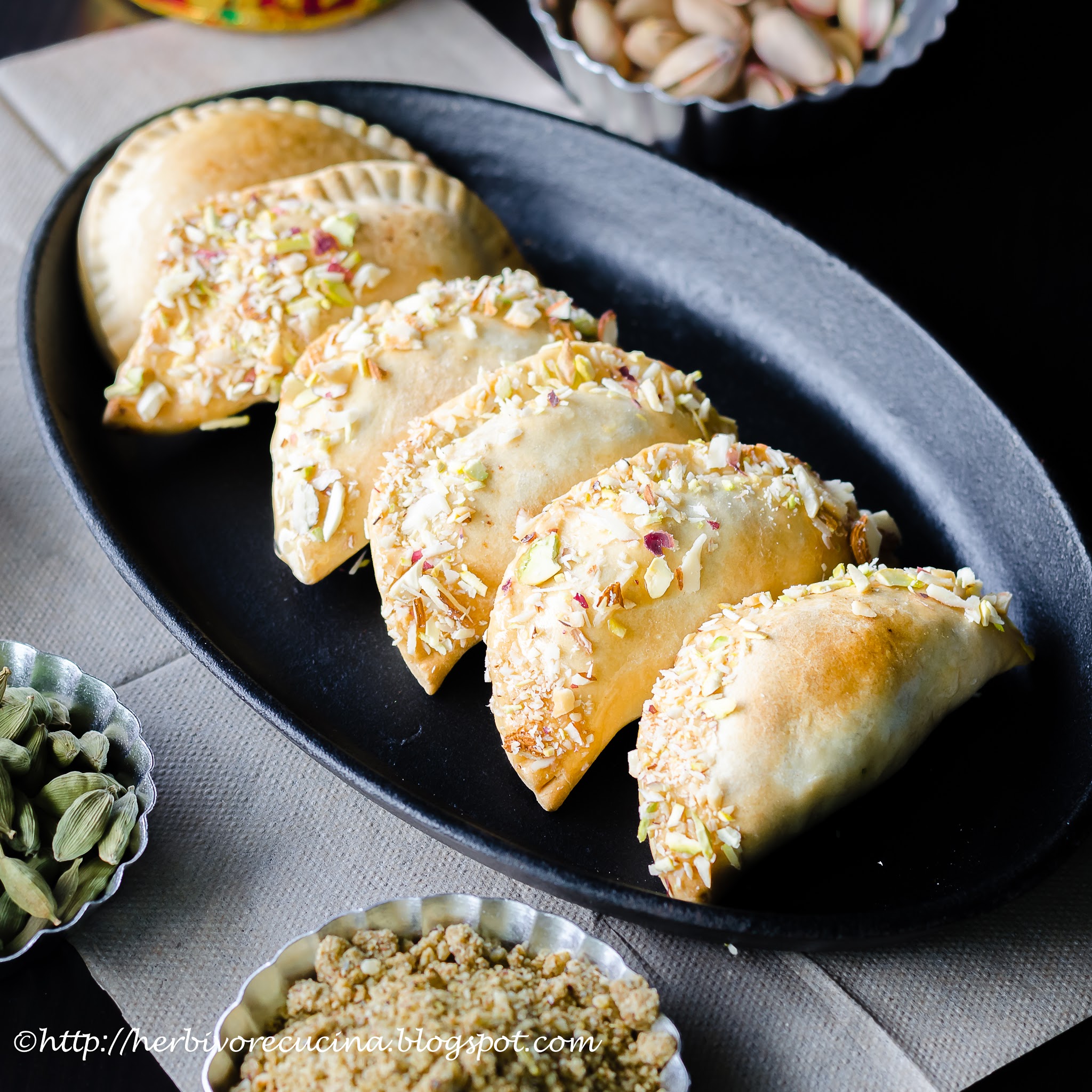 19. Sabudana Kheer
Tapioca mixed with milk and saffron is so good. When you make this kheer, you can make it a little thick and serve it in little bite sized containers. Perfect prasad recipe!
20. Kesar Kheer | Saffron Rice Pudding
An amazing blend of milk, rice and sugar. This delicious kheer (rice pudding) is flavored with saffron and full of nuts!